Top Ways To Achieve A Gorgeous Apartment
With city life becoming more common, more and more people are living in flats or apartments to be closer to their place of work. Living in an apartment also usually has the benefit of being cheaper than a house and is also more space efficient.
Apartments also typically have lower overall running costs due to fewer rooms; so, bills and fees are often cheaper. They are also a perfect option if you are living alone due to their size and simplicity. Many modern-day apartment complexes also offer added amenities that you would not get with houses, such as on-site gyms, swimming pools and covered parking. They also often had the added benefit of added security systems.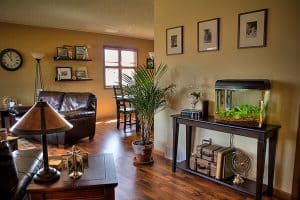 However, even though apartments are becoming more popular, it can be difficult to know how to effectively use all the space while not compromising on design. With added pressures of restricted budgets, designing your new, smaller home may seem overwhelming but fret not; we have devised some tips to help you.
Small Apartment Design Ideas
A small apartment does not necessarily equate to having one bedroom; living in studio flats is becoming more common due to lower costs and maintenance; but this adds additional pressure on available space.
Regardless of whether you are in a one bedroom or a studio apartment, there are a few tips to help you make it as stylish as possible and fit everything in.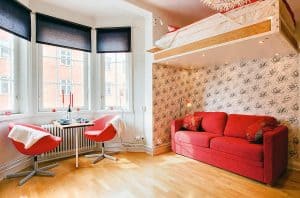 • Folding panels- a brilliant way to separate space and seriously classy, folding panels can really help you compartmentalise your apartment and don't take up much floor space. Plus, they have the added benefit of being moveable, so if you feel that creative itch during your time in your new apartment, move them around to jazz it up a bit and experiment with layout.
• Use bold colours- if possible, this is a great way to separate the space in your small apartment without being to costly. Painting the walls is the traditional way to do it but of course, you can achieve a similar feel with accessories like rugs, vases and shelves. Colour coordinate separate rooms to get an overall theme going.
• Vertical- as with any small space, go vertical with your storage. Shelving units are a boon in small apartments as well as suspended cabinets and bookshelves- they save floor space and look very trendy.
Modernising Your Apartment Tips
If you have just moved in to your new apartment and feel it looks a bit dated, you may want to give it a facelift to bring it in to the 21st century. Depending on whether you rent or own your apartment will determine how much you can do, but there are some common tips to help you update your home.
• Statement pieces- like the idea of creating a focal point, statement pieces can make any space appear modernised. If you are a fan of flowers, buying a bold coloured indoor lily against a white back drop makes a very bold statement. If you are a fan of art, a brightly coloured art piece can really add character to your chosen room.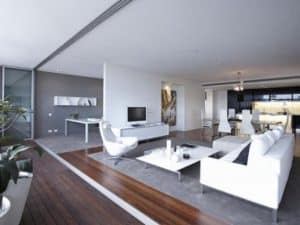 • Fabrics- perfect if you are renting and cannot alter the flooring, using statement fabrics on rugs, pillows and throws can really help turn a dull space in to an eye catching and exceptional one. Go for bright colours or bold designs.
• Textures- often overlooked in home décor, a mix and match of textures can really make an impressive statement. This is great if you have a monotone room theme as it can create a very visually interesting space without overloading on colour. Tre chic.
• Geometrics- an easy way to give a modernised feel with minimal work is to include some geometric pieces in to your apartments décor. Geometric light fittings, lamp shades, rug prints and even ornaments can create an instant postmodern feel.
Minimalist Apartment Ideas
Not a fan of bulky furniture? Or is your apartment too small to allow for anything else? Not to worry, you can still make your home elegant without overloading on furniture.
• Suspended furniture- everything from suspended shelves to suspended tables can really help you save floor space while also looking incredibly unique. You can even colour coordinate if you really want to make a bold statement!
• Wire organisers- very minimalist and functional, purchasing a wire hanger will help you keep all your essential pieces in one place without taking up much space.

• Hidden storage-this is where multipurpose furniture really earns its keep; items such as chairs with hidden storage space can really help declutter your living space and give you a handy chair!
• Rugs- a simple idea that can really help accentuate your floor space, never underestimate the elegance of a colourful or textured rug. Minimal, warming and very striking depending on the design you pick.
Budget Friendly Ideas For Small Apartments
You don't need to be wealthy to make your small apartment look classy. There are some handy ways to create a living space that suits your personality and your budget.
• Creative storage- while it is easy to buy a set of storage boxes, it is not always the best option due to space. Multifunctional furniture can help with this but if you are forced to opt for wall storage, why not put up a curtain rail to close it off from sight? Very unusual and classy.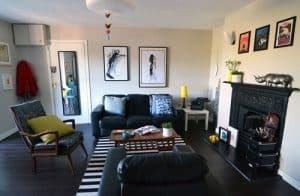 • Mirrors- mirrors look great in any apartment but used to decorate a small apartment, they can really make the space seem airier and lighter. Why not get some other reflective pieces, like vases and place mats to get a futuristic them going?
• Floor makeover- if you are renting, chances are your apartment floor has probably seen better days. Don't worry though, an inexpensive area rug can add a touch of style to your home while also covering up and scuff marks.
• Paint- if you can't paint the walls, paint your accessories. Colour coordinating typical apartment accessories like vases and bookshelves adds a personal touch and is very cheap to do.