Great Ways To Decorate A Babies Nursery
When planning your nursery, it is worth considering which essential items you will want to keep here, and which items can be kept in a different room; you don't want the room to be overcrowded or cluttered. Unlike an older child's bedroom, a nursery is where you will spend the majority of your time as a new parent. It will need to have multiple uses while also functioning as a bedroom.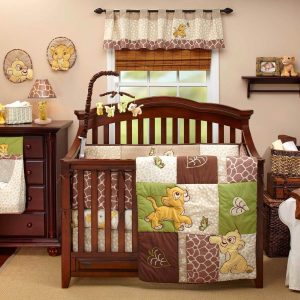 Of course, function does not equate to lack of décor. You will want your new nursery to be a calming, relaxing space for both you and the baby as this space is probably where you will be spending some of those long, sleepless nights ahead.
Baby Room Furniture Ideas
To give you some ideas, there are some basic nursery furniture pieces you will need to help you in the upcoming months.
• Crib- of course, the mandatory crib is a must have item for your nursery. While many may seem on the pricey side, the good news is that a larger, wooden crib will last longer in your babies development than a Moses basket due to continuous growth. Always ensure that you crib, when assembled, is sturdy and made of quality materials.
• Changing equipment- this includes a table or mat along with toiletry items like wipes, lotions and powders. If you have the budget, you can invest in a changing table with a set of storage drawers to help you keep bits and pieces in their right place, to avoid unnecessary stress.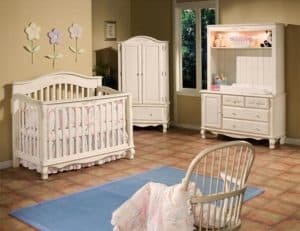 • Drawers/dresser- a simple chest of drawers to keep all your babies clothes in and perhaps a change of clothes for yourself in case your burping technique brings up more than you bargained for.
• Bin- you will need a place to put nappies, used wipes and other bits and pieces
• Chair- a simple chair to sit on when feeding your baby or just to sit yourself after a long night, can really make a difference to those long evenings
These are the basic essentials you will need but of course, you can always be flexible with a few of them; you could substitute your chair for a bean bag or change the dresser in to storage boxes; that way you will keep all baby essential separate without confusion.
As your baby gets older, you may want to incorporate a few new items in to your nursery like toys, strollers and books. Again, storage drawers can be your best friend here and make everything easier to find and pack away.
Baby Boy Nursery Ideas
Many people will tell you that the only real difference you need in a boys and girls bedroom is the colour scheme.
However, developmental psychologists will argue that while this is true, there are a few items which are more appealing for your baby to look at and play with, depending on their sex. As your little one will be spending a lot of his earlier days in his nursery, you want to keep his mind engaged and developing, even when you are not in the room.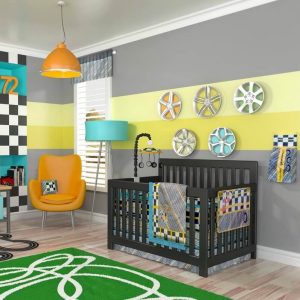 Mobiles above the crib are a given but why not include some geometric shapes in to the décor of the room? While your baby cannot grasp yet, his eyes are developing and looking at geometric shapes in his environment can really keep him occupied.
Wall paintings are another good idea and if you can, try to include as many different bright and bold colours in to said paintings if you can; multicolours hold infants attention for longer than one simple colour scheme.
If you want to attempt a theme, this can easily be achieved but will be more costly to decorate and maintain.
Baby Girl Nursery Decor Ideas
Don't want a pink nursery? Good! Anyone can paint their daughters room pink!
Once again, the essential items required have been spoken about but wanting to help development is something you want to encourage as best you can.
All infants like bright colours and lots of them; a perfect opportunity for a rainbow themed room. If you can, why not get some rainbow blankets, toys and mobile hangings? Many early development toys are multicoloured so you may be spoilt for choice.
Of course, many parents want a baby girls room to have a softer feel, so why not include a house plant? Of course, once your little girl starts walking, this will need to be moved but it is a simple way to add a natural touch to the room.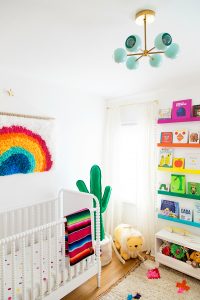 Teddies are a great addition to any nursery and they are probably the main gift your daughter will get; if you have multiple teddies, change them around every few days. Once again, this will create a slight change in her environment which will help her brain development.
Neutral Ideas For A Babies Nursery
Want to keep your babies sex a surprise until the delivery? Great!
You can still decorate you little ones room without relying too much on gender based colour schemes. As previously mentioned, many infants prefer multi coloured items anyway, so this is the perfect opportunity to really brighten up the room.
Or, why not go for a more rustic feel? Lots of whites and browns will help create a relaxing ambience and also look very attractive.
Do you like animals? Good, animals make a great theme for any babies nursery and can create a very cheerful room for you and your baby to bond in.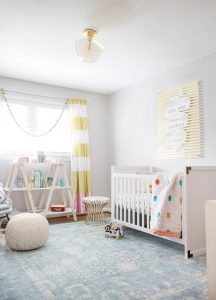 Of course, these are all just a few ideas for décor. Planning for a new baby is tough and you may want to keep decorating to a minimum to reduce stress or budget costs. In that case, you can't beat a simple white nursery with a few coloured items strewn throughout.
If you are planning to have more children in the future or are having multiples (twins or triplets), you must make sure that every item in your nursery is quality and that it will last as long as possible.
Keep calm and be creative!