Today, the bathroom is becoming much more than a place where you simply bathe; it is a place to unwind after a long day at work or a stressful commute home.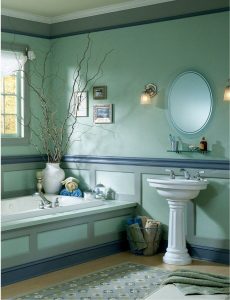 Whether you want to do a complete renovation of your bathroom or just want to add something different to the space without breaking the bank, we have some great tips for you.
Bathroom Decor Ideas On A Budget
Run any bathroom revamp project through an online search engine and you will see some eye watering costs linked to it.
Fret not. Redecorating your old bathroom or personalising your new one doesn't have to cost the earth. Here are some tips on how to do your bathroom décor on a budget.
• Paint- In any room you are looking in to redecorating, paint is always a great place to start. Use paint to touch up any 'scruffy' areas in your bathroom or to revamp those old storage cupboards above the sink. Why stop there? If you have wooden flooring in your bathroom, you could use a stencil and a lick of pain to add a classy, personalised touch. Perfect!
*Top Tip*- Bathrooms are renowned for being damp, humid places so it is always wise if you have a mildew or damp problem to seek out a mould remover and damp-proof undercoat.
• New Hardware- Bathroom hardware covers everything from sink faucets to towel rails and it can be a great way to redecorate easily. Many modern tap designs are more original than the stainless-steel taps, so pick your favourite- many even come in sets, so the entire hardware collection will match.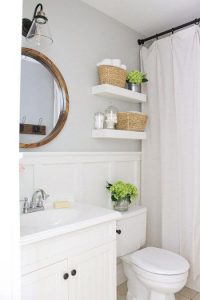 • White fixtures- Perfect if your bathroom is rented or your budget is truly limited, picking out white fixtures will keep your bathroom simple, classy and low cost. Of course, you could accessories of any colour to help contrast with the white appliances, such as bold blue bath mats or orange shower curtains.
Bathroom Decor For Small Bathrooms
It is common nowadays for more people to be living in studio apartments which also means more people have smaller bathrooms. But that doesn't mean your bathroom has to be boring.
• Storage- with any bathroom, you will need storage for your shampoo, toilet rolls and other items. Why not invest in a metal railing designed to fit under your sink? Or, if you are able, some shelving units will help maximise your space; vertical is always a good idea when space is limited.
• Large tiles- a clever visual trick, larger tiles can really enhance the space and trick any visitors in to perceiving the space as larger. If you are unable to change your tiles, large geometric prints on shower curtains or rugs are another good option, which can look extremely classy.
• Reflection and light- the key to making a small space appear bigger with ease is to make it as light as possible; small spaces that are darker can feel very enclosed. Using light coloured accessories (like soap dispensers or storage) will give your bathroom a more natural feel without being overbearing. Using reflective tiles mirrors can also be an interesting feature which will make your bathroom look high end and maximise space.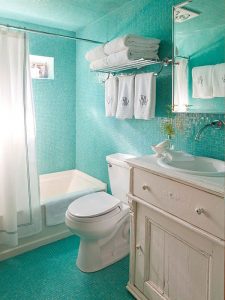 Bathroom Wall Decor Ideas
Of course, painting isn't the only way you can decorate your bathroom walls; depending on the overall look you want to go for, there is a wide array of decorations that will accentuate your bathroom.
Shelves are great for smaller bathrooms for storage but can also be a great way to add ornaments to your bathroom walls; even colour coordinating the shelves with the bathroom can make an interesting visual piece.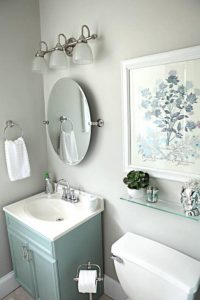 Themes are a common décor idea to work from in bathrooms, so if your bathroom has a nautical theme, hanging seashells or wooden anchors on the walls can really liven things up. Indeed, even a super stylish, modern bathroom can be added too by positioning some quirky up lighting on the walls along with some indoor hanging baskets.
Bathroom Accessory Ideas
While traditional bathroom décor is quite simplistic, there are many ways you can add an interesting accessory to your bathroom without being too over the top or costly.
• Plants- a great way to brighten up any room, plants can be a great bathroom accessory and also serve a functional purpose by absorbing moisture in the surrounding air. If you have the space, you can even get a standing plant to put in an unfurnished corner, to add an instant touch of colour to your bathroom surroundings.
• Woven hampers or storage- who doesn't love woven hampers or storage baskets? They add a gorgeous rustic touch to any room they are in and never look out of place in any bathroom setting. Interestingly, there are now a wide variety of baskets in multiple weaving styles and colours on the market, which make them ideal for any bathroom theme or colour scheme.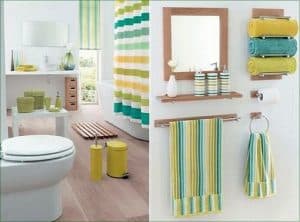 • Bath side tables- many people don't have the luxury or having baths with rims wide enough to put candles, shampoo and other bath time accessories on. A small bath side table is a quirky accessory for your bathroom that not only provides you with a great place to put your essentials during your bath, but it also makes a great decorative item for day to day use; you can put flannels, soaps or toothbrushes on it in your day to day activities.
• Candles- ah, candles; the perfect addition to any end of day bath. Like the woven baskets, candles now come in a wide variety of colours, scents and shapes to really help personalise your bathroom. If you are worried about fire risks but still want the relaxing ambience, many retailers sell LED candles which can not only eliminate fire risks, but some change colour!
Your bathroom is your sanctuary from the world after a tough day; it is your space to destress and soak away your worries without a care in the world, so you want a space that helps you relax with ease.