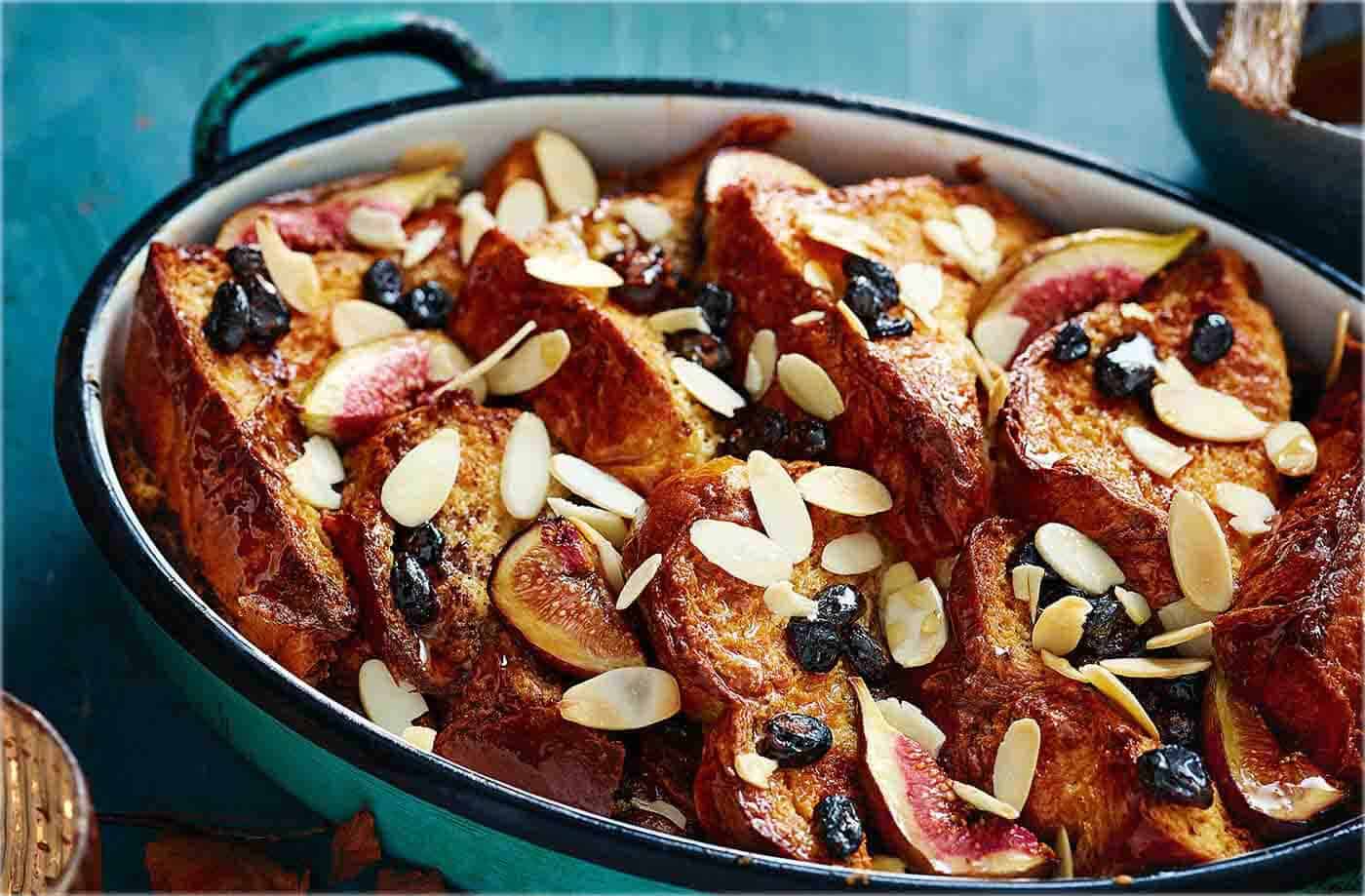 There is nothing better to round off a good meal than a bread and butter pudding.  For such a simple dish, there are heated discussions over it.  What is the best bread to use?  Should it be buttered? Sultanas only, or mixed fruits?  Crispy top or not?
The other big discussion is over what to accmpany it with.  Should it be nothing at all, plain custard, a sorbet of some sort or best of all ice-cream?
Celebrity chefs like Nigella state that the best pudding is crunchy on the top and sides and moist and wobbly in the middle.
Here are a few receipes, one classic, one a little more exotic, and one downright decadent to help you make your choice, but first let's discuss the best bread to use.
The Best Bread to use
Traditionally, bread and butter pudding has been made with old stale bread to use it up.  Nowadays, and especially in households with children, there often isn't any stale bread to use. Use it if you have it.
Otherwise, unless you have no other option, don't use the standard supermarket mass-produced loaf. It gets too soggy. has too loose a texture, and doesn't quite make the grade for a splendid bread and butter pudding.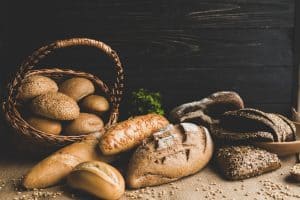 Artisan bread is far better.  It is denser, cooks better and often has much better flavour than the mass produced blotting paper. Slicing it yourself allows you to test different thicknesses of slice to find the best.  You can also make fun shapes for a special birthday pudding.
Some swear by brioche, some panettone (which is quite like brioche anyway), or an artisan bread baked in the local craft bakery that has a name that defies any rational description. Because of the large air spaces, breads like ciabatta are not great.
Having said that, it mustn't be too dense or the custard won't soak properly into the bread.
The next big question is crusts or not.  Opinions are divided.  Personally, we prefer crusts off.
Finally, buttered or not.  Butter is best.  Adds a touch of flavour and tends to bind the bread slices together.
For the purposes of this exercise, lets assume we are using crusts-off buttered brioche slices.
Some serving suggestions
Cut the brioche slices into shapes, perhaps animals or fish for a childrens party;
Serve with flavoured custards or sorbets, perhaps caramel.  Ice cream is always a winner.
Be adventurous with different fruits.  Raisins are so 70s. Cranberries perhaps.  We have even seen receipes with pumpkin and sweet potatoes.  Don't use fruit that is too watery, that will upset the custard.  If you insist, warm them and serve them on the side.
The Classic Brioche Bread and Butter Pudding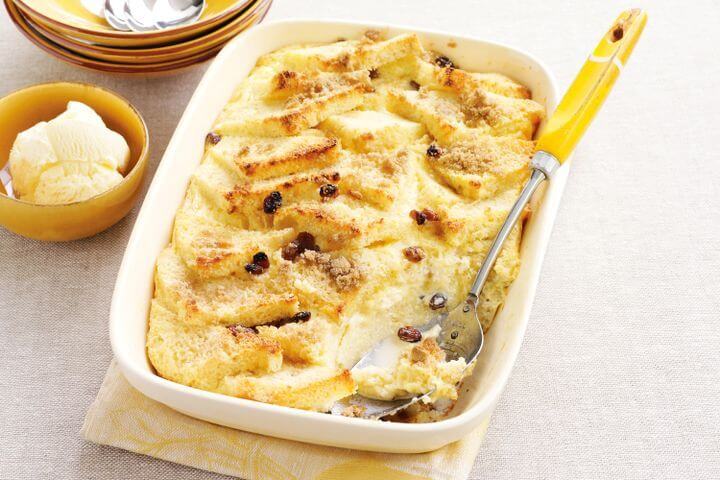 This receipe is a simple one, serves about eight, or in our case four after seconds are demanded, and takes just under an hour and a half from starting in the kitchen to the table. Twenty minutes to prepare, around an hour in the oven.
What you will need
180g butter

675g sliced brioche

55g sultanas

450ml double cream

150ml full fat milk
4 eggs, beaten
4 tablespoons golden caster sugar
1/2 teaspoon vanilla extract
1 pinch ground nutmeg.  Some people prefer cinnamon.
---
How to make it
Put on the oven to warm to 150 degrees Centigrade or Gas mark 2.
Arrange the buttered brioche slices in a greased baking dish. One layer, or if you prefer, a layer, some sultanas, then another layer, more sultanas and so-on.  Put to one side.
The sauce.  Warm the milk and cream in a pan over a low heat until about to simmer. Keep stirring so it doesn't burn.
Remove from the heat and leave to cool. You need to let it cool so the cream and milk don't curdle and go lumpy in the next stage.
Meanwhile, whisk the eggs, sugar and vanilla extract and nutmeg until nice and creamy.
Gradually add the cream and milk and keep whisking.
Put it back on the heat and bring almost to a simmer.  Stir until it forms a custard.
Bring back the baking dish and pour the custard over the bread.
Put in the oven for an hour until the top is golden brown.  If it doesn't brown and the dish is cooked, stick it under the grill for a few seconds.
Dish up, eat and enjoy.
If you want, serve with custard or our favourite, ice-cream.
Simple, easy and so very tasty.
Another Simple Bread and Butter Pudding Receipe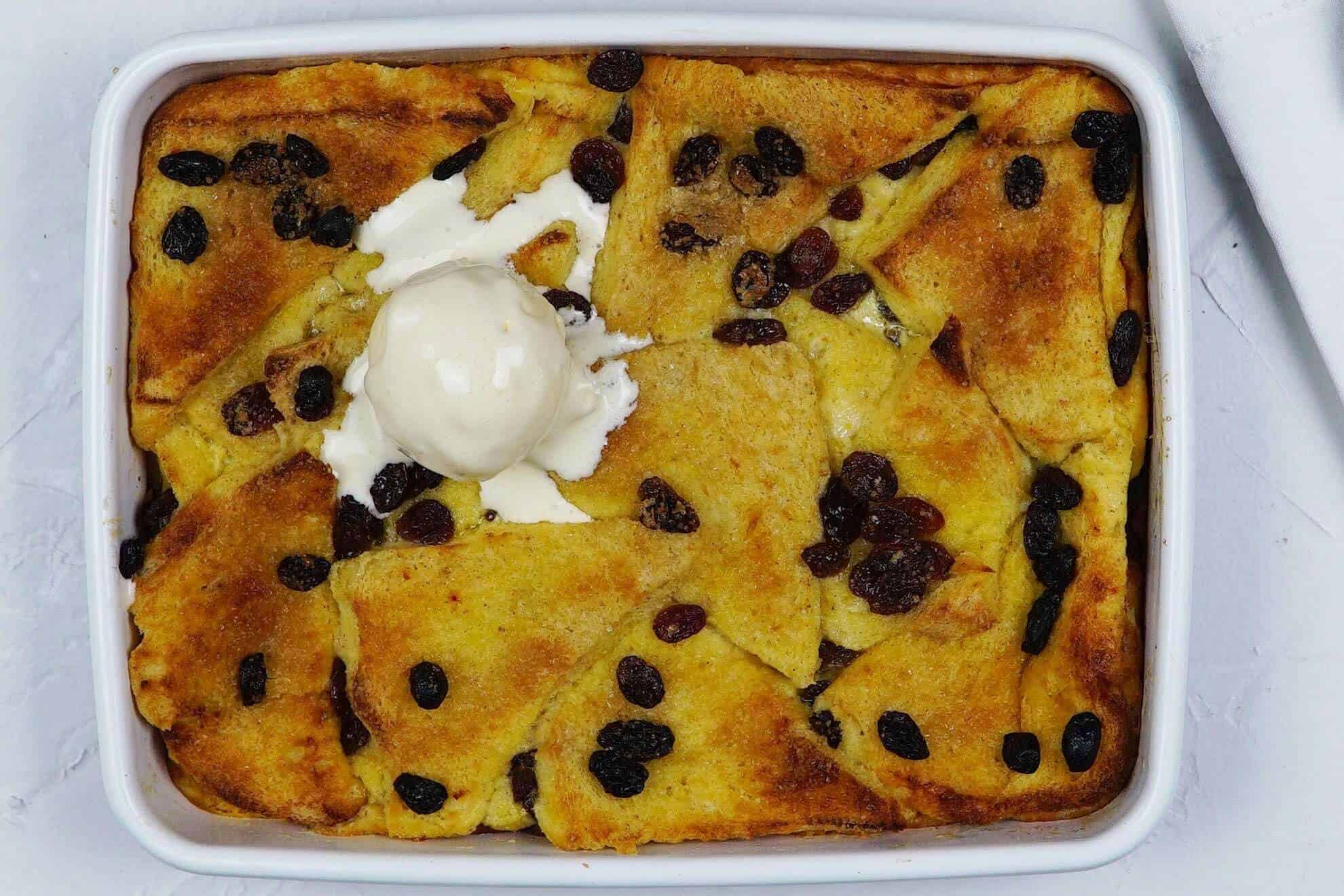 This receipe is very simple and easy to make just like the last one.  It's very similar and will help you to begin to see how you can make simple additions and variations to the ingredients to make different types of bread and butter pudding.  End to end it takes just over an hour, twenty minutes to prepare and forty to cook.
What you will need
1 brioche loaf

sliced,  Crusts on or off - your choice.


1 1/16 pint of milk

1 3/4 oz of white cooking chocolate,

broken into pieces.  (Bet you use more or eat the leftovers while cooking)


The zest of one orange

A dash of vanilla extract or vanilla essence.  Some swear by using a vanilla pod in the preparation of the custard.


1 3/4 oz of caster sugar

2 eggs

5 1/3 oz of raisins, sultanas or mixed fruit

1 1/16 oz of butter, for greasing
How to make it
This is very similar, almost the same in fact as the previous receipe.
Warm up the oven to 356 degrees Farenheit or gas mark 4.
Grease your baking dish.
Arrange a layer of the sliced (and if preferred buttered) brioche on the bottom of the dish and toss in a handful of raisins or sultanas.
Repeat until you run out of bread.  Put the dish to one side.
Warm up the milk in a pan untl it is almost simmering.  Keep stirring it so it doesn't burn.
Add the zest, chocolate and vanilla. Keep warming up and keep stirring.
With your other hand, whisk together the caster sugar and eggs in a bowl until they are combined.
When the milk starts to simmer, pour about a third of it into the sugar and eggs mixture.
Stir to consolidate.
When consolidated, add the rest of the milk, which you (or your assistant) have, of course been stirring to prevent burning.
Keep warming on a low heat, stirring until it forms a thin custard.
When a thin custard, take off the heat and keep stirring for a couple of minutes.
Retrieve the baking dish and pour the milky custard onto the bread slowly so it soaks in.  Let it stand for 15 minutes.
Put in the oven and cook until the top browns and the custard is setting.  This usually takes about 40 to 45 minutes.
If it hasn't browned, but the custard is ready, pop under the grill for a few seconds to brown.
Eat and enjoy.
Express Bread and Butter pudding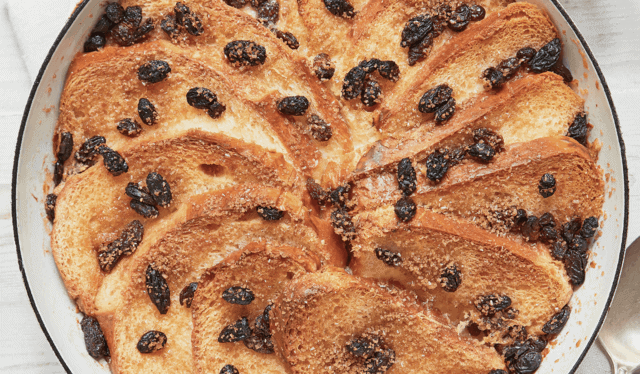 One for the chef in a hurry
What you will need
A very simple receipe and a short list of ingredients
250g sliced brioche loaf.  You could also use croissants, or an individual brioche.
50g dried cranberries, sultana, rains or mixed fruit
Some ready made custard, about a standard tin's worth.
The zest of one orange
How to make it
Warm up the oven to 200C/400F/Gas 6
Make a layered creation.  Cover the bottom of the baking dish with bread, sprinkle on the fruit and repeat until you run out of bread or dish.
Pour the custard into a jug and add 100ml water and the orange zest. Mix and pour slowly over the brioche until it has all been soaked up.
Put the baking dish in the oven for 30 minutes or until browned.  If it hasn't browned, pop under the grill for a sew seconds.
Carelessly throw on a dusting of chocolate powder, grated chocolate, cinnamon or brown sugar with a carefree laugh before serving.
Simple, easy and one for the cook in a hurry.  Takes about 45 minutes from start to finish.
As you can see, it is a basic bread and butter pudding.  Very nice, but add some fancy ingredients and you can turn a pudding into an experience.  Here's one that should blow your socks off.   It's supposed to be for the festive season, but..........
Exotic Bread and Butter Pudding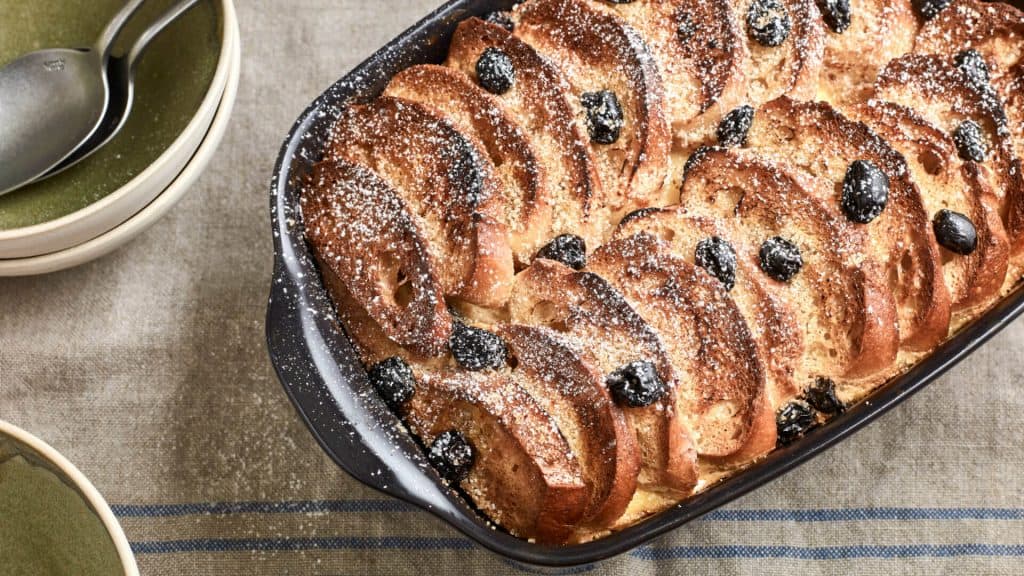 You will Need
225

g

brioche

450

g

Christmas pudding

75

g

unsalted butter

melted

2

large eggs

3

large egg yolks

40

g

caster sugar

225

ml

milk

150

ml

double cream

Zest of one orange

2

tbsp

booze. Cointreau is best to continue the orange theme, but you might like to experiment.


Pinch

of salt

Icing sugar for dusting
How to make it
Put the oven on to warm to 180 degrees centigrade
Chop up the Christmas pudding into chunks, about 2cm in size.
If you have a microwave, put the chunks in a bowl and warm up for a minute.  This is to soften up the pudding.
If no microwave, put the bowl over a pan of boiling water. Stir ocassionally to ensure even heating.
While the pudding is warming, grease a 3 pint baking dish.
Chop up the brioche in chunks the same size as the pudding.
Add the brioche to the dish.
Pour the melted butter over the brioche.
Add the christmas pudding to the dish.
Give the eggs, egg yolks and sugar some serious attention until light, pale and fluffy.
Combine that with the cream, milk, zest, booze and salt.  Mix thoroughly.
Pour over the brioche and pudding in the baking dish.
Bake in the oven for 30 to 40 minutes.
When it's done, leave for 10 minutes to cool, dust with icing sugar and serve.
A twist on an old staple that we hope you will enjoy.