Tips For Creating A Gorgeous Kitchen On A Budget
Kitchens are much more than a room to prepare food. In a time where open plan kitchens are becoming more popular, kitchens are transforming in to a space where you chat with housemates, entertain guests as well as sharing food.
But, unlike all the other rooms in your home, your kitchen has to be able to not only store food, drinks and cutlery but also your oven, saucepans, frying pans, baking trays, your microwave, kettle but sometimes your washing machine, dishwasher and your tumble dryer; that's a lot of stuff for one room!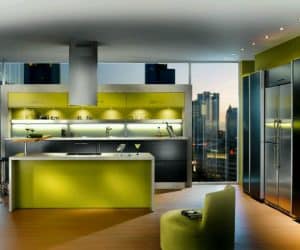 So, it may seem difficult to balance all this necessary storage with any kind of attractive design without racking up an enormous bill. But, not to worry- even the most basic kitchens can have charm added to them with some creative design ideas and some quirky uses of space. Remember, it is your space so add some personality to it.
Simple Kitchen Budget Design Tips
Great for if you rent your home or just want to keep it simple, these are some very simple and cheap ways to revamp your kitchen space.
• Replace handles and pulls- these are all over your kitchen, from your drawers to your cupboards and while you may not notice them, changing them can really impact the look of your kitchen. Why not go for handles with a nickel finish or, if you want to jazz it up and add a splash of colour, why not go for bright coloured handles in geometric shapes?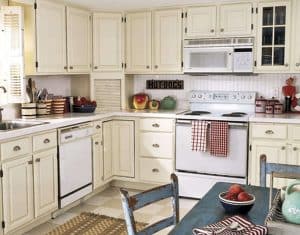 • Replace cupboard doors-replace existing doors with clear or frosted glass; this is cheaper than you think and will really give your kitchen a high-end look!
• Paint- paint is an easy way to brighten any room without breaking the bank but in a kitchen, you can use paint to highlight the backsplash area which is functional and designer. Just make sure it is a gloss kitchen paint!
• Colourful appliances- another great idea if you are renting, while you may not be able to replace your fridge with a green one, why not splash green around by getting green cups, a green kettle and toaster? These create a theme and are extremely simple and cheap.
Cheap Contemporary Kitchen Ideas
Turning your kitchen from dull to modern may seem daunting and often creates an image of a minimalist kitchen that is full of dark appliances.
But there are some key tips to help you give your kitchen a modern facelift without hurting your budget.
• KISS- Keep it Simple Silly! If you are renting, you may not be able to paint the walls of your kitchen whichever colour you want but adding a simple piece of furniture, like a dark bar stool to a plain white kitchen looks very bold and ultra-modern.
• Shelves- opt to minimise cabinets if possible, to create a more open and brighter look. Put shelves up to store your plates, cups and cookware; why not paint the shelves a dark colour for contrast on a light wall or paint them in your favourite colour to add a personal touch.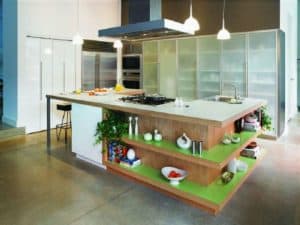 • Geometric- OK, so hanging wallpaper in a kitchen is not traditional but hey, this is modern design! Why not go for bold, geometric prints covering half of the wall or putting it on the backsplash? Very eye catching and will give the room an instant modern chic.
• Go dark- an unusual piece of advice for anyone looking to redecorate, but used properly, black, charcoal and grey accessories, cabinets and light fittings can really make your kitchen glamourous. Contrasted with a bold colour, like red or orange and this becomes very trendy.
Budget Friendly Rustic Kitchens
If you grew up in the countryside and now live in the city, you may miss the old farmhouse feel of your old kitchen.
Even in an apartment kitchen, you can add themes of the simple country way of life for less than you think.
• Wood- light coloured wood accessories can really give your kitchen a farmhouse atmosphere, and with wooden items being so cheap, it is budget friendly too. Wooden chopping boards, wooden stools and wooden salt and pepper mills are popular items in farmhouse chic kitchens.
• Brickwork- if possible, try to expose some brickwork on a chosen wall. If not, put up brickwork wallpaper or a brickwork backsplash, instant farmhouse décor!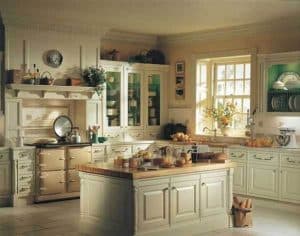 • Indoor herb garden- many supermarkets offer the option of buying most herbs as plants, so having an indoor herb garden with your favourite herbs on your counter top, or kitchen windowsill will really create the farmhouse kitchen feel. Just make sure you water them!
• Wicker- wicker storage baskets can look stunning in a rustic kitchen and are also a handy storage area.
Small Kitchens On A Budget
Small kitchens don't have to compromise style, they can be just as striking as larger ones, you just need some different design ideas to make them pop!
• Open shelving- closed shelving, like cabinets are bulky and take up space; when possible, opt for open shelving to enhance the light in the kitchen.
• Vertical- you guessed it, if you can, go vertical with storage. This will save floor space and decorated correctly, vertical storage like shelving or herb racks can add a touch of personality to your kitchen.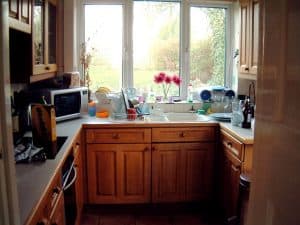 • Glass- an interesting idea to create more space, when buying accessories for your kitchen like coffee, tea and sugar containers, buy glass ones; this will show the space behind them while also being stylish. If you want to add flowers to your kitchen, try glass vases too or even glass bottles; cheap and very trendy.
• Lighting- this goes for both painting and any additional lighting ideas; when painting a small kitchen, aim for the lightest colour you can and if possible, add up lighting on your work surfaces to really highlight the space with ease.
• Backsplash- a great way to create a focal point and make use of any up lighting, creating an interesting backsplash with either paint, tiles or even wallpaper can really help accentuate the space.