Living Room Ideas | Choosing a new Style
The internet is the best place to go to when looking for inspiration for your new home. With platforms such as Pinterest, Instagram and Facebook, there's ideas galore for every person with every personality. Whether you're adopting a new, modern look or going for a vintage charm, we've surfed the net and cherry picked our top living room ideas for all colours. Read on to find out about our choices.
Subtle Contrast: Grey and Yellow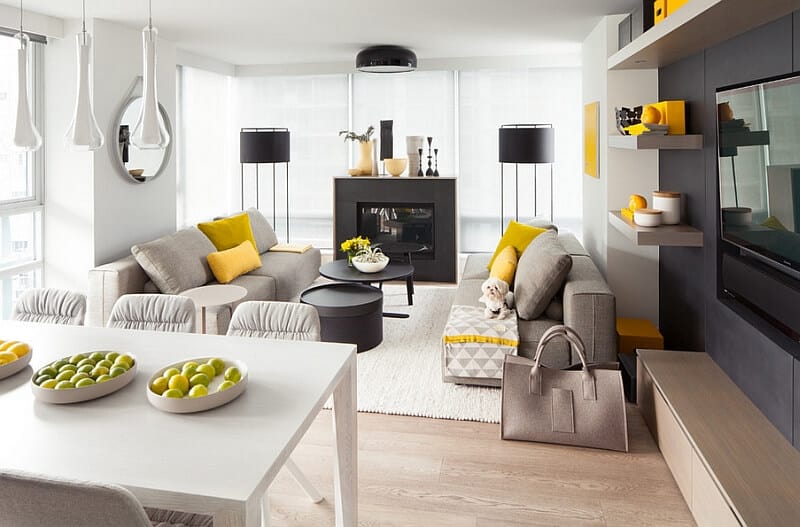 If you like the idea of using a strong contrast to create the illusion of a new and tidy room, but aren't so keen on using the traditional black and white, consider the next two top choices: grey and yellow. Not only does this combination give off a cool, casual and retro charm, it is easy on the eye. Sometimes colours can clash and cause stress on the eyes such as black and red.
Our Design Input:
When using these colours, we knew exactly what living room would make the most of this powerful combination. We suggest placing grey coloured sofas, preferably corner ones, with mustard yellow coloured cushions. The contrast is stunning. In addition, we would opt for wooden plank flooring in the traditional brown shade. Pair this with modern black drawers or stands, preferably shiny surface ones, as these tend to look tidier.
Elegant yet Modern: Black and Cream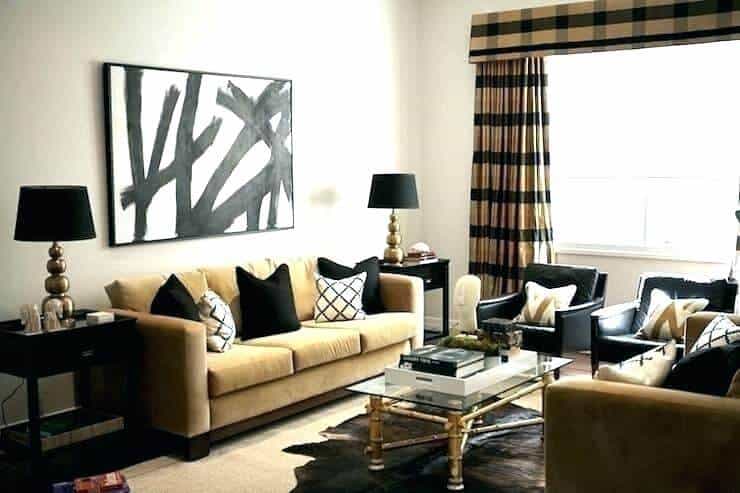 Our favourite theme is using black and cream to create an elegant and luxurious vibe in the living room. When paired with the right assets and furniture, you can give an otherwise glam look a modernistic twist. When selecting a wallpaper, you could use a chic style background or go for a single stripe/border on a black background. Another glamourous accent colour you could add to your living room is gold, which complements the black nicely. A few possible uses of gold as an accent colour in your living room could be in vases, dishes, curtain poles, mirror frames or picture frames.
Our Design Input:
We suggest using a black wallpaper with cream coloured floral patterns all over it. You could then use cream leather sofas with light brown cushions. A black glass dining table is a nice addition to your living room if you're picking this theme. Abstract art is also a nice asset to add to fill up the walls, if you decide to use a different wall design. If you hang up abstract art with intricate work, it can make the wallpaper look congested.
Smart Flooring: Dark Coloured Floors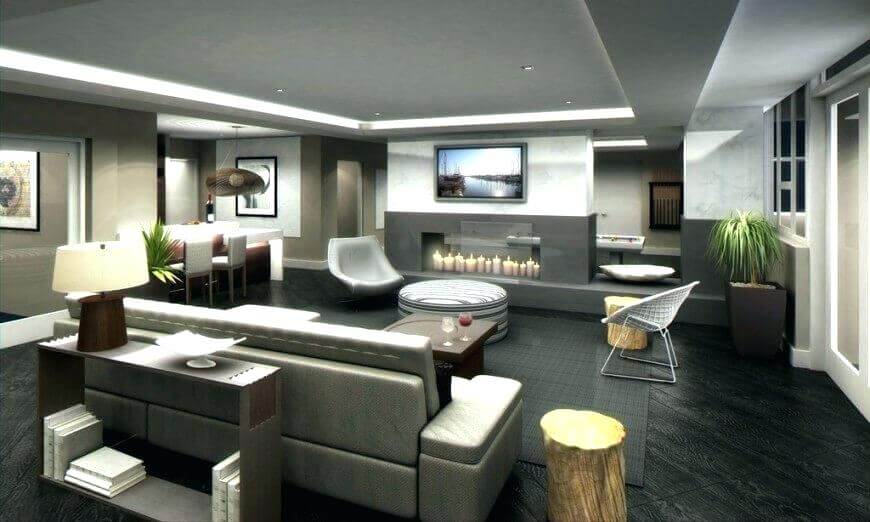 When setting up your living room, we don't focus on how big an impact the flooring has. While wooden planks look attractive and are really easy to clean, they can be a trouble when the weather gets cold. That's when carpets are great; they trap heat in and make the home toastier. However, vaccuming up can become a daily mission. Whatever type of flooring you choose, we suggest going for dark colours. This doesn't mean that the happy/summery vibe you're after is diminshed- you can still drop a bright and cheery look with ease.
Our Design Input:
How to use Dark flooring for a light theme: Make sure your wallpaper has mainly light colours and less stripes. Stripes can create illusional shadows, which clashes with the flooring and destroys the brightness of your living room. We suggest going for dark brown or mahogany coloured wood planking or chocolate brown thick carpets.
How to use Dark flooring for a dark theme: Using black marble flooring is a popular choice when it comes to overall dark themed living rooms. Black tends to create a luxurious and comfortable look and feel, which is always a great look.
Fresh and Fun: Peach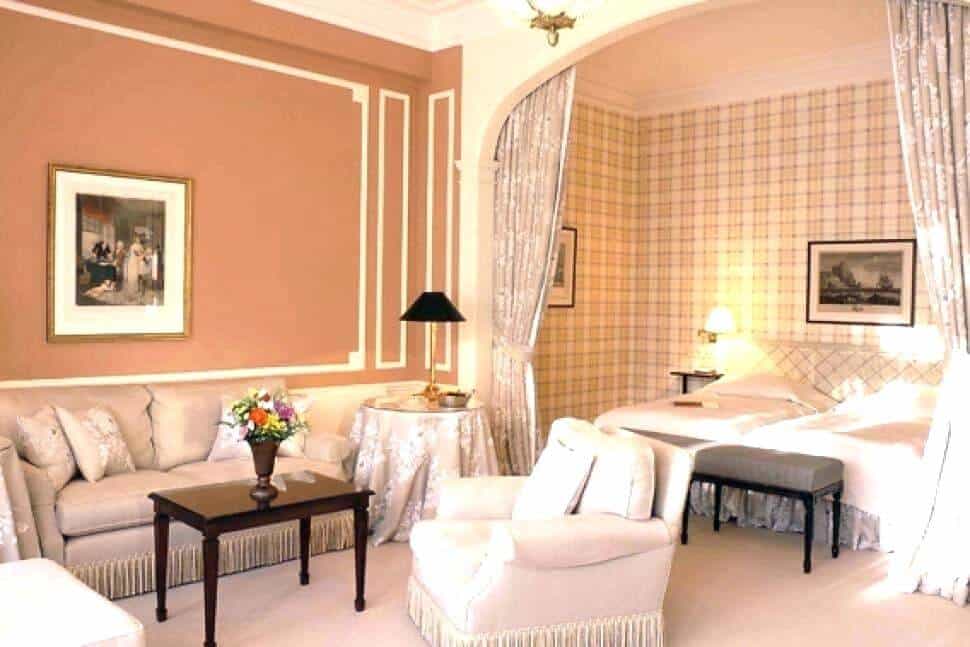 If you're a go-getter who loves their parties and indoor workouts, something brighter and cheerier may do the trick. Be careful when you use peach- too much can look sickly, too bright can be offputting, and too dark may look bland! The best thing about using a peach theme is that the hue is so versatile in itself: you can choose any colour between the spectrum of pink and orange, making it easy to pair up colours to match your living room theme.
Our Design Input:
We suggest getting cream or light taupe coloured fabric sofas with wooden assets (such as coffee tables, dining tables, stands etc.) as they complement eachother best. You could enhance the beauty of the theme by adding a peach or baby pink coloured floor pouf. Our top tip for piecing this whole look together is to add a large fluffy rug- this is best for wooden plank floors (dark brown or really light brown are the two best choices for this).
New and Unique: Grey with Purple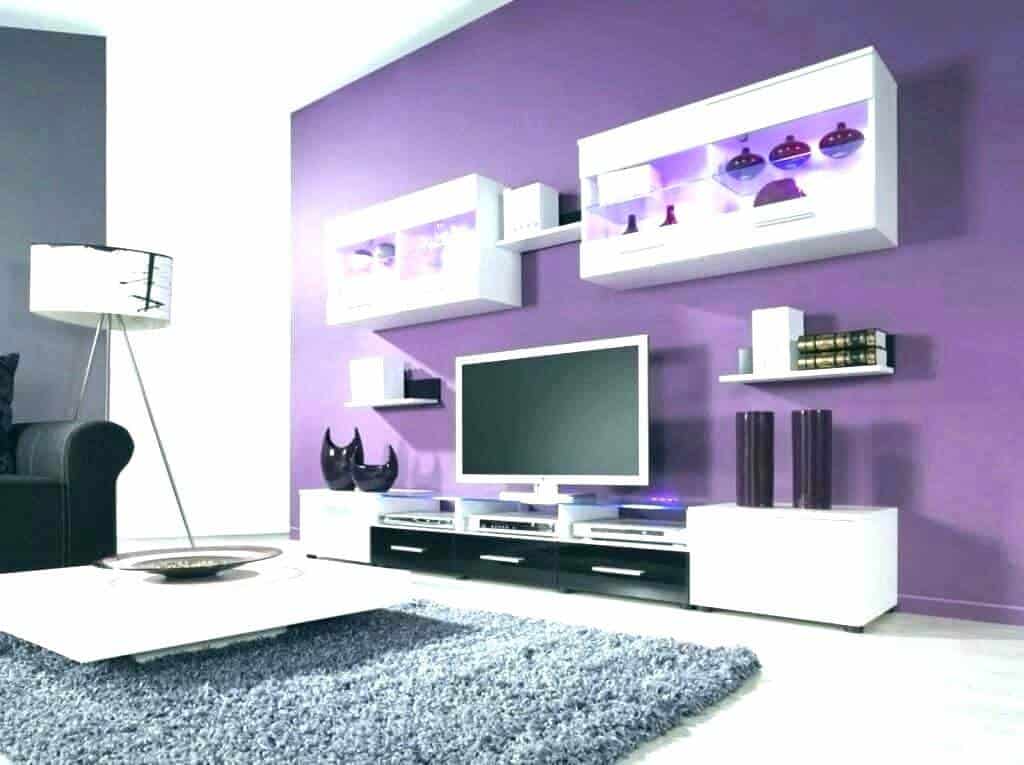 When it comes to home renovation, we all like to think about using all of Pinterest's gorgeous home and living ideas. While it seems impossible, simply a change of colour can do wonders for upgrading your living room into the future. Grey and purple are opposite secondary colours, so they contrast well and fit together nicely too.
Our Design Input:
A plain grey wallpaper with a single gold strip going across is an absolutely elegant and extremely cosy look. You could change this up by having a grey and dark purple broad striped wallpaper instead. Black leather sofas are a nice touch to this living room idea. Finish off the whole look with a fluffy black or dark brown carpet. Avoid wooden planks- these can make your room look quite empty.