Top Tips For Decorating A Kids Bedroom
Decorating a child's bedroom is great fun, as you get to learn more about their personality while also incorporating your own design style. It is also a great bonding activity that children will thoroughly enjoy.
While it is easy to say paint a girls room pink and a boys room blue, in todays society, many parents are opting for neutral colour schemes and ideas that better reflect their child's identity, while also being a place for them to play.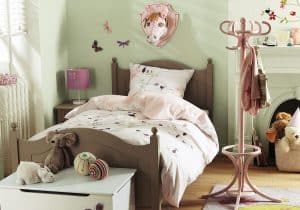 Though you want to make your child's bedroom a great place for them to play, you will also need to think of the following points in the bedrooms design-
• Practicality- is it practical to store all your kids toys in their bedroom if they typically play downstairs?
• Comfortable- is the room warm enough for your child to play happily without becoming ill? Is the floor insulated and are there any obvious drafts?
• Safe- is the design your child wants in their room safe for their age e.g. do they want lots of things hanging from the ceiling which could cause injury? If so, you will have to have a quick rethink and decide on a safer option to prevent injury.
Bedroom Ideas For Small Rooms
Of course, you want your kid to have the largest bedroom you can give them but sometimes, these rooms can feel a little small. Not to worry, there are ways round this which don't take the fun out of the bedroom.
Storage- small kids rooms require smart storage decisions. A great way to maximise space in a small bedroom is to get a bed with built in under bed storage, perfect for toys and games. Shelves are also a great way to make use of wall space but make sure you never put anything heavy on the shelving units, to prevent injury.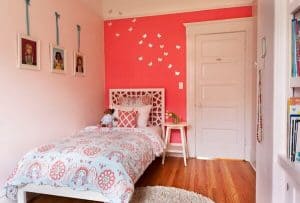 Keep it light- a kids bedroom should be fun and airy, so avoid using dark colour schemes as this may make the room feel cramped. If your kids wants to have darker colours in their room, pick dark coloured accessories, like a small rug, so you are both happy.
Relocate- if all your kids toys won't fit in their bedroom, relocate them to another room in the house. Though this seems obvious, as your kids toy collection grows larger, it can be easy to underestimate how much floor space all the toys take up, so come up with alternative storage solutions to avoid clutter.
Tips For Shared Bedrooms
So, you have two kids sharing a room. Regardless of the rooms size, this can worry most parents and carers and make them question how best to manage the room so both kids are happy.
Mix it up- though people love the idea of bedrooms having colour schemes or themes running throughout each room, this ideology goes out the window when you have two kids sharing. Personalise the area around their bed so that each of their personalities shine through. Pick bed clothes in their favourite colours and remember, that in a kids room, bedding and furniture don't have to match.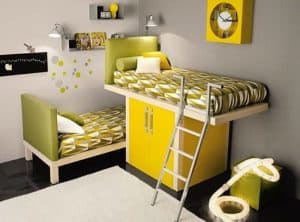 Functionality- If your kids are younger and you are considering buying a bunkbed, try to get one that will grow with your kids; basically, get the largest, strongest one you can to ensure that this item of furniture is not replaced any time soon. Not only is this good for your budget long term but it will create a sense of stability. If possible, try to get furniture that will require minimal rearranging as your kids grow.
Storage- give each kids their own, separate storage space. That way, they will have a sense of where to put their toys, clothes and schoolwork without invading the other kids space. If possible, give them each their own shelves too above their beds. This will enhance their own space and (hopefully) minimise bickering.
Child Bedroom Ideas On A Budget
Every parent wants to give their kids the best bedroom that they can but often this can be extremely expensive and non-practical.
Not to worry; there are a few tips you can make your kids love their room without costing you the earth.
Multifunctional is best- as you kids grow, they will probably need a desk for schoolwork, so it is best to buy items like that earlier; this will prevent room rearrangement and also makes a great place for additional storage.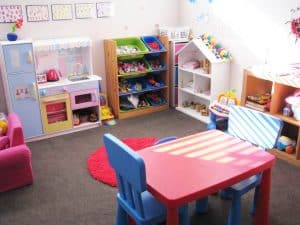 Crafting- another great way to bond with your kid(s) and to help them personalise their room is to get stuck in to some good old arts and crafts. Why not but some cheap pieces of furniture and paint them together?
Storage- I know, we have spoke a lot about storage but it is really essential when you have kids. Rather than buying new pieces of furniture to store bits in, buy boxes, label them and put them away; they can be reused as the kids get older and prevent large purchases like wardrobes.
Kids Bedroom Theme Ideas
Kids love to pretend and typically, they have a favourite story or fictional character that they absolutely love.
While the idea of theming an entire room may sound expensive and time consuming, there are some simple tricks to do it effectively, while keeping booth your kid and budget happy.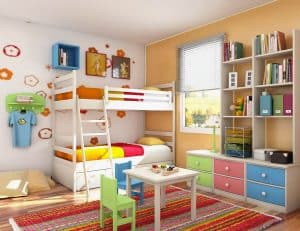 Paint- if you kids likes space, using washable paints, paint planets on their drawers and using fabric paint, paint their curtain and bed sheets to match; these can easily be dyed at a later date and it is a cheap and easy way to keep your kid happy.
Drawings- encourage your kid to draw what they love with crayons and pencils; hang their artwork around their room. Once again, cheap and easy.
Charity shops- shopping in charity shops is a boon when you have kids, you can usually find an item that your kid will love at a fraction of the price. And the best part? If what they love changes, you can simply give the item back to charity. Huzzah!