Ways To Decorate Your Rental And Keep Your Landlord Happy
With the modern housing market moving away from ownership and towards rental, more and more tenants are looking for a way to add a touch of personality to their home without upsetting their landlord.
If you are lucky enough to secure a long term tenancy, it may be worth checking with your landlord (rather than your tenancy agreement) what they are happy for you to alter or paint. After all, they are looking to increase their properties value and if you are willing to decorate it for free, many will be pro the idea.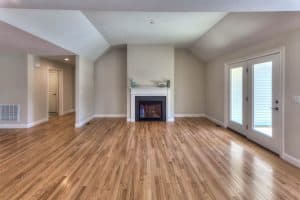 However, if you are on a short term tenancy, you may find the idea of contacting your landlord daunting as you are worried about irritating them. In that case, there are some simple design solutions that you can apply to your new home without causing a problem with your landlord, which, given a little flair, will help make your rental property feel more like your own and add a touch of class.
Risk Free Design Ideas For Rented House
Of course, in your first rental property you want to keep your landlord happy and make sure you get your deposit back at the end. Rather than living in a sterile, white box for the next 6 months, here are some simple, risk free tips to turn that white box in to a home.
• Fabrics- a perfect solution to brighten up any room with the freedom to remove, it is worth investing a bit of money in to some attractive sofa throws, pillow cases and bed linen.
• Storage- in some rental properties, landlords don't want you putting up shelves as the drilled holes can look ugly and be difficult to fill. Now is the time to invest in modular storage units that you can put up against your largest wall; why not paint your new unit to add an instant splash of colour?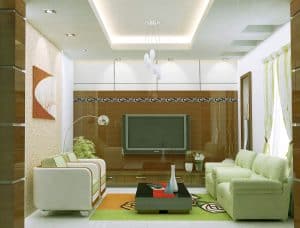 • Plants- of course, you knew plants would get mentioned! They are a simple way to add a gorgeous feature to any room and are obviously risk free. Why not splash out on a larger indoor plant or even an indoor tree? An indoor tree will look stunning against a white backdrop and creates an interesting talking point when visitors come round. You can also invest in some beautiful ceramic pots; very classy and very simple.
Budget Friendly Decoration When Renting
If you are on a tight budget, purchasing a lavish, indoor tree in a blue glazed terracotta pot is out of the question. Need some budget friendly décor ideas? Read on.
• Wallpaper panels- an interesting and cheap alternative to wallpapering an entire room, wallpaper panels are becoming more common in rental properties. Simple pick your desired wallpaper, get some ply wood, wall paper the ply wood and lay in against your chose wall. Voila! A great trick and a striking feature for next to nothing!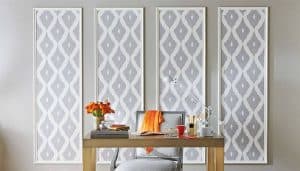 • Statement lighting- move away from boring white lamp shades and go bold! There are some amazing shades available on the market and given your overall design theme, you can really use one to help you make a striking statement.
• Wall stickers- a relatively new idea that is catching on quickly, wall stickers are a great way to paint a picture without touching a drop of paint. There are thousands of designs to choose from, along with an array of sizes and colours to suit your budget and colour scheme. Best of all, they are easily removed, so your landlord won't be annoyed when you move out! Great stuff!
Rented Bedroom Design Tips
Even if you are renting, you still want to make your bedroom or bed area a relaxing haven from the hustle and bustle of the modern world. As previously mentioned, investing in some striking bed linen is a give but here are some more tips to make your bedroom designer without losing your deposit.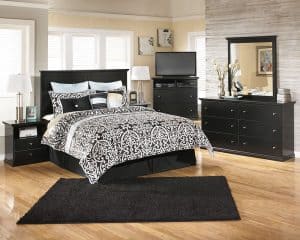 • Curtains- an obvious thing that you can easily change, experiment with changing the colour, design and length of your bedroom curtains. There are some beautiful designs available at minimal prices, so a quick change of curtains won't cost the earth.
• Candles- another feature that is creeping away from the relaxed feel of the bathroom and in to other areas, candles are a cheap, simple and striking way to add a touch of class to your bedroom. Of course, never leave any lit candles unattended.
• Indoor water feature- following on from creating a relaxed vibe in your bedroom, simple indoor water features are a great way to add a zen vibe to your sleeping space, they can be coupled with candles and they are removable.
Simple Design Tips For Your Rental Flat
If you live in a rented flat or apartment, chances are you may be a bit short on space. Not to worry though, there are some ways you can bring your own personality in without creating clutter.
• Wall art- not a new idea but wall art in any form is a great way to add a touch of class to your home while being simple to install and remove. There are many options available, from metal features shaped like flowers to wooden pieces that have been carved. If you are a fan of modern art or simply want to display your own canvas pieces, this is a great opportunity to do so without breaking the bank.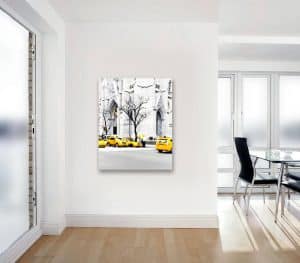 • Exterior features- does your flat have a balcony? Is the front of your flat secure enough to put an item outside your door? If the answer to one or both of these questions is yes, then you have a whole new dimension to work with regarding design. Plants are a great feature to put outside your front door but why not get a customised welcome mat too? If you have a balcony and are in to gardening, using vertical gardening tips can help you design a relaxing outdoor space that is beautiful and easily removed.
If in doubt with any design aspect, talk to your landlord.