Thre is nothing more a fixture of afternoon tea than a fruit cake or fruit loaf.  It goes down well in the garden on a fine spring or summers day, equally with sitting around a blazing fire in the depths of  winter.  After all, Christmas cake is just a version of a fruit loaf.  Some folk like it plain, others with butter and jam, and in Yorkshire and the North-East of England, would you believe with cheese.
We're sure that fruit loaves and cakes appeared many times in Downton Abbey.
Here we have set out a couple of simple receipes and a decadent festive treat you might like to try.  They are simple and easy, use accessible ingredients, and hopefully will get your taste buds on the move.
The Traditional Madeira Cake
Although strictly speaking not a fruit loaf or cake, because it doesn't have any fruit in it, the Madeira cake has been a mainstay of the English afternoon tea for many years. Made properly, it is a delicious sponge cake with a hint of lemon and almond. The technique forms the basis of many other fruit cakes and loaves.
It takes about 20 minutes to prepare and an hour in the oven.
What you need
75g softened butter.  You will also need a little extra to grease the loaf tin.  The butter paper is a good thing to use.
175g golden caster sugar
3 large eggs
the grated zest of one lemon
a few drops of vanilla extract
200g self-raising flour
50g ground almond
How to make it
Simplicity itself.
Put on the oven to warm up – 170 Centigrade or gas mark 3.  Reduce it to 150 degrees Centigrade for a fan assisted oven.
Take your 900g loaf tin, butter the base and sides and line the base with greaseproof paper.
If you have an electric whisk, use it to beat the butter and sugar to light creaminess, then beat in the eggs one at a time. If  you haven't got an electric whisk, use arm power.
Make a thick batter by beating in the flour and almonds.  It should fall off a wooden spoon.  If it's too thick, add a very little milk until it's the right consistency.
Now, carefully pour the batter into the loaf tin, not onto the counter or floor.
Smooth off the top, ideally with a palette knife.
Put into the now warmed oven for an hour or until a skewer in the middle comes out clean.
Take it out of the oven, remembering to use oven mitts .Leave for a quarter hour.
Take out of the tin (easier said than done), peel off the paper without losing too much cake, and leave on a wire rack to completely cool.
Eat and enjoy.
Put it into a sealed container if there is any left.  It will keep for about two or three days.
An Easy Fruit Loaf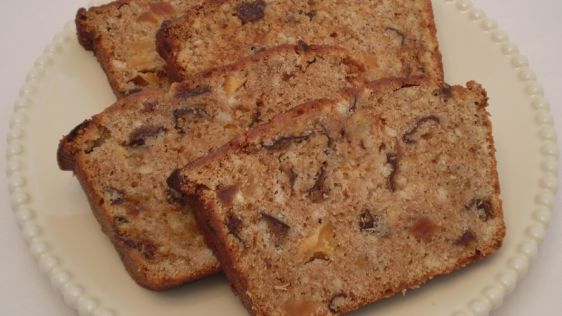 What you need
BTW, these are American units of measure
2 cups of water
2 cups of sugar
2 cups of sultanas or dried fruit
2 ounces of butter, plus a little extra for greasing the loaf tin
3 cups of flour
1 teaspoon of mixed spice
1 teaspoon of cinnamon
1 teaspoon of baking soda
How to Make it
Put the oven on to warm to 350 degrees Farenheit.
Heat the water, sugar, dried fruit and butter gently together in a pot until the butter melts and the sugar dissolves.
Allow the liquid to cool for a few minutes then stir in the flour, spices and baking soda.
Grease and flour a large loaf tin.
Line the bottom with greaseproof paper.
Pour the mixture into the loaf tin.
Bake at 350'F for 45 minutes or until a cake tester comes out clean.
Take it out of the oven and let it cool for 10 minutes
Tip the loaf and put onto a wire rack to finish cooling.
Slice it, butter it, and enjoy it.
A Festive Fruity Treat
Dark Chocolate Fruitcake
If like us, the festive season for you is an excuse to throw the diet out of the window and overindulge in all the forbidden delights you have denied yourself the rest of the year, the combination of a rich moist fruit cake and chocolate must make it close to the top of your list.
This Dark Chocolate Fruitcake is the height of decadence.  It has dried cranberries, dates, apricots, raisins, and pineapple. As with all good festive cakes it is laden with brandy.,
The fruitiness is enhanced with a blend of holiday spices, vanilla, nuts, and chopped dark chocolate. A traditional cake spiced up for the new millenium.
What you need
BTW, these are American units of measure
1

cup

chopped dried pineapple

1

cup

golden raisins

1 1/2

cups

chopped dried apricots

1 1/2

cups

chopped dried dates

1 1/2

cups

dried cranberries

1

cup

brandy.  You might like to experiment with more, or leave it out for a teetotal cake.


3

cups

all purpose flour

1 1/2

teaspoons

baking soda

1/2

teaspoon

baking powder

1 1/2

teaspoons

salt

1

tablespoon

cinnamon

2

teaspoons

allspice

1

teaspoon

ground nutmeg

1

teaspoon

ground cloves

2

cups

light brown sugar, loosely packed

4

large

eggs

1/4

cup

pure maple syrup

1/2

cup

unsalted butter, melted and cooled

3/4

cup

vegetable oil

1

tablespoon

vanilla extract

1/2

cup

water

1 1/2

cups

chopped nuts*

2

(3.2 ounce) bars of at least 70% cocoa dark chocolate, chopped
How to make it
Put your oven on to warm to 325℉.
Liberally grease two 9×5 loaf pans and line with greasproof paper then set them side.
Place the dried pineapple, raisins, apricots, dates, cranberries, and brandy in a large microwave safe bowl and stir to combine.
If you have a microwave, microwave the mixture for 1 minute, take it out and give it a stir, then microwave again for another minute. Set aside to cool.
If you don't, use a pan and heat the mixture gently for a few minutes.  Don't let it boil.
MIx the flour, baking soda, salt and all the spices in a large bowl.
In another bowl, (We assure you the washing up is worth it), mix the sugar and eggs until smooth.
Add in the maple syrup, butter, vegetable oil, vanilla and water and again mix until smooth.
Now, gradually add the dry ingredients, mixing with a wooden or rubber spatula until combined.
Drain off the brandy from the dried fruit and add to the batter. Stir until combined.
Add the chopped nuts and CHOCOLATE. Stir until combined
You will now have a thick batter.
Take five and drink the brandy you collected in step 10.  Alternatively you could pour it on the cakes as they cool in the tins.
Now, pour the batter into the two loaf tins, making sure each has the same amount.
Put in the oven for around an hour and a half, or until a cake tester comes out clean.
After taking them out of the oven, leave for half an hour in the pans, then complete the cooling by tipping them out onto a wire rack.
If you can wait, let them cool completely before slicing and eating.
The receipe originally called for the cake to be made a few days in advance.  In our house it's made a couple of months in advance and given a good dousing in brandy every week. Sometimes the cake even makes it to the holidays.
Have fun, and good eating……..