Creative Ways To Decorate Your Garage
Once thought of as a utility type space full of all your car or motorbikes bits and pieces, garages have often been associated with being dirty, smelly and covered in oil stains. They are also typically though of as being a DIY type workshop, where you can polish, repair or clean your motorised vehicle in peace.
While the storage solution of storing all your motor bits in one space is logical and functional, it does not mean that your garage can not also be stylish. After all, who really wants to be in a room that smells bad and is cluttered when trying to fix a potential issue with an expensive (and often essential) piece of kit? Seems like a very easy way to become frustrated.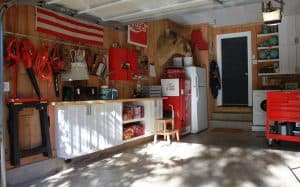 Luckily, your garage does not have to be a space which smells bad and stresses you out. If you are looking to refurbish your garage or have just moved in to a house or flat where you have access to one, there are some simple ways to utilise the space while also adding your personal touch to it. Now that's functionality!
Garage Wall Decoration Tips
A typical garage has 4 inner walls which are often the same height as a regular room in your house, so why are they often treated so differently by home owners? Clutter is rarely acceptable in any other room in the house, yet car or motorbike owners rarely use wall space in their garage to its full potential.
• Storage- of course, any workshop is not complete without storage units and it is the perfect way to organise your garage without cluttering up the floor with essential car maintenance tools. Of course, functionality can be paired with design flair, so why not paint the storage units a bold colour or even match them to the colour of your car/bike? An interesting way to brighten the space.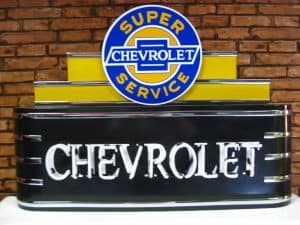 • Wall signs- typically associated with the 'man cave,' garage wall signs come in all shapes, sizes and colours. Many are aimed at a more retro garage theme but with a bit of shopping around, you can get a cheap sign that is personalised. That's a great way to incorporate your personality in to the room, plus it makes it feel more light-hearted and fun. Simple stress buster right there!
• Upcycle- got an old hood cap that you don't need anymore? Drill a hole into it and make it a wall piece. Honestly, many parts of cars and motorbikes can make great decorative pieces due their metallic shine and industrial feel, plus it once again personalises the space and can also serve as a time line piece for those of us whose car or motorbike is their hobby. Plus, its free and cuts out that trip to the dump!
Retro Garage Decoration Tips
Retro is the new modern in many areas of household décor and it is a perfect theme for a garage. Of course, retro décor can include your own personal touch and depending on the space available and your creative flair, there are lots of ideas to take you back in time in your own garage.
• Jukebox or boombox- associated with 1950's gas stations and diners in the United States, a jukebox is a great way to add a touch of retro to your garage. They ooze class while also being fun and light-hearted. If you want a bit of a more modern feel, boomboxes mounted to the wall have the same impact and can easily be accessorised. Plus, who doesn't want a song to sing along to at full volume when working on their car? Once again, a great stress reduction technique to put the fun back in to your garage!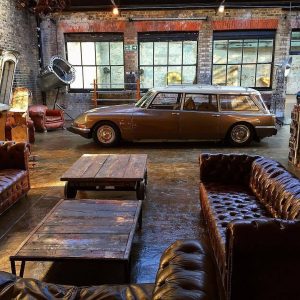 • Neon signs- another association with 1950's diners that is making a comeback in garages, neon signs come in a wide array of design, sizes and colours and are an interesting feature to add to your garage. If you have a bit more cash to splash, you can even get one personalised to your own unique taste.
• Wooden wall panels- another great way to add a retro look to your garage is to put up wooden wall panels. Cheap and easy to put together, they are easy to attach hooks and lighter furnishings to, while also being easy to replace if they become damaged. Brilliant!
Small Garage Decor Ideas
If your garage is on the small side, chances are you may be worried about fitting an appealing décor into a space which just about fits your car into it. Not to worry though, small doesn't equate to lack of style and there are a few tips you can use to maximise the space.
• Vertical- with any small space, the key to efficiency is to go vertical with storage, eye catching pieces and paint. Avoid drawing focus to the floor and paint one wall with a dark, bold colour to draw attention while keeping the other walls lighter. This technique really brightens the room with minimal effort.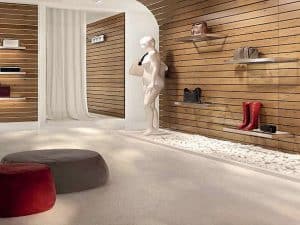 • Overhead-similar to going vertical is the option of creating overhead storage to really make use of all available space. Avoid putting heavy items in overhead compartments to avoid injury.
Decorating Your Garage On A Budget
Working on decorating your garage on a tight budget? There are many ways to maximise décor at minimal price.
• Paint- a lick of paint can do wonders in transforming a room and is easy to personalise in your favourite colour at no extra cost.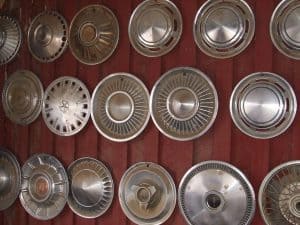 • LED lighting- if you work in your garage late in to the evening, one light may not be enough to work by. Invest in some stick-on LED lights; these have the benefit o being cheap to buy and requiring no electricity to run, just a pair of standard batteries. They are also extremely bright, so make working in a darker space easy. They come in a wide array of colours, shapes and designs so can look very trendy.
• Upcycle! – reuse hubcaps, handlebars or other unused car parts.