Best Garden Furniture To Leave Outside – Reviews 2018 – 2019
Product
Top Choice
Great Value
Top Choice
Product
Great Value
Product
Product
It's a beautiful summers day.  You picture yourself perhaps taking the food off the barbecue and sitting at the patio table to eat it or perhaps reclining on a comfortable chair or sun lounger reading the paper and sipping your favourite cold beverage.
Your vision of enjoyment is shattered by the sudden realisation that you will need to haul the garden furniture out of storage, set it up and later put it all away again.  Too much effort.  You need furniture that you can leave standing outside.   You go to buy some.
How to choose outdoor garden furniture: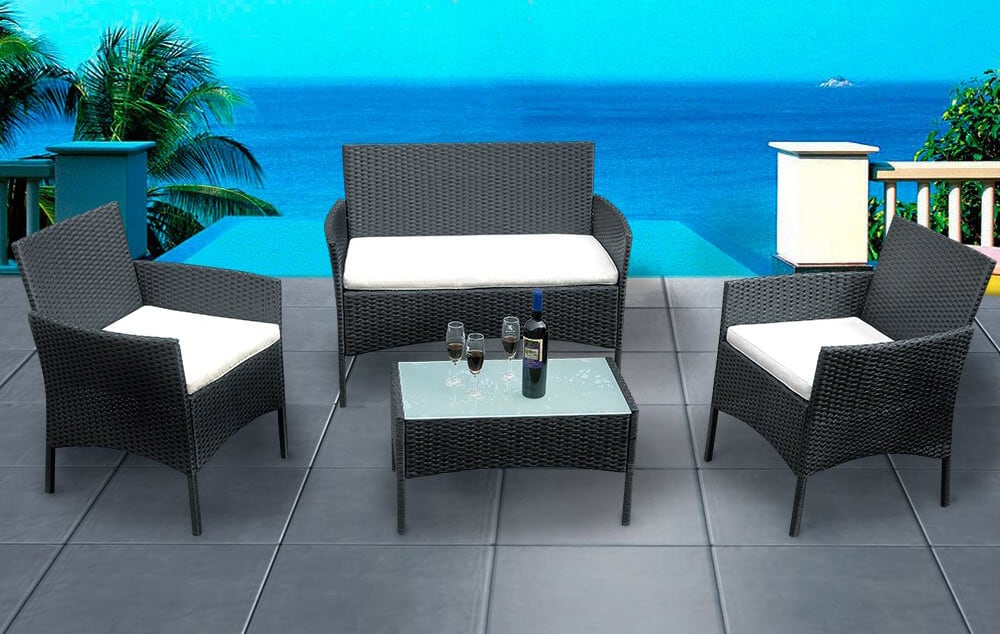 Here are some criteria that you should consider when choosing your purchase.
Basically, what do you want it for.
Is it only a table and chairs plus relaxing loungers for the lawn or patio or something a bit more grand. If you do a lot of entertaining, either socially or as part of work, that will make a difference.
Will simple plastic tables and chairs do, or if you have a decor theme, do you want upmarket cane and fabric furniture to match it to impress the guests.
What accessories will you need.  For loungers – a drink holder perhaps or small low-slung tables for snacks might be useful. Will you need sunshades.
How open is the environment.  If it's a patio, it may be relatively secluded and furniture with fabric covering might be alright.   Left out on the lawn, probably not.  If it's on the lawn remember you'll need to move it when mowing.
Your weather will make a difference.  Fabric doesn't do well in damp climates.  Whether that is just high levels of humidity near the seaside or torrential downpours from time to time, doesn't really matter.  Left wet, fabric will stay damp and smelly and quietly rot.
You might need basic furniture with removable covers and cushions that you take inside for storage in the dry.   Kinda defeats the purpose of having furniture that you use from time to time and otherwise ignore.
Is it likely to be stolen if left out overnight
Some other considerations:
Does it come fully assembled, or will you need to assemble it yourself. If so, how easy does assembly look, and will you need any special tools.
There should be an instruction manual, written in readable English, not one roughly translated from Sanskrit.
If you do decide to plump for fabric covered cushions, where will you keep them. The place should be dry and well-ventilated and ideally close to the furniture to make getting it out and putting it away again less of a chore.  Some folk buy a big plastic watertight box and keep it on the patio.
Here are two of the best.
Britoniture Rattan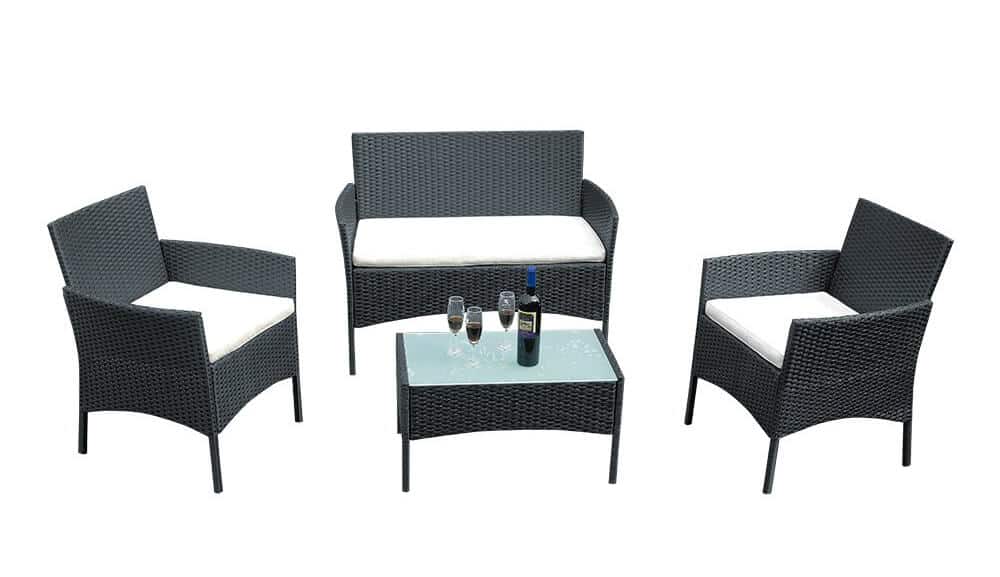 We are looking at a 4 Piece indoor and outdoor set of dining furniture – a small coffee table, a two seater sofa and two chairs.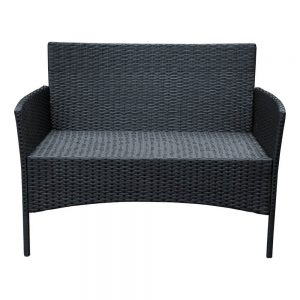 This furniture set is available in Brown, Black, Light Grey, Grey and Dark Grey. It is made of low maintenance PE Rattan which is dirt-resistant and easy to clean. It is also  UV resistant.
To clean, a simple wipe with a damp cloth will do.
The furniture is sized as follows:
The 2 Seater Sofa:  Width 104 x Depth 65 x Height 82cm
The Armchair:           Width 57 x Depth 55 x Height 82cm
The Coffee Table:    Width 71cm x Depth 41cm x Height 39.5cm
The coffee table is topped with 5mm tempered safety glass
Please note that it is a flat-pack unit, so assembly is required. The purchase also includes seat cushions with removable covers for washing.
User comments are generally favourable, with the main gripe about assembly being very fiddly, and holes not lining up easily.  A couple of recommendations were to have four hands and not to tighten up the screws until assembly is complete.

CosmoLiving Rattan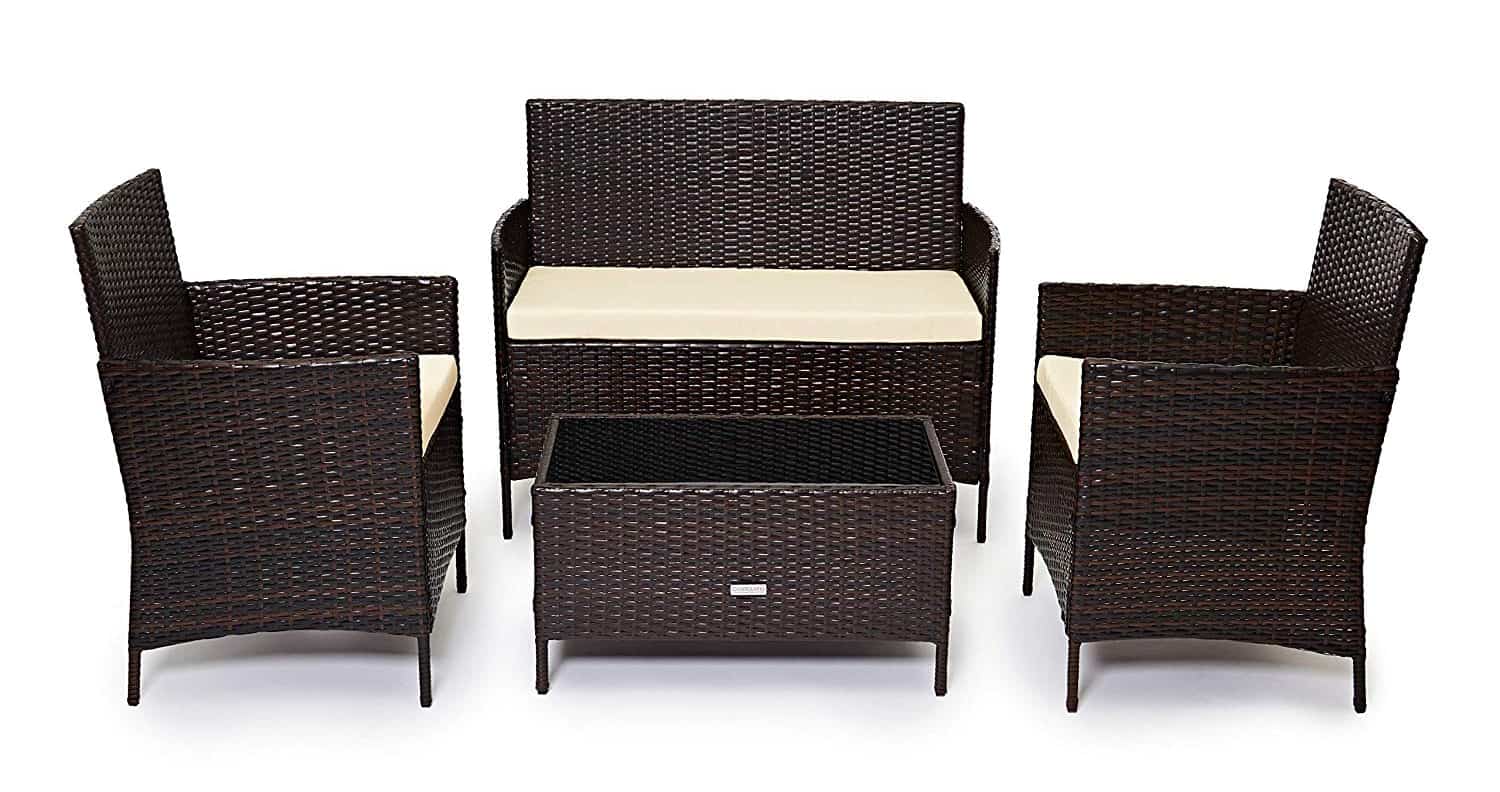 Again for comparison purposes, we are looking at a 4 Piece indoor and outdoor set of dining furniture – a small coffee table, a two seater sofa and two chairs.
What you get is very similar in content to the first review. Again flat pack, again assembly required, again four hands needed.  Blindfold the budge and give the dog ear defenders because the language might become a little blue and some tools might be tossed.
In regard to dimensions:
The sofa is 39″ wide x 20″ deep x 32″ high.
The chairs are 22″ wide x 20″ deep x 32″ high.
The table is 27″ long x 1 6″ wide x 15″ high
Again  it is made of low-maintenance PE swipe it clean with a cloth UV resistant Rattan.  The cushions seem of reasonable quality, though one user did complain that the stitching was starting to come apart after a few weeks.
Users seemed broadly happy, but complained a lot about the fiddly nature of assembly.

Bosmere Protector 6000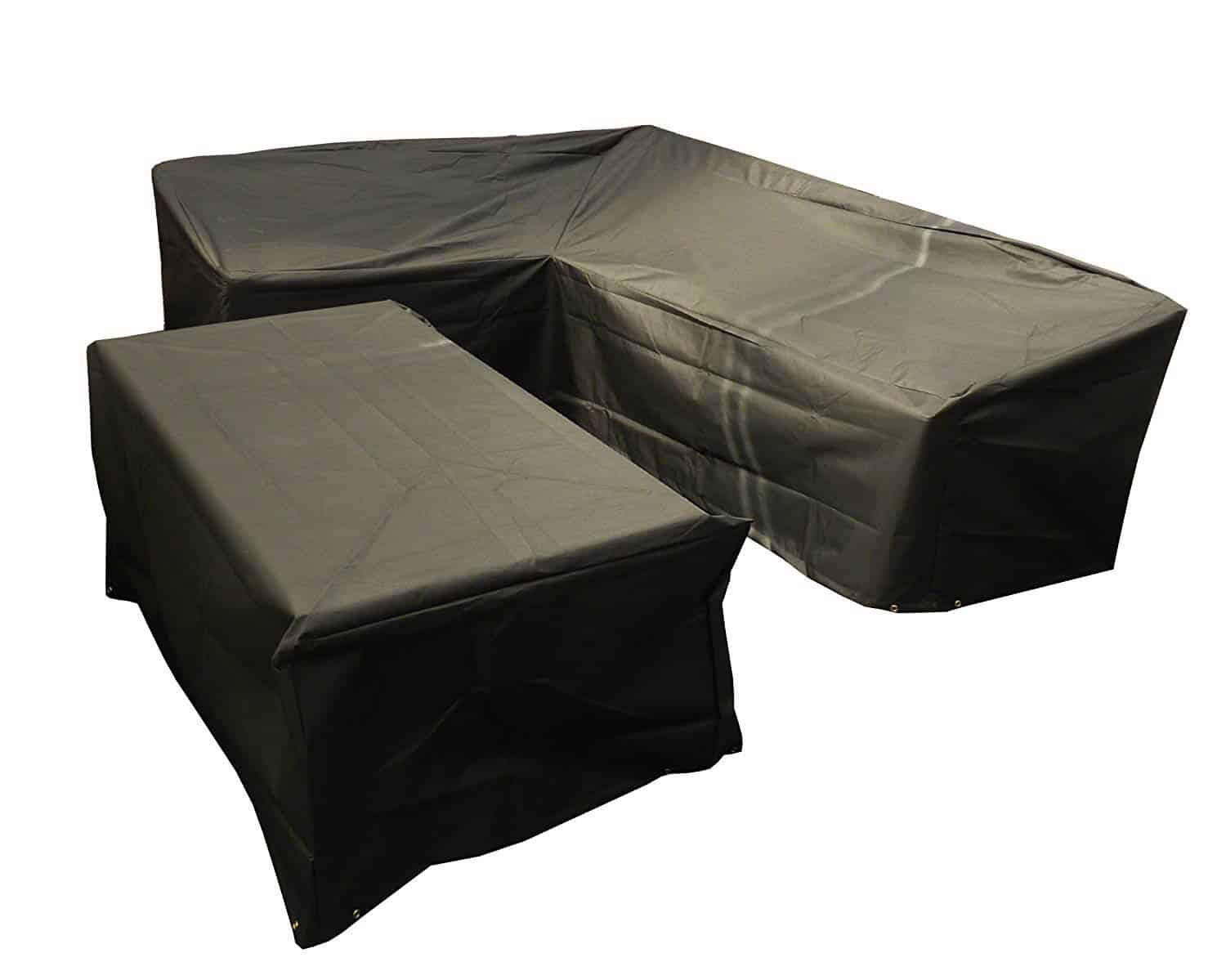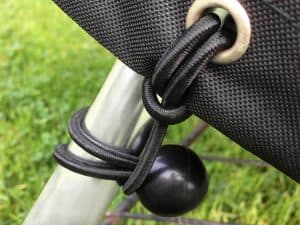 As we noted above, protection from the elements is essential in most climates. Protection against wind and water is important.
This final selection is a cover for the table, sofa and chairs you have selected above.
Basically, it comes in two parts, a rectangular cover for the table and an L-Shaped cover for the sofa and chairs.  The two items are sized such that the table cover fits into the L-shaped cover to form a rectangular unit.
The cover is wipe clean, the material is breathable polyester with a water-repellent coating. It is fixed through heavy-duty brass eyelets secured by bungee-type cords.
The accessory normally purchased at the same time is a table-top water shedding pole that raises the cover above the table allowing water to simply run off rather than sitting on the cover. .  Additional bungee cords are available in packs of five.

Summary
The two examples of garden furniture reviewed here are roughly equivalent in both function and price.   In our view, the Britoniture furniture shades our recommendation because of superior quality and a wider colour range.