Product
Top Choice
Great Value
Weight (Blowing/Vacuuming)
Top Choice
Product
Weight (Blowing/Vacuuming)
Great Value
Product
Weight (Blowing/Vacuuming)
Product
Weight (Blowing/Vacuuming)
While autumn is, as Shakespeare put it " a season of mellow fruitfulness", it can make a real mess of your patio and garden. Leaves everywhere, and grass cuttings needing to be raked up and taken away. You would rather be off doing something else. A combination blower/vacuum can be a real help to you in releasing quality time to enjoy. Here's what to look for, and a review of three leading items.
How to choose the best garden vacuum/blower
Things to look out for:
Ease of Use: You'll be outside with it for a while in all kinds of weather. Autumn can be chilly. It should be easy to use with all the controls accessible to cold fingers and thick gloves. Can you clean jams like mud in the vacuum nozzle easily.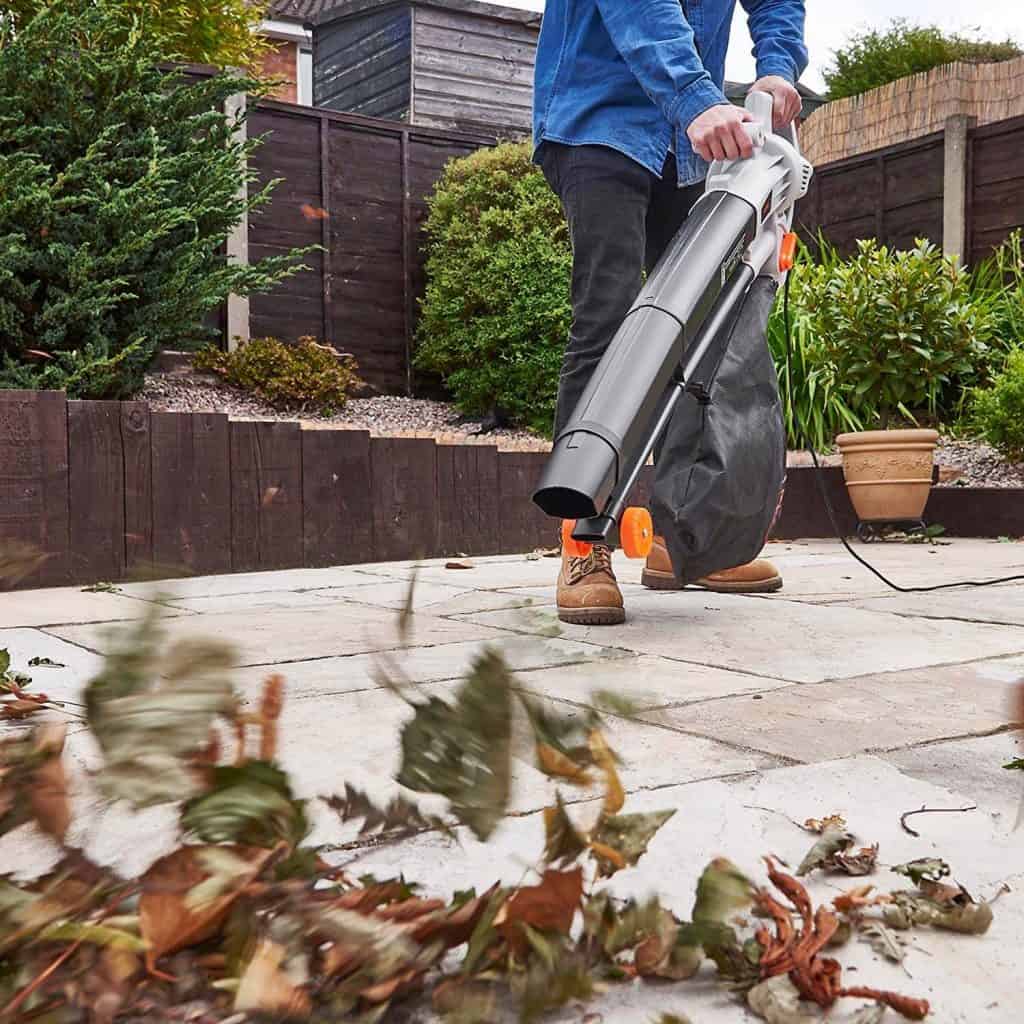 Power: Not too much, not too little. You want to be able to deal with wet leaves, but not pick up the gravel from the drive or blow the dog over the fence.
Comfort: Can you use it for extensive periods without discomfort. Does it have a carrying strap. Does it need one-handed ot two-handed use.
Noise: Is it quiet enough or will you have complaints from the neighbours.
Ease of Switching: You should be able to switch from vacuum to blow without needing tools or to carry out a full reassembly of the unit
Sturdy: It must be robust and not fall apart in use.
Power Lead: Is it long enough or will you need an extension cord.
Safety: Is it safe to use.
The best way ahead is to draw up a list of what you want it to do and the price you want to pay, and compare the fan specification against the list.
Here are some other considerations:
How it is delivered
The units come in a self-assembly format. You will probably need to put it together when you first get it. That should be simple and not need any specialised tools. The instruction manual should be readable and understandable.
Power Controls
You should be able to control the vacuum and blow power so that you can adjust them to fit where you are working.
Warranty
You will be using it is a fairly hostile environment. Thhings will break. A warranty willhelp with replacement of unikts that breakquickly under normal use.
Spares
You will need to replace the bag at some point. Apparently rodents find them quite tasty. Some other parts might break in use through normal wear and tear. Can you easily get spares,and at a good price. There have been reports that for some units it is better to buy a new unit than spare parts for your existing one.
Here are reviews of the three leading contenders in the market:
Bosch ALS 2500 Electric Garden Blower and Vacuum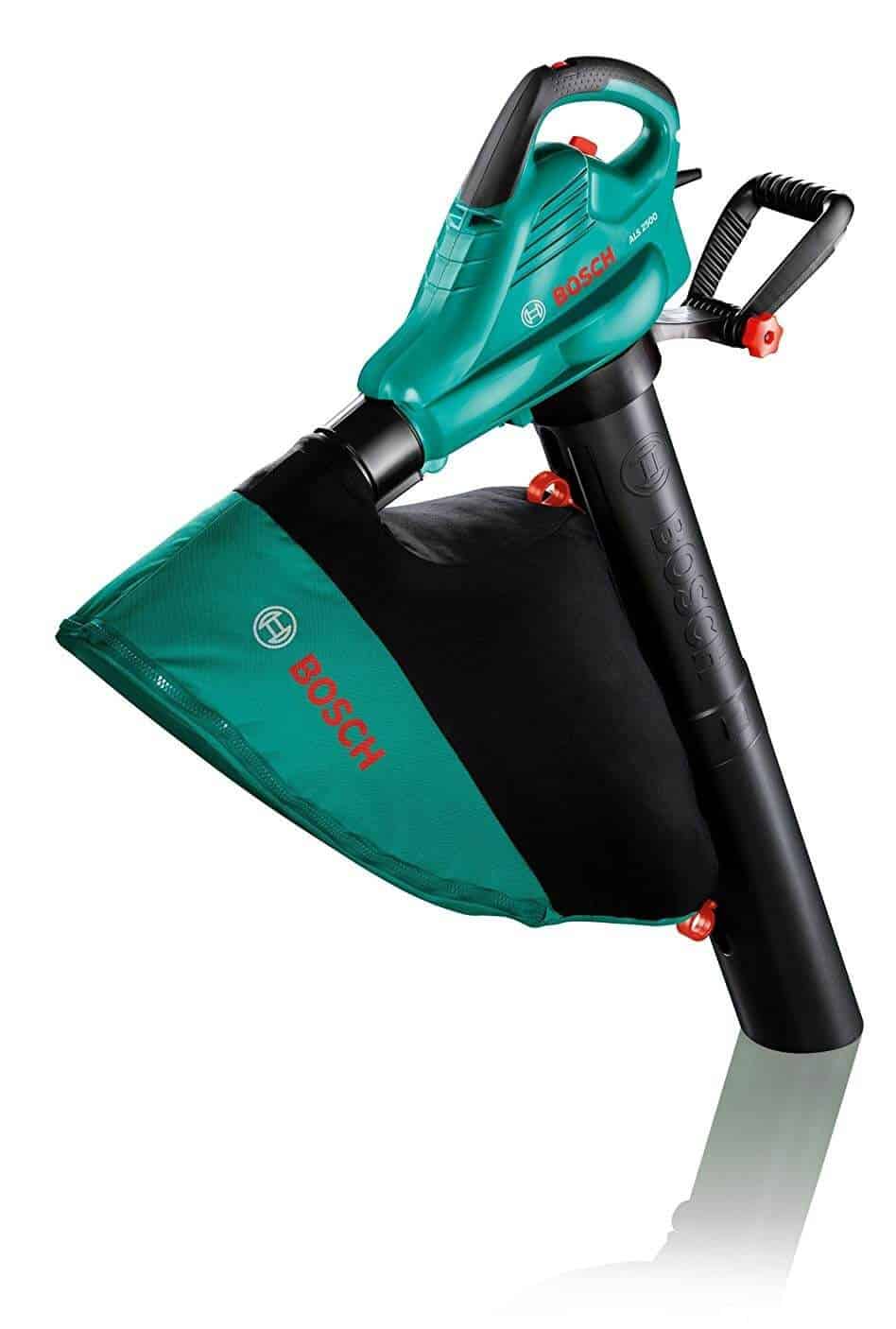 Can be found for review and purchase on Amazon at https://amzn.to/2YOcfqP
First off, be aware that there is a newer model - the Bosch Home and Garden 06008B1070 Universal Garden Tidy. Also available at Amazon.
Assuming you haven't run off to Amazon for a look at it (https://www.aawp.co.uk/Bosch-Home-Garden-06008B1070-UniversalGardenTidy/dp/B07ND991GV/ref=dp_ob_title_hi) here's the review of the ALS 2500
There are two type of vacuum/blowers - tube swappers and all-in-ones. The ALS 2500 is a tube swapper.
A central section has all the controls and the motor, and you attach different configurations of tubes and bags to blow or suck.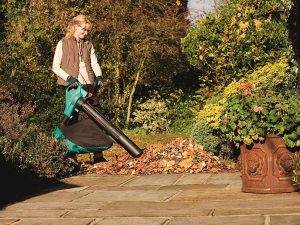 As with all multi-purpose units, it is a bit cumbersome in use. You need to keep track of all the tubes and bags, and to add to that the power cable always seems to be exactly where you don't want it. That, however, is life with multi-purpose tools.
To use the blower function, cover the larger intake hole with the supplied grille and put the smaller tube onto the narrower outlet hole. For vacuuming, put the bag onto the output hole, and the larger tube onto the intake hole. Be careful not to overtighten any screws.
The ALS 2500 has a powerful motor that will help you tidy up your lawn, patio and driveway easily. The best way is to blow all the leaves into a neat pile, then use the vacuum feature to suck the pile up into the 45 Litre bag. If the debris is of a suitable type, use the shredder to create silage for your compost heap. The motor is powerful enough and the bag big enough for you to be able to do the job quickly.
There are two blowing power settings, setting 1 - gentle and setting 2 - tempest. Gentle moves light stuff around, but you need tempest mode for wet leaves and to get stuff out of difficult corners.
When vacuuming, the incoming material goes straight through the fan into the shredder and on into the bag. The bag is waterproof, so it can easily collect wet leaves.
The 10 meter lead is long enough for most small jobs on a patio,but you will need an extension cable for further out into the garden.
It's easy and quick to assemble.
In regard to a warranty,register the product with Bosch and get 3 years.
One significant point to note is that this is a powerful unit. Bosch and some users recommend that you use it only with the shoulder strap attached and over your shoulder. Apparently in use it produces a restive force that could take you by surprise and lose control of the unit.
On the dwonside there are a few points:
Two-Handed operation. You cannot, unless you have monstrous hands, reach the mainpower switch with the hand holding the handle.
The fairly short cable makes it suitable for the smaller garden only.
The blower nozzle is quite small, so you can cover small areas only.
The power output for the blower can only be reduced by about half.
Conclusion
The Bosch ALS 2500 has great performance, is simple to put together, and if you remember to use the shoulder strap is easy to use. A worthy contender and our number one choice.

Flymo 9676581-01 PowerVac 3000 Electric Garden Blower Vac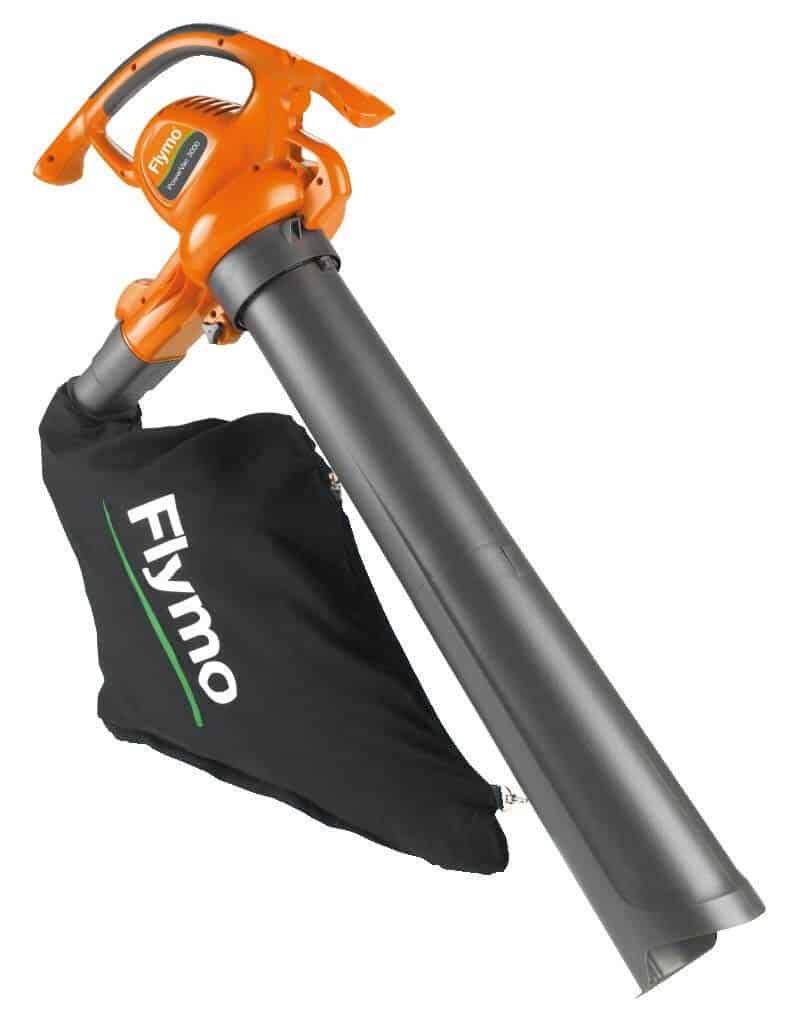 The Flymo unit has been designed to be easy to use as you clear leaves and debris from your garden. Its best feature is claimed to be the tool-less way to change between vacuum and blow quickly with a button press followed by the quick-change feature.
Another bonus is the 16:1 shredding ratio which means more debris is collected in the 45 Litre collection bag meaning you spend less time walking to the compost heap to empty it.
According to most users it is easy to use, the great shredding ratio creates mulch really well and the powerful blower deals with most situations. Most seem happy with it.
However, significant gripes have been reported: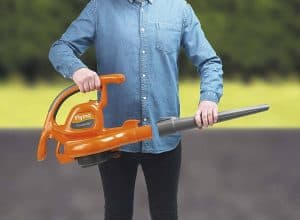 The quick change function is claimed to be unique to Flymo, and according to them quick and easy to use. Some users dispute this, saying that it is a fiddly process, takes a lot longer than advertised, and needs a bit of disassembly and reassembly.
Tool-less, yes, but not the press a button and away you go method that seems to follow from the advertising.
The big gripe is around the cost of spare parts, parfticularly the vacuum bag. It is inevitable that the vacuum bag will wear out at some point. It will fail through natural wear and tear. Rodents have been known to take a fancy to one and munch away, ruining the bag while it is in storage.
It cannot be repaired, and the cost of a replacement bag is not far off the cost of a new unit. According to Social Media reports, that has put existing users off replacing the unit, and some potential users from selecting it.
Overall, a fine unit and, with the possible exception of the quick and easy tool-less quick change function, doing as advertised.

VonHaus 3 in 1 Leaf Blower - 3000W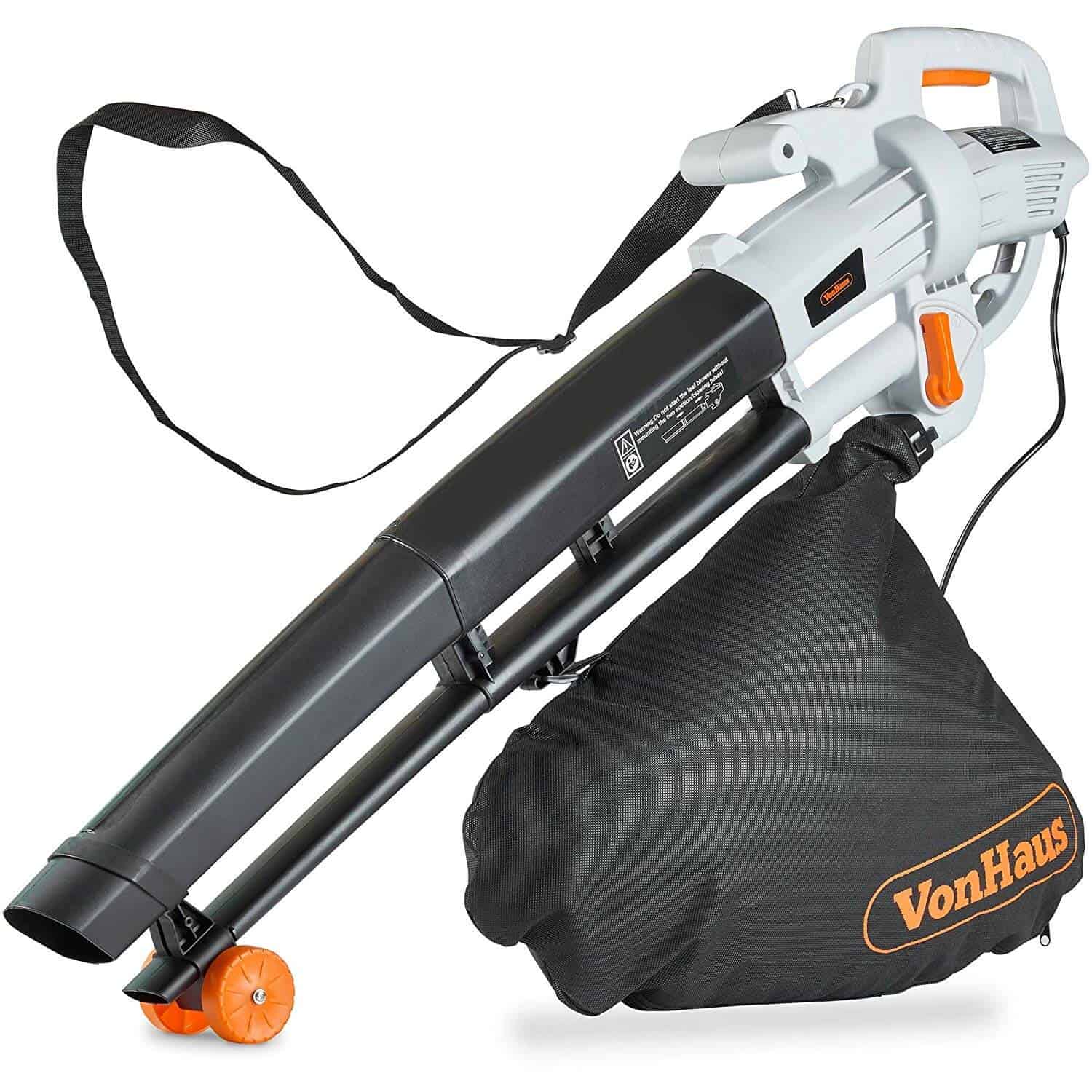 This is again a multi-tool unit, and one from a manufacturer that is very highly regarded.The unit operates as advertised, sucksblows and mulches with the best of them.
It's big selling point are a pair of wheels that in vacuum mode, keep the nozzle at the right height to suck up leaves but leave the sones behind.
It comes in a small box, that belies it's assembled size. It is easy to assemble, with the only tool needed a Phillips screwdriver.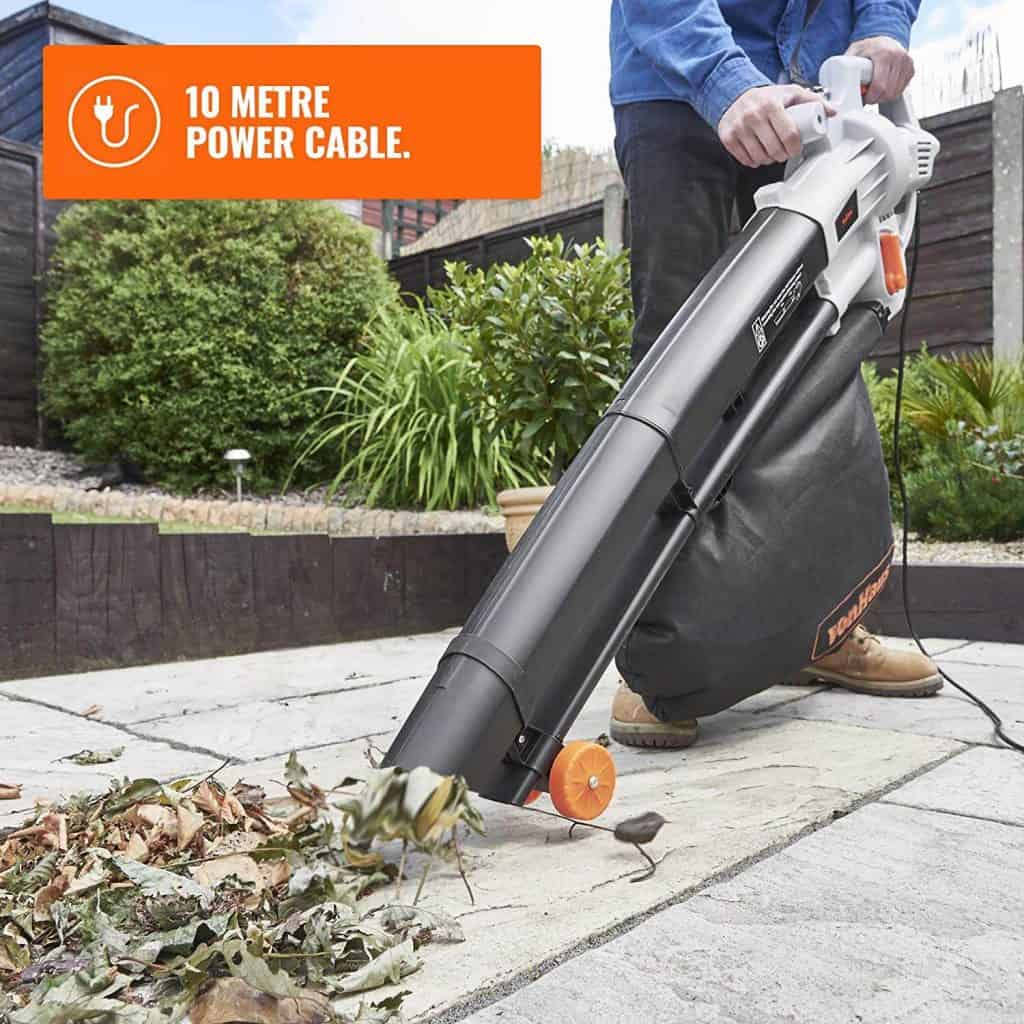 The powerful motor makes light of most tasks, and the 35 Litre bag is easy to detach, empty and reattach.
As a budget buy, it really makes the grade in comparison with more heavyweight units. It is great value for money.
Other positive comments included:
The combination of robustness and being light in weight is very attractive
It is very easy to operate
The inevitabel clearing of jams and removal of mud after clearing wet leaves is a simple and easy process
The wheels made vacuuming leaves quick and easy without the need to take care over picking up stones.
On the downside:
It is noisy
Best in small gardens
Need to go slowly to make sure everything is picked up.

Conclusion
Looking at each of these vacuum/blowers showed that there isn't really very much to choose between them. Each operates as advertised and the selectonprocess really comes down tothe fine detail.
First, we will discount the Flymo because of the high cost of replacement bags - something that everyone willneed to by at some time.
It's a gut-feel decision but in our view the Bosch ALS 2500 is a better buy. Why - difficult to say, but we just have a better feel over it. If you were to press for a reason, we would say it is because changing between modes is easier and quicker, and you will have less hassle from the neighbours. It's quieter.
Reviews of other garden Equipment includes:
Heavy Duty Strimmers: https://bestreviews.co.uk/heavy-duty-petrol-battery-strimmers/
Cordless Strimmers: https://bestreviews.co.uk/cordless-garden-strimmers/
Hand-Held Hedge Trimmers: https://bestreviews.co.uk/small-hand-held-electric-hedge-trimmers/