Great Ways To Decorate Your Guests Room
Many couples whose children have left home are eager to transform the space in to a guest room and who wouldn't want to?
Guest rooms add a touch of class to any household and can also make a fun project to undertake in your spare time. If you have friends and family that live at distance, they may prefer to visit you if you have a guest room as opposed to spending money on a hotel or sleeping on your couch!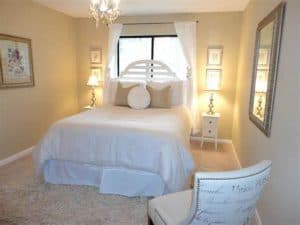 Guest rooms also give you the opportunity to flex your interior design muscle as your tastes in décor may have changed since you first moved in to your home, so making up your spare room can be genuinely enjoyable.
Small Guest Room Ideas
Few people have what may be considered a 'large' guest room, as typically larger bedrooms are reserved for permanent household members.
Don't worry though, even the smallest room can be given a gorgeous makeover with the following tips.
• Make it welcoming- don't treat your small guest room as an afterthought. Jazz it up with some classy ornaments and keep any wall paint light in colour.
• Theme- a smaller room doesn't equate to boring décor, why not incorporate a design theme throughout, like flowers or nature? That will add a touch of class to any bedroom and is cheap.

• Focus on the bed- in a small space, too much detail can be stifling. In this instance, you may want to draw attention to the bed spread and leave the rest of the décor minimal. This is easily achieved with bright colours or bold prints, which can add a very modern feel to the room.
• Go Vertical- any confined space can be double is size by making use of the walls; put up shelves to help with storage. With lighting, you can even get modern looking wall attachments that can be rotated to face any angle; functional and space saving.
Best Colours For A Guest Room
Want to impress your impending house guests but don't know where to start?
Start In Bed- While it may be difficult to pick a colour scheme and stick with it, one tip can help get you started. Look at bed spreads, choose the one that speaks to you the most and design the rest of the rooms colour scheme based on that.
My Space? Remember, while this room is designed for guests, it is still your room, so it can be a great place to put those trendy new designs in that you like without irritating your partner! If you are a fan of bright, bold colours, this can make a great theme but try no to 'over colour' a room as it may be off putting. If you are a fan of rustic looks, wicker storage baskets and lighter colours with a touch of floral will make any room look like it is part of a cottage.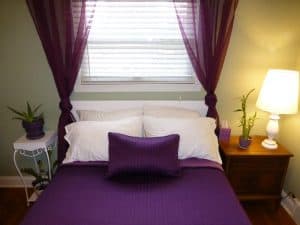 Monochrome- The safe option in most décor is to go white but you can create a relaxing atmosphere with a monochrome palette. Any colour can be made relaxing, provided you use different hues or tones of the same colour. Simple, effective and extremely classy. Why not pick 2 colours that work well together (such a pale green and pale pink) and use those two colours as your guiding scheme?
Guest Room Essential Furniture
Common sense dictates the key items you should have in your guest room to make them feel welcome. But it may be hard to fit a full wardrobe in to a smaller space, so some key furniture ideas are the best way to pick the best pieces to furnish your guest room.
• A bed- don't laugh! While it might sound obvious, a comfortable, sturdy bed is rarely considered to be an essential element of a guest room. Many people put weaker, lumpier mattresses and bedframes in to their guest room, thus providing nothing but a bad nights sleep for their visitors. Make sure any bedding is weather appropriate too- you wouldn't want a thick duvet to sleep under during a warm summer and your guests won't either!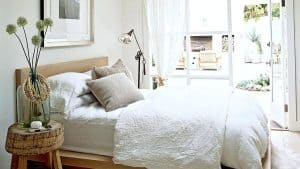 • Storage- be it a small wardrobe, a chest of drawers or some under bed storage, your guests will need somewhere to put their clothes and other items. This will help them to relax in the space more easily, as pulling clothing for day trips out of bags can be frustrating and does not help someone feel at home.
• Nightstand or side table- if your visitor has bought a book with them, then you will need to invest in a nightstand for them to put their book and any other items they might want to keep close to hand. There is nothing more unnerving than having nowhere to put your book and glasses when you are already comfy in bed.
Guest Room Ideas On A Budget
Creating a welcoming guest room on a budget doesn't have to cost the earth! A few simple tips can make even the most basic guest room inviting.
Be creative- a great opportunity to flex your DIY muscle or think outside the box, creating items like a new lampshade or decorating pillow cases can be a great way to add a touch of class to your guest room without breaking the bank- it also adds a personal touch too!
Shop around—don't turn your nose up at charity shops; you can get some great finds in them to help you decorate your guest room at minimal price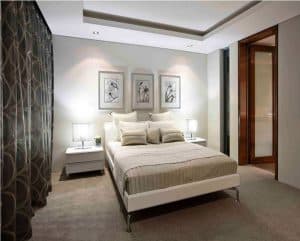 Bedding- reversible bedding is a fantastic idea for any bedroom but can really add a touch of designer chic to your guest room. It is also a great way to incorporate more than one colour in to the rooms theme without spending a fortune.
Artwork- do you like to paint or draw? Grab a canvas or a sheet of paper and add a gorgeous, one of a kind art pieces to your guest room. It will make a great talking point over breakfast.