Best Hair Clippers – Reviews 2018 – 2019
Product
WAHL
Philips
Rision
Title
Best Hair Clippers for Fades
Best Hair Clippers for Dogs
WAHL
Product
Philips
Product
Title
Best Hair Clippers for Fades
Rision
Product
Title
Best Hair Clippers for Dogs
Best Hair Clippers on the Market
Why should I use hair clippers?
If you take regular trips to your barber for a haircut, or you take your dog to the groomer on a regular basis for the same purpose, then you will probably notice that the costs of doing so and the hassle involved often make you wonder why you bother doing it at all.
After all, why pay to do something that realistically, you could probably do yourself? By simply buying a pair of high-quality hair clippers, you can do just that. There are thousands of different models out there, so it is just a matter of finding the best hair clippers for the job.
What should I look for in a pair of hair clippers?
Before you can go ahead and buy a pair of hair clippers, there are a few things that you should definitely be keeping in mind, in order to make sure that you are going to get the best results. Here are a few tips.
Purpose – The first thing that you are going to need to do is to decide what it is that you want to use your hair clippers For example, if you want to use it on yourself, then there is no point in getting clippers designed for dogs, and vice versa. If you want precision to be able to cut fades or patterns in the hair, then you will need to keep this in mind too.
Cordless? – Again, this is another important factor to consider. Each has its own benefits. For example, a cordless hair clipper gives you a little more freedom. However, there is the downside that the power may not last as long as you need it to. Equally, a corded hair clipper might be more restrictive, but you don't have to worry about losing power half way through.
Accessories? – You should always take a look at whether or not the hair clippers that you have chosen comes with accessories or not. Any good pair of clippers will come with accessories like blade guards or different heads to get different results. Always take a look at the item description so that you know what you are actually getting for your money.
Best Hair Clippers for Shaving Head
WAHL 4212-0471 Beretto Pro-Lithium Professional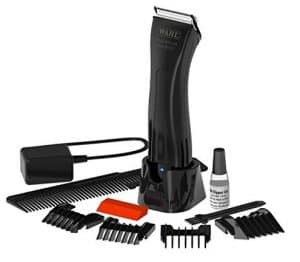 If you are just looking for something basic in terms of hair clippers that will simply allow you to properly shave your head, then there are plenty of options that you could consider. This actually makes choosing a pair of clippers more difficult.
For us, one of the best hair clippers for shaving head is the this one. This clipper offers salon results, no matter how inexperienced you are. Here are some of the features that you can take advantage of:
Cordless.
Different heads for different styles of cut.
Lots of power.
Great for regular cuts.
Pros:
Achieve professional results with very little effort on your part.
Offers the option to cut different styles rather than just an all over shave.
Easy to use.
Cons:
More expensive than a lot of other options on the market at the moment.
Can be a bit too powerful if you are not sure what you are doing.
Ultimately, this is a great option if you have a little extra money to spend. You can guarantee great results every time and save yourself the time and hassle of having to go to the barbers regularly.

Best Hair Clippers for Fades
Philips Series 9000 Hair Clipper for Ultimate Precision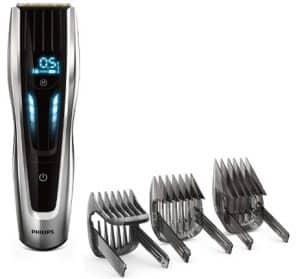 The fade is one of the most popular hairstyles for men and has been for quite some time. This stylish look is smart and tidy, and suitable for the workplace as well as being fashionable. What you may not know is that you can achieve this look at home with your own hair clippers.
One of the best hair clippers for fades is this one. With over 400 different lengths, you are able to be incredibly precise with your fade. Here are a couple of the best features that comes with these hair clippers:
Dual touch control.
Motorised blades.
Over 400 length settings.
Memory setting.
Dual cut technology.
Pros:
Lightweight
Easy to use.
Memory setting so you don't have to programme it to your desired length every time.
Durable titanium blades so it will last a long time.
Can be used corded or cordless once it has been charged.
Cons:
Can be a little on the noisy side.
Can be hard to figure out if you are new to hair clippers.
If you want to achieve a precise fade, then this is a great option to consider, especially with all of the different features that it has to offer.

Best hair clippers for dogs
Rision 3 Speed Professional Pet Grooming Clipper Kit
Taking your dog to the groomer on a regular basis can not only be costly, but it can also be a very traumatic experience for your dog too. It is far more likely that they will be more comfortable at home with you taking care of the clipping responsibilities.
One of the best dog clippers on the market at the moment is this kit. Packed with great features, this is a great all rounder grooming kit for all of your pets. Here are a couple of the different features that you can benefit from:
Low noise.
Super sharp blades.
Long power supply.
Power indicator.
Lifetime warranty.
Pros:
The low noise helps your pet to feel more relaxed and at ease whilst they are being clipped.
The long power supply makes it less likely that you will have to start and stop.
Super sharp blades make it perfect for all coat types.
Cons:
It is quite expensive compared to some of the budget options.
It can take a little getting used to.
If you are looking for a high-quality pet hair clipper that will not disappoint, then this is definitely a good option to consider.
All of these clippers are great options, no matter what you are looking for. By following the buying guide, you should be able to make sure that you have gotten the best hair clippers for your needs.