Best Hammer Drills – Reviews 2018 – 2019
Product
Speed Control
Variable speed control by trigger
Max Bit Capacity in Metal
Product
Max Bit Capacity in Metal
Product
Speed Control
Variable speed control by trigger
Max Bit Capacity in Metal
Product
Max Bit Capacity in Metal
Top Hammer Drills On The Market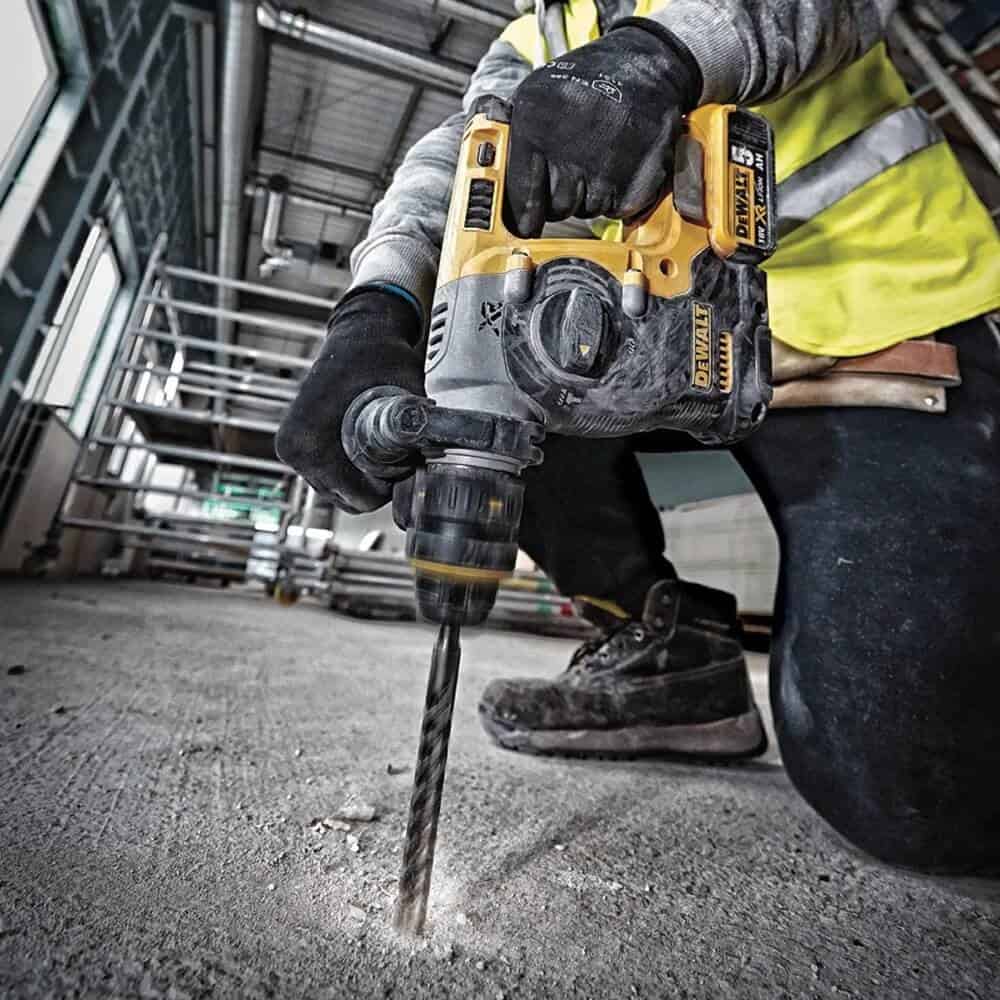 Another common essential in the professional or DIY toolbox is an electric drill. Again, it is possible to be carried away with the different sorts of drill on offer and end up spending too much money on several, but a standard drill that has a hammer option will meet most requirements.
A hammer drill, often also known as an impact or percussion drill is used mainly in hard materials like brick, concrete or stone.  Simply put, it is a standard rotary drill containing a device that generates a hammering motion in the drill bit.
The hammering motion will crush the material being drilled, making it easier, or even possible to drill. Most hammer drills can have the hammer effect turned off, allowing the drill to be used as a screwdriver for example.
If the hammer effect can't be turned off it is often called a rotary hammer, and is most used when there is a lot of masonry drilling to do.
They can come in corded and cordless variants.
Some considerations to bear in mind when considering buying a hammer drill:
Drills come in different degrees of power or rotational speed, usually expressed as revolutions per minute, RPM.  Manufacturers usually specify the optimum combination of power and RPM for best results.
Battery, look for the battery life, and if a spare battery and charging cradle is part of the deal.  A second battery that can be charging while you work is great, but you must be able to buy a second compatible one.
Mains powered drills will need a cable to connect to the mains, perhaps using an extension cable. You can bet your shirt that the cable will get in the way or get tangled up in the furniture.
Users always find that when drilling, vibrations pass back to their hands and arms.  That can cause pain and fatigue and in our case, a bit of bad language. If the drill minimises the vibrations passing back to the drill user, so much the better.
Attachments and accessories
One essential accessory is a drill stop that is used to limit drill holes to a specified depth.
The most common other accessories are replacement and additional drill bits.  Replacement for existing bits and additional for different materials and different sizes of drill holes.   Specialised bits are needed for metal, masonry and wood.  Other similar accessories are chisels and screw drivers.
A drill stand can be useful.
Other accessories include dust extraction.  Drilling can generate a lot of dust and being able to add a dust extractor can make a great difference to the work environment.
One essential accessory in our view is a spare chuck key.  Chuck keys have wanderlust and tend to very easily go missing.  Changing a bit is impossible without one.
One final accessory we have found most useful is a dingus that finds pipes and wires hidden in walls so you don't drill through them.  Strictly speaking a drilling, rather than a drill accessory, but one that has saved our bacon from time to time.  Drilling through a water pipe with an electric drill can be a shocking experience.
As with most power tools, safety is a concern.  The drill needs to meet all relevant safety certifications.  Because of the different characteristics of different materials, you need to understand what you are working on.  The bit often breaks if used in the wrong material.
You might need a full-face safety helmet with eye protectors or a visor, certainly gloves and perhaps ear defenders.
One nice feature is an auto-stop or torque limiter function if the bit jams. This protects both the user and the drill from overheating and potential damage.
By the time you have the drill itself and the bits and pieces that go with it, it is a lot to lug around and store without losing anything.  A plastic bag doesn't quite cut it for business credibility, so a carry case it a great thing to have in the purchase package.
Here are three hammer drills you might want to consider.
Dewalt DCH273N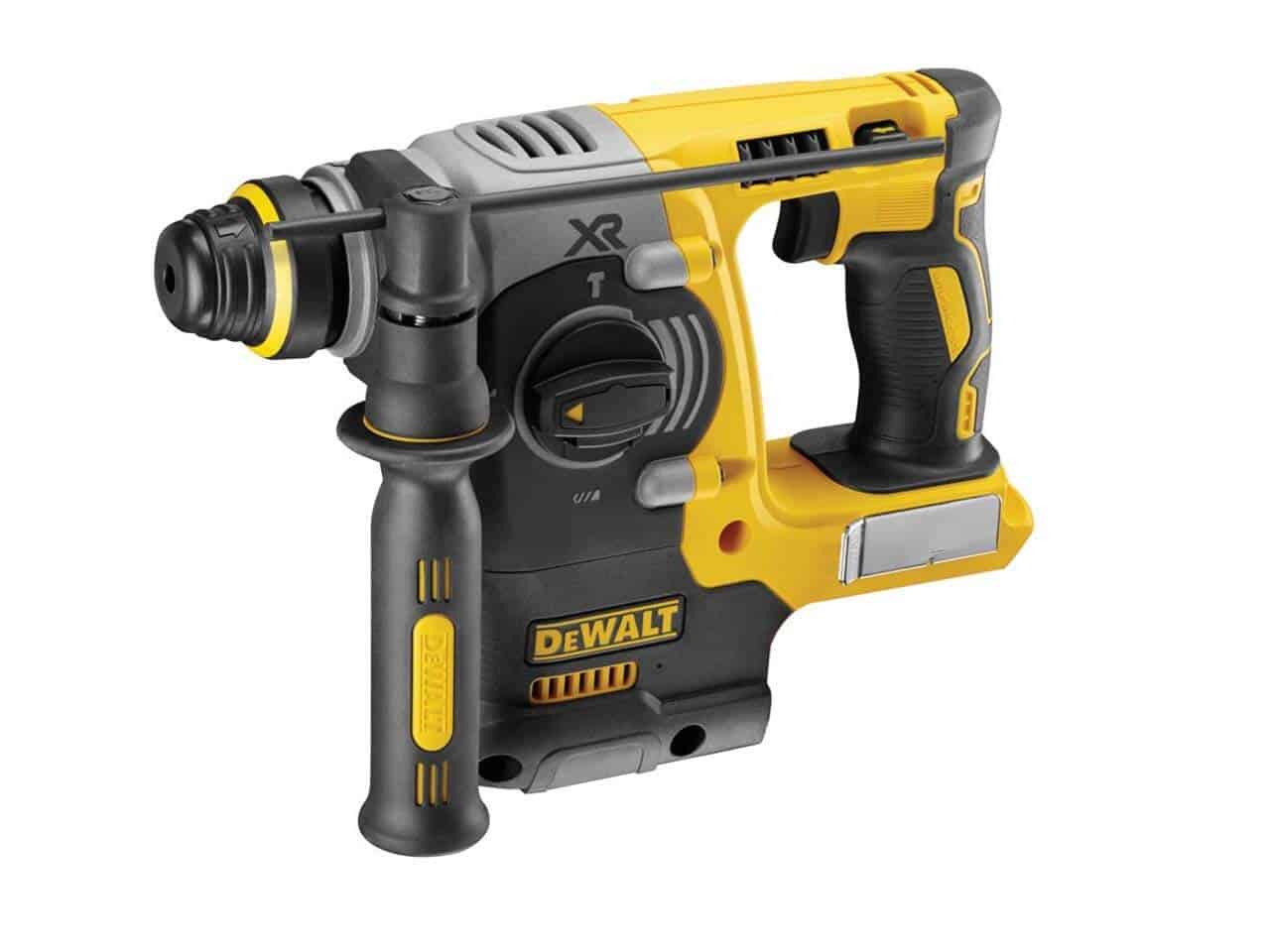 DeWalt is a well known and respected manufacturer in the power tools market.
The DCH273 is a cordless drill. In the purchase box is:
A Dewalt Hammer Drill
A Multi-position side handle
A Built in belt hook
Carefully note that, despite being a cordless unit, it does not come with a battery or battery charger.  They must be bought separately.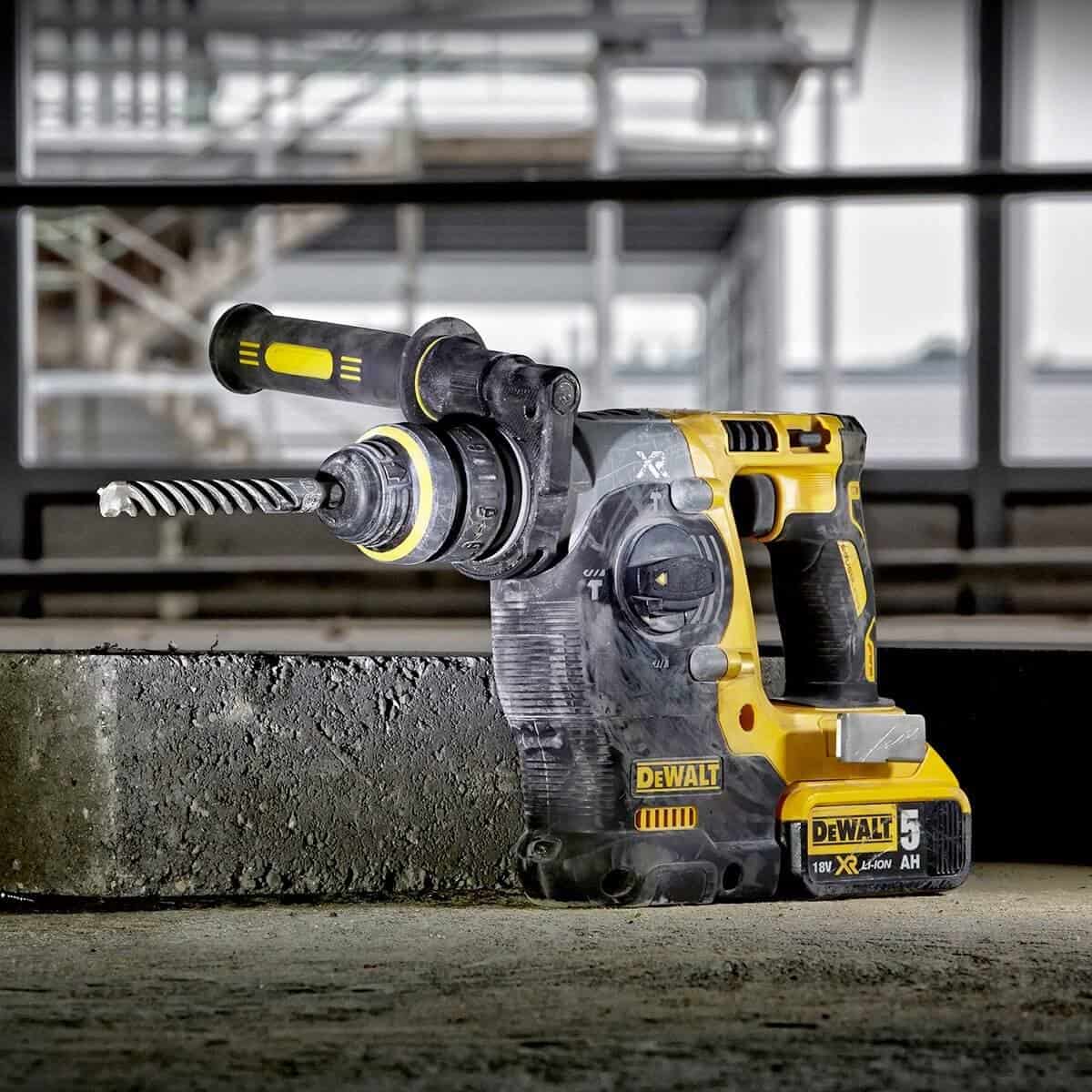 Specifications:
Light chiselling in plaster and tiles is eased by a stop mode
A render and impact stop mode for rotary only drilling in wood and metal
A brushless motor with high capacity XR 5.0Ah 18V lithium-ion battery platform
An electronic clutch
Vibration reduction at 6.6m/s²
A very good, robust and light drill at 2Kg in weight.
User comments are generally very favourable, although there were some gripes about a battery not being included.

Makita HR2630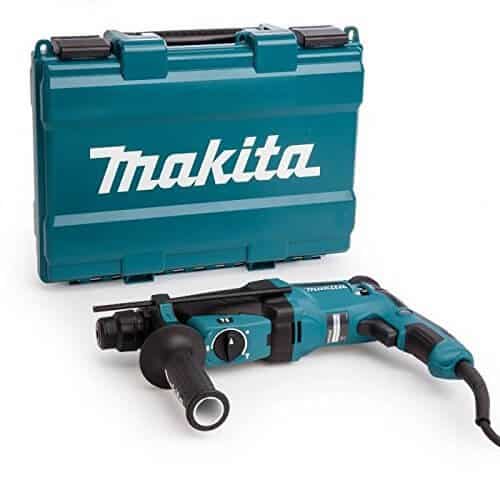 As would be expected from Makita, a leading power tool manufacturer, the HR2630 is a well built, robust power drill that will meet most needs.
It is a mains-driven corded unit.
In the box:
The drill
Carry case
A Side handle
A Depth stop
Some Makita drill bits. Check before buying from Amazon, since there are reports that these are not supplied by Amazon.
Makita do offer compatible high-quality drill and chisel sets.
Specifications and features:
800Watt motor
Dual speed operation at 4,600 and 1,200 RPM
A variable speed trigger
3 Operation modes, hammer only, hammer plus drill, drill only.
A torque limiter
40 bit angle settings
A forward/reverse lever
It is a powerful drill designed for the trade.  It is quite heavy at 5Kg and can pack a powerful punch when in hammer mode. Some puny users might find it difficult to control.
User comments are generally favourable.  One particular comment was that the hammer only mode was very useful when removing tiles and doing  a bit of light demolition.

Bosch Professional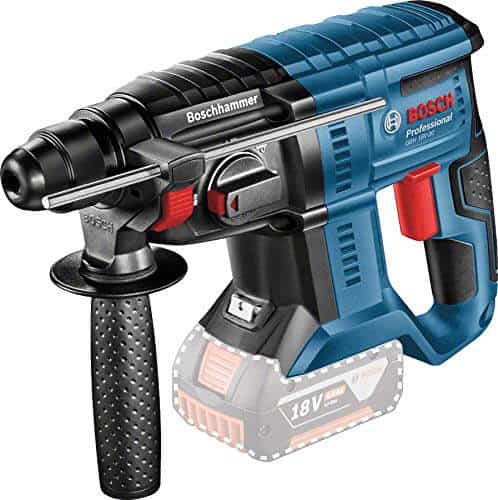 This unit is an 18volt three-function cordless drill from Bosch based on the GBH 2-20 corded unit.  Bosch have an excellent reputation as a manufacturer of power tools.
It features:
Three modes, hammer, rotary and chiselling.
Vario-lock to angle the chisel
An integrated LED light
Variable speed
A forward/reverse capability
Excellent ergonomics
Specifications:
Impact energy: 1.7 J
Impact rate: 0-4,550 bpm
No-load speed: 0-1,800 rpm
Battery voltage/capacity: 18 V/5.0 Ah
Weight: 3.2 kg
Length: 325 mm
Drilling diameter in concrete: 20 mm
Carefully note that, despite being a cordless unit, the first two options do not come with a battery or battery charger.  They must be bought separately or choose option three.
Bosch advise that the batteries are compatible with the batteries used in other 18V power tools, so if you already have them, you may not need to buy them.
It weighs 3Kg.
User reviews are generally favourable, and most users seem to buy the drill only sourcing the batteries elsewhere or using compatible batteries from other Bosch products.

Summary
Again the best buy depends rather on the use you intend to put the unit.  The lack of batteries supplied with the Dewalt and Bosch cordless units is a definite minus, but not having a cord to get tangled up in is a definite plus. Bosch offer compatibuility with other 18V batteries, which could remove the need to buy batteries.
On balance we will recommend the DeWalt unit as being the best combination of cost and function.