Our Home Gym Garage Ideas & DIY Tips
Turning your garage into a home gym can be an exciting yet overwhelming process, renovations might be simple at first, but when it comes it how you will organise your gym equipment and decorate your new home gym garage, you might be short of ideas.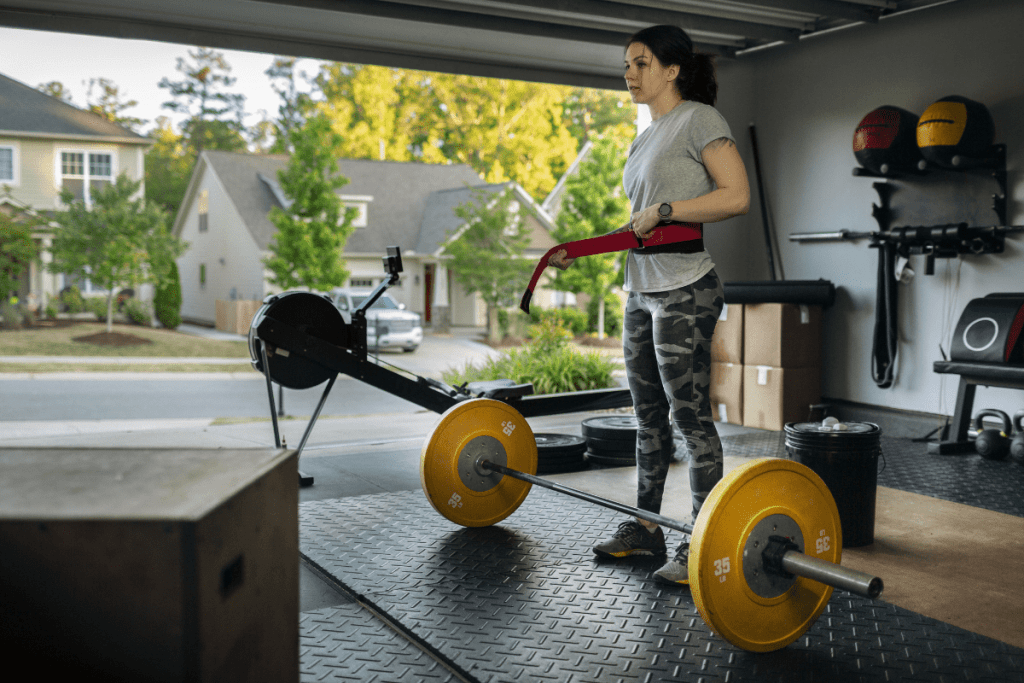 Renovations aren't cheap, especially if you doing a more high-end conversion in your garages, such as putting windows or electricity, all these conversion costs can leave little room in your budget for actually organising your home gym.
Lucky for you, there are loads of DIY ways to spice up your new home gym and make it more functional, plus more motivating to work out in. From gym pegboard organisers to DIY dumbbell racks, there is no reason why you can't kit out and decorate your gym by yourself on a budget.
So without further ado, let us get into the best DIY ideas for your home gym garage!
Home Garage DIY Ideas & Tips
Finding storage for your gym equipment in your garage can be hard and you might find yourself short on space, garages can also get cold easily and may need special flooring for you to be able to exercise safely.
We have listed out our top DIY projects below and some tips for your new home gym garage below.
Use an old bookcase
Bookcases can make great storage ideas for holding different weights or workout equipment's; if you upcycle one from the house that also saves you money and allows you to have more storage space in your garage gym.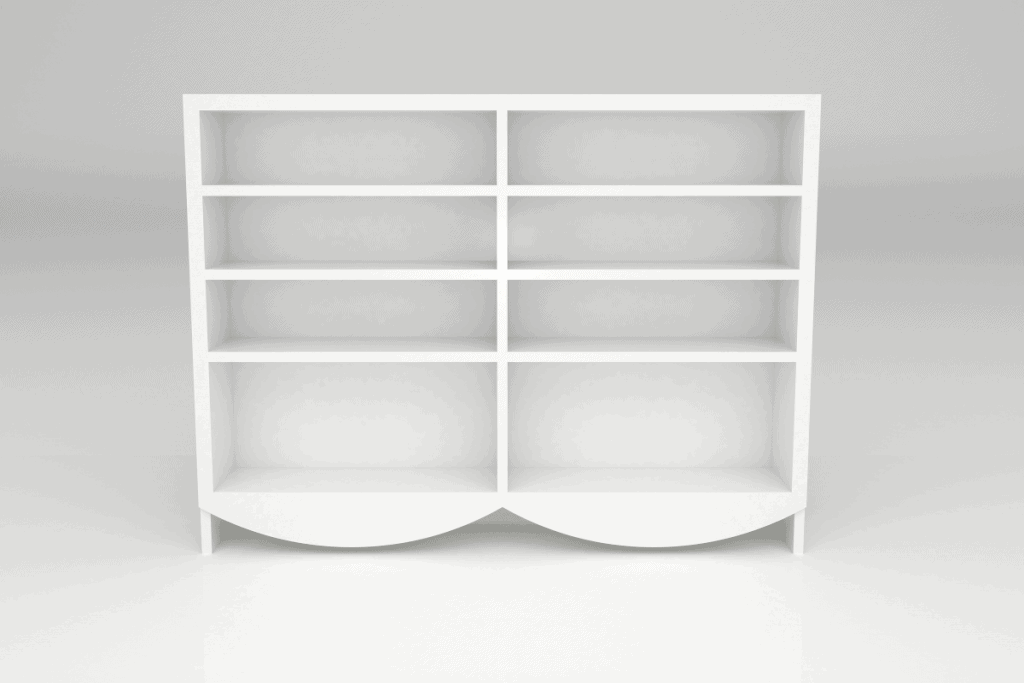 Make use of baskets
Wicker baskets are not be underestimated in a garage gym, not only are they nice to look at but they can hold all kinds of smaller gym equipment such as; resistance bands, push up bars, gloves, and more.
If you have limited space in your garage this can help keep equipment off the floor and make tidying up easier after use.
Try coat racks
Coat hangers are a great idea for hanging up longer pieces of equipment such as jump ropes or resistance bands, they also stop your devices from getting tangled together and help your garage stay more organised for the next person that works out in there.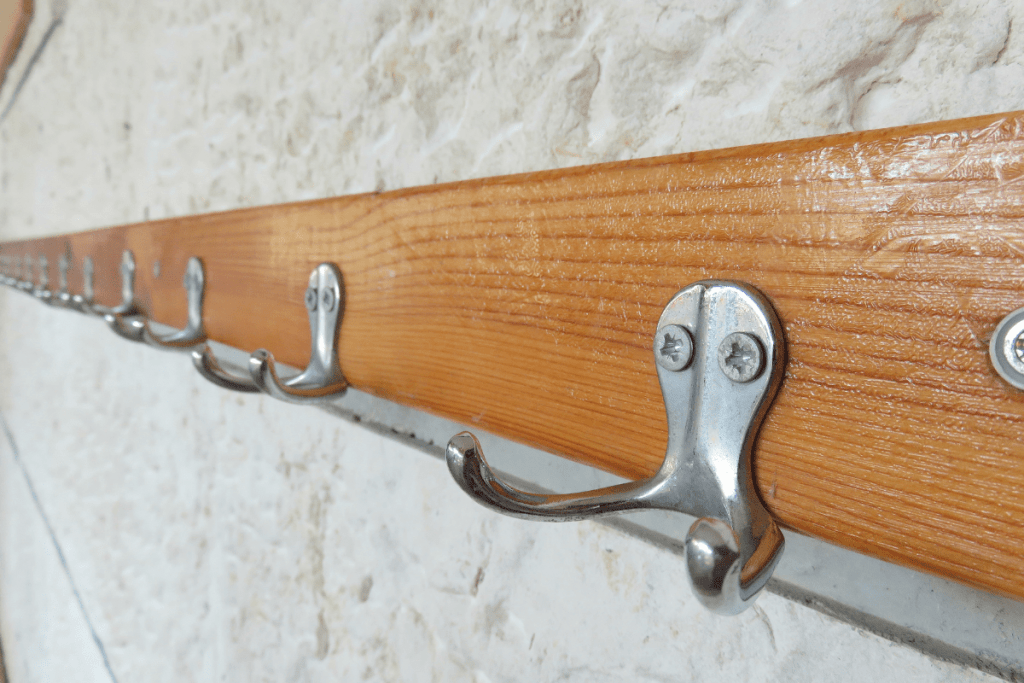 Keep equipment to a minimum
Most peoples average garage isn't that big, which means you need to be smart with your equipment and make sure you only have what you need.
Lucky for you, there are a huge range of space-saving multi-use gym equipment's on the market now, from adjustable dumbbells and kettlebells to foldable benches, you can have all the basic gym equipment you need without compromising on space.
For a home garage gym, you should try to have one piece of cardio equipment such as rower or treadmill, some strength equipment such as dumbbells, a bench and a barbell and accessory equipment like resistance bands, a yoga mat, and a jump rope.
Build a multi-use bench
Did you know you can make your workout bench for your home gym garage? All you need is the right measurements of wood, an electric drill, a mattress and a vinyl cover, screw brackets and a couple of other tools.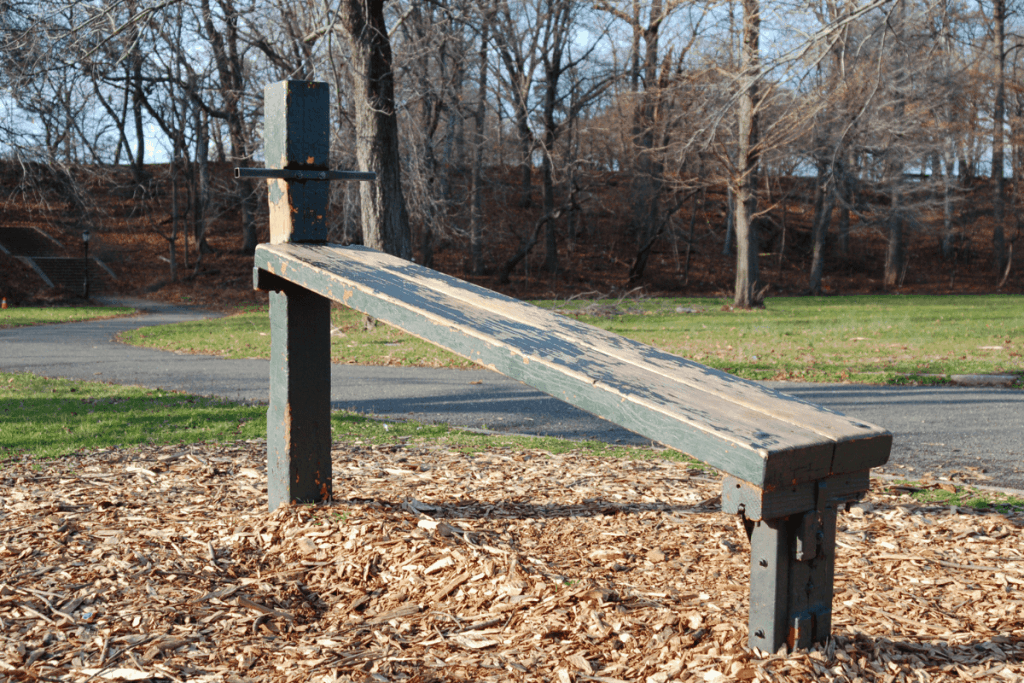 A bench like this can be used to perform multiple workouts on, from strength training with weights to push-ups.
It could also be worth researching how to make your bench foldable so as you can save more space.
Did some say wine?
If by any chance you have an unused wine rack lying around, use it to hold your dumbbells! Just make sure the rack can support your weights then you have you own upcycled way to keep your dumbbells organised and off the floor.
Kit your garage with rubber tile flooring
Typical garage floors are not designed to have heavyweights like barbells on and will probably need rubber tile flooring to make your garage suitable to be used for as a gym.
These rubber mats are often used for horse stables, and can be a little awkward to install in your garage but are worth it in the long run so as your garage can be used as a gym.
DIY gym garage pegboard
Having a large pegboard on the garage wall of your gym is a great way to optimise storage and make shelves for different pieces of gym equipment.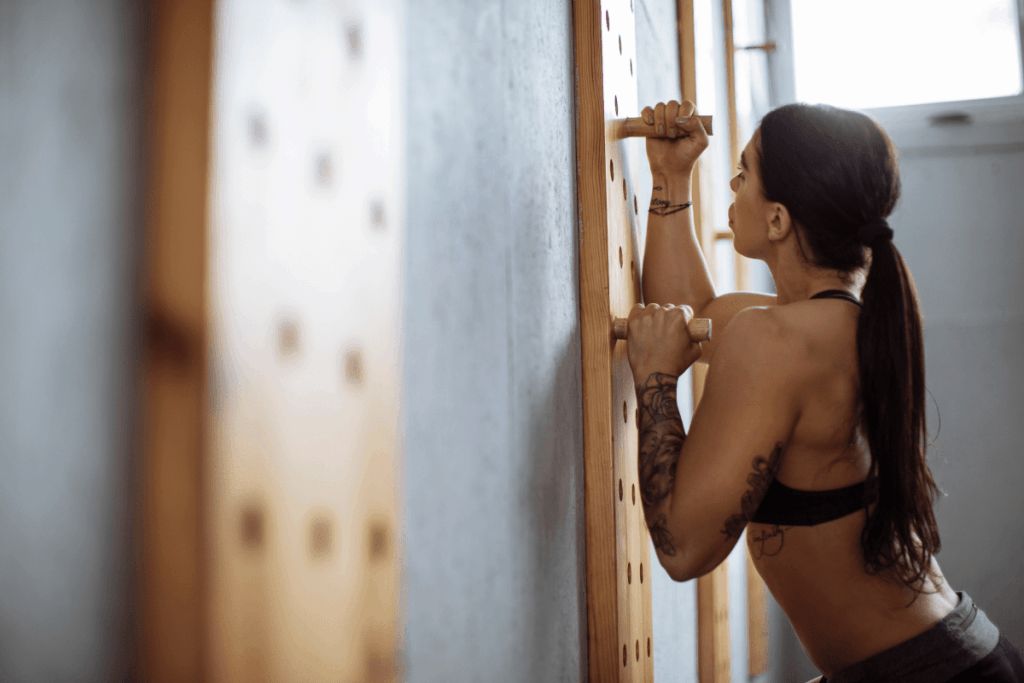 All you need is a large sheet of plywood depending on your garage wall size, some pine dowels, wooden shelves, and a drill. After making the holes in your plywood and assembling the shelves you can store all kinds of equipment up there and accessories such as speakers or motivational quotes with picture frames, adding extra style to your gym.
Get some more details here.
Get a blower
Having a garage as a gym will accumulate a lot of dust quickly unless you do a full conversion, this means you'll need something like a blower to get rid of this dust before working out.
Install speakers
Installing some speakers in the corners of your garage can make it feel more like a gym and get you motivated to work out in there, this can be done pretty easily if you already have electricity in your gym, if not, just choose a wireless speaker system instead.
Find good lighting
Lighting matters in a gym so as you can see what you are doing properly during a workout, you can buy some cheap yet bright spotlights to install in the centre of your garage, this will allow you to even use your home gym at night.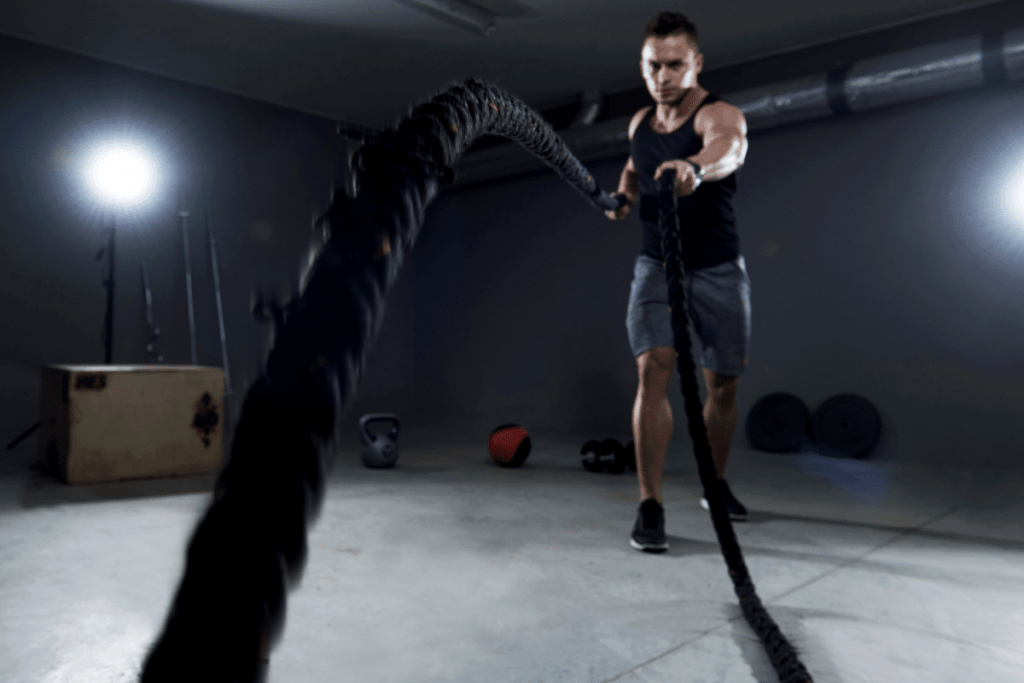 Think about fans and heaters
Unless your planning on doing a full conversion and insulating your garage, your home gym will be very susceptible to the temperature changes outside. Therefore, you want to make sure your garage has some kind of fan system for the summer and heater for the winter.
Use the ceiling of your garage
Installing overhead storage in your garage is a great way to save space if your ceiling height allows it. You could even put hooks for holding up ropes as long it supported well via a heavy-duty hook.
Put a mirror wall
Mirror walls are essential if you want your garage to feel like a gym, they can help you check your form while working out, as well as make the room feel bigger.
Just make sure to install it correctly or get a professional to help you put one in.
Tips For Converting Your Garage Into a Gym
Now we have gone over our best ideas for your garage home gym, we have a couple of other important tips that you might want to consider before changing your garage into a home gym.
Think about colour - The colour of your garage will determine the overall mood of your gym, consider painting your garage in some bright happy colours to make working out more motivating and uplifting rather than a plain dark wall.
Use DIY space-saving ideas - Use some of the DIY ideas above to save space in your garage, such as pegboards or overhead storage. Making some of the DIY gym equipment yourself can also help to save money.
Insulate for a more professional feel - Having an insulated gym will make your garage more pleasurable to work out in all year round, insulation stops you from feeling temperature change outside. Insulation can also make your gym/garage more soundproof which can help the neighbours during your Sunday morning workouts.
Make sure there is air circulation - You'll need a window or fan system in your gym to make sure there is some air circulation happening while you workout.
Keep it secure - It's important to make sure your garage is secured, especially now you will be storing expensive gym equipment in it. You should also ensure the door of your garage can be locked well and prevent your gym from all kinds of weather conditions.
Final Words
That's it! We hope you enjoyed our DIY tips & tricks for your home garage gym and we wish you the best of luck for converting your garage, make sure to save this pin for later in case you get stuck for feature ideas.
Good luck!