Home Gym Basement DIY Inspiration & Tips
Converting your basement into a home gym is an exciting idea, allowing you to avoid hefty gym membership costs and workout within the comfort of your home, however, there is a few tips and ideas that are worth noting if your planning to put your home gym in your basement.
There's a huge range of DIY ideas you can implement in your home gym basement, from surround sound speakers to floor mats, and wall-mounted gym equipment, these ideas are totally up to you.
So to narrow down some of the best ideas for you, we have a list below full of our tips and tricks to consider when creating your home basement gym.
Without further ado, let's get into it!
Our Best Home Gym Basement Ideas
Whether you are looking to save space in your home gym basement or go all out and build a full gym, there are some great DIY tricks and ideas that are worth considering when installing your gym.
Here are our best ideas.
Put good floor mats
One of the first DIY projects you'll want to do in your home gym basement is putting some good flooring down which can support you while exercising.
Interlocking tiles or the rubber matting in horse stables are a great choice for a home gym and can mask any noise of weights dropping or jumping than when compared to a hard uncomfortable concrete floor which is probably what your basement will have to begin with.
Rubber flooring is also much more suitable for performing floor exercises such as push-ups and yoga.
Install a surround sound
Music is key to working out, and in a basement, you can get an excellent surround sound audio feel.
You will probably want to make sure your music runs via wifi as basements can often have some issues with the signal, wireless speakers are also a good option if you want to avoid annoying wires.
Make a pegboard organiser
A large pegboard organiser for your gym can come in handy more than you would think, especially if you are tight on space in your gym. These boards are so easy to install on basement walls and offer shelving for your resistance bands, weights, jump ropes and more.
Find out how to make one here.
DIY wall-mounted gym
If your basement home gym is on the smaller side then its best you look into to making yourself a DIY wall-mounted gym.
This is possible and can come with a mirror, step, shelves, or whatever you want to prioritise, just make sure to lay some plywood against your concrete wall otherwise your gonna have a hard time hanging things.
Try to ensure natural light
We know its hard, most basements don't have any natural lighting which can be annoying when making a home gym, if your basement does not have any natural lighting at all then try to get some flexible powerful lighting installed, coloured LED lights can also be a fun idea to up the motivation in your gym.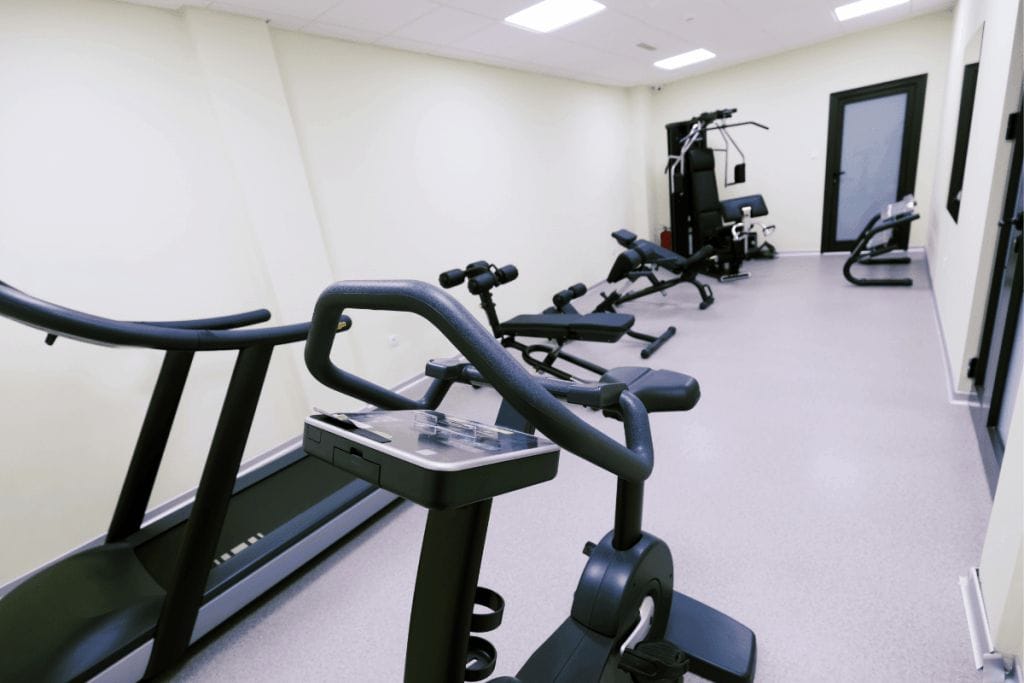 Put a mini-fridge
Having drinks on demand in your gym can be a thankful luxury and will avoid you having to leave your workout to get cold water halfway through. I mean, you may as well go all out if it's your gym, right?
Make a mirror wall
Your gym must have some kind of mirror so as you can practice your form while working out, basements are normally made of concrete walls, so it's not the easiest thing to attach a mirror.
But not to worry, they can easily be hung with a piece of wood to support the mirror, check out this video if you get stuck.
Go all out with cardio and weights
One of the biggest advantages about a home gym basement is that they muffle noise, this means you can weightlift as much heavy equipment you want and go all out with noisy cardio machines such as treadmills and cross-trainers.
Of course, you want to make sure the gym equipment you buy for your gym is equipment that you will use, prioritise what you prefer before adding extras, especially if you are tight on space.
Put a punching bag
Now, if your basement has any exposed rafters, there's no reason as to why you shouldn't hang a punching bag in your basement gym if space allows.
You can be as noisy as you want in your basement gym and it also allows you to mix up your workouts and get a different form of strength/cardio workout in compared to a typical treadmill and dumbbell workout.
Paint your walls
One of the most important DIY ideas you can do for your home gym basement is to paint the walls! Go all out with motivational colours and even put some quotes on the walls.
Try sticking with happy colours such as red or green to get you pumping, after all, it's your basement, so who else will see!
Install a pulley system
Putting a pulley system in your home gym basement is a great idea, especially as most basements will have beams, which makes it easier to attach the pulley system to the ceiling.
Having a pulley in your gym is perfect for working out your arms, torso and even for squats, making it a simple yet effective addition to your home gym.
Add a wall-mounted TV
Having a wall-mounted TV in your basement can provide a great source of entertainment while you work out and can even be used to display workouts such as yoga or dance.
TV's are great for long runs too as they can distract you from fatigue, however, you need to make sure you mount the TV in the most stable way to the concrete and ensure you have a good enough signal to your basement.
Fill it with adjustable gym equipment
Adjustable gym equipment will give you much more space and stop you from having to buy numerous pieces of equipment, take adjustable dumbbells, for example, these kinds of devices have numerous weights in one model, meaning you don't have to purchase separate dumbbells which will end up taking more space and storage.
Tips For Designing Your Home Gym Basement
There's no reason as to why you can't set up a home gym in your basement with some plans and determination, however, there is a few tips and tricks that could help you when converting.
We've listed our top tips below -
Make sure there is air circulation - One of the main issues with a home basement gym is the fact they tend not to have windows, therefore your basement gym must have some kind of ventilation like ceiling fans or a humidifier.
Keep enough space - It's essential not to fill your gym with unneeded equipment and items, too many devices or items can restrict the leftover space you have for working out on the floor and doing exercises such as push-ups or yoga.
Have a dimmer light - Lighting is important in a gym so as you can see what you are doing properly. Having a dimmer light, in particular, is great for workouts such as yoga or even meditation.
Use DIY storage ideas - It's a good idea to keep your equipment off the floor and stored away in your gym, try using some DIY storage techniques such as wall mounted shelves or pegboards to hang up resistance bands or jump ropes.
Keep everything you need - There's nothing worse than needing a towel or a drink and having to leave your home gym halfway in between your workout to get what you need, your gym should be stocked with everything you want during exercise, if its towels, store them down there, or if its water, make sure you have a fridge.
Buy use equipment - Not always is used gym equipment good, but for some weights like barbells, there tends to be nothing wrong with buying these used weights and it can benefit your wallet for the same thing you would spend double the price on.
Final Words
We have come to an end with our home gym basement ideas/tips and hope you've managed to bag a few DIY gym designs along the way for your new conversion, don't forget if you want to easily find these tips later, you can save this pin for reference.
Good luck with your home gym basement!