Best Home Multi Gyms – Reviews 2018 – 2019
Product
Top Rated
Great Value
Best Warranty Deal
Assembled Dimensions
(H) 206 x (W) 208 x (D) 201 cm
174cm x 200cm x 212cm (83")
172 cm/68 inch x 91 cm/36 inch x 210 cm/82.6 inch
Framework
14 gauge 9 x 9 cm round and 4 x 7.5 cm tubular solid steel framework
Protective steel enclosure
5 x 5 cm heavy gauge steel frame
Work Station/Types of Exercise
Leg Curl And Leg Extension, High and Low Pulley Stations With Lat Bar, Curl Bar, Single Handle And Ankle/Wrist Cuff Accessories, Press Bar
Lat pull downs (front & back) Pec dec (i.e. pectoral deck) Chest press Butterfly Leg curls Bicep curls Upright rows
Lat Down, Butterfly, Leg Extension, Leg Abductor, Leg Adductor, Abdominal Crunch and more, and work the triceps, shoulders, glutes, abs and leg muscles
Lat bar, 4 roller leg unit, Chest press, Chest fly, High and Low pulley with a Bicep curl pad
High and Low pulleys perfect for Lat Pulldown, Tricep Pushdowns and Ab Crunch with the low pulley for Seated Rows, Bicep curls and Upright rows
Warranty
2 Years Parts (Must Register within 28 Days to Get the 2nd Year)
Lifetime frame, 3 years parts, 1 Year Upholstery
The Top 5 Home Multi Gyms
Are You Looking into Strength Training and Buying a Multi-Home Gym to Get Fit?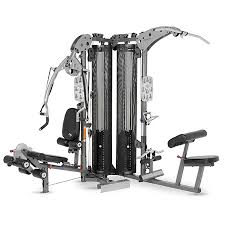 We all want to get into shape for a variety of reasons, some are medical or other challenges that require the strength and stamina to be in tip top shape. Of course we do tend to work out to look more attractive and in the year 2018, the pressure to look good and be in good physical shape is more demanding than ever. For those that don't want the risks associated with plastic surgery, the best way is through diet and exercise. What better way to do that then from the comfort and security of your own home.
Home gyms provide for flexibility of schedule as you control and set the standard for your workout.
Whether you're an on the go working professional or busy being a stay at home parent, having a fully functional gym in the home can be a time saving way to stay fit and toned. Most gyms open at 5am and some stay open to as late as 9pm but you can save time in your busy schedule by having a home gym. Staying motivated can be challenging and the added trips to the gym, whether by car or train adds hours to the process that can better be spent by actually working out.
As achieving the desired results for your fitness plan takes time and commitment, the cost ratio of owning your own gym vs. gym memberships makes sense to invest in a home gym so not only can you have the flexibility of working out at home, you will save money in the long run.
Today's gym membership costs on average around thirty-five pounds per month and there are additional fees for trainers, classes, mats and workout clothes. Gym memberships aren't cheap and statistics show that the average gym member spends over five hundred pounds annually but only went thirteen times in that time, a cost of forty pounds per visit.
When you are making a long-term commitment to your health and fitness it makes sense to save money while your doing it and eliminate the additional costs and hassles of trying to get there.
Investing in a home gym could save over a hundred pounds in its first year alone, based on the models listed below.
There are many home fitness machines to choose from but here are the top five to achieve your desired fitness goals and get the body you want.
 The Top Five Home Gyms for 2018
#5 Marcy Eclipse HG3000 Compact Home Gym with Weight Stack Review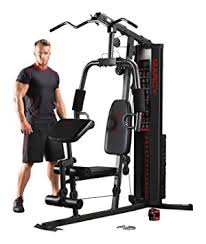 This home gym in detail offers the following features:
Solid vinyl weight stack with selector pin with 68 kg/150 lbs of weights
High and low pulley systems- Dual function quick change chest press/pec dec combination
Leg extension with high density foam rollers for comfort
Arm curl preacher pad with two height adjustments
Weight stack shroud for safety with exercise illustrations
Clip on chains: Can be used to adjust the length of the gym attachments
Cables: 2000 lb tensile strength aircraft cables for long lasting use
Pulleys: 4 inch pulleys with sealed ball bearings for ultra-glide feel
Maximum user weight capacity: 135 kg/300 lbs/ 21 stones
Assembled dimensions (L x W x H): 172 x 91 x 210 cm (68 x 36 x 82.6 inches)
Warranty: Lifetime frame, 3 years parts, 1pad
Gym Attachments Included:Multiple grip curved lat bar with foam handles and Ankle strap with Velcro adjustment
The Marcy eclipse HG3000 is a compact home gym that it doesn't dominate your entire room but it still maintains a robust, durable feel and is stylish in black with red trim. Its compact design does not sacrifice all of the essential training features. Both the high and low pulleys can be used with any of the gym attachments included. The high pulley is ideal for lat pull-down, tricep pushdowns and ab crunches while the low pulley is better suited for seated rows, bicep curls and upright rows.
The chest press uses independent press arms to provide an equal resistance to both arms and can also double up as a pec dec too. The addition of a preacher pad and leg extensions covers your arms and legs for a complete body workout.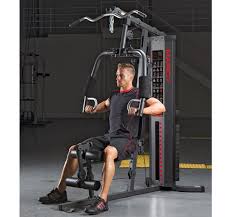 The HG3000 has an impressive display of a 68 kg solid vinyl weight stack; which should be more than enough for starters and intermediate weight lifters alike. As with all Marcy equipment only heavy gauge steel frame is used to ensure that dependable, durable feel.
Marcy is a range designed and manufactured by the global brand, Impex Fitness. Marcy's designed to bring hard and heavy use equipment into the home with a commercial feel, but it can be used by anyone that's searching for true premium home gym equipment.
At a glance, Impex is one of the leading innovators in today's health and fitness marketplace manufacturing quality strength and aerobic equipment. Founded in 1982, Impex quickly established a strong global presence as a manufacturer of products for many well-known fitness equipment companies. Impex attributes its success largely due to their commitment to provide excellent customer service, offering their customers innovative, high quality products.
The Marcy Eclipse HG3000 has been manufactured to comply with the EN-957 global safety standards. The design has been tested for weight loading, pinch points, shear hazards, pull in, and similar hazards which can arise during use of fitness equipment.
This model comes with a three-year warranty on the parts and pad with a lifetime guarantee on the frame for years of outstanding use.


#4 Weider 8700 Multi Gym Review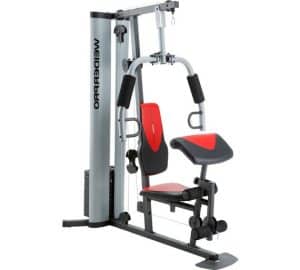 In addition to its compact size, the following features support the Weider:
Weight Stack: 57kg (125lbs), Maximum Resistance: 150kg (330lbs)
AB Crunch, Leg Press, Leg Extension, Lat Back, Butterfly, Triceps Pull Down
Weight Shroud
Adjustable, Deep padded, vinyl covered seat
Precision pulleys and bushings
2 year parts warranty
Dimensions: Length=196cm (77″), Width=110cm (43″), Height=210cm (83″)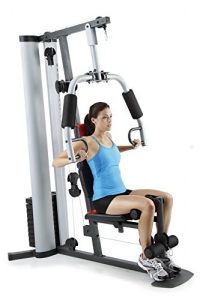 The Weider 8700 multi gym has a 57kg (125lbs) weight stack, which provides up to 150 kg (330lbs) of resistance on certain exercises. With a chest press, chest fly, high and low pulley with a bicep curl pad, you can perform a number of strength exercises. The lat bar enables you to engage in triceps workout, while the four roller leg unit helps work on the quad and hamstring muscles. The accessories supplied with the Weider 8700 multi gym include a preacher curl pad, ankle strap with handle, and an exercise chart designed to make your workout more varied and engaging.
It should be noted that the maximum weight on this machine is 125lbs and will not support additional weights but is proficient enough for beginners and intermediate alike.
In addition, you must also register the product within 28 days to get the 2nd year of the two-year warranty on parts.


#3 BH Fitness G152X Global Multi Gym with Leg Press Review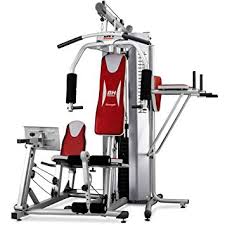 The BH Fitness G152X takes it next level with the leg press feature and has the following distinctive features:
Combines a gym, seated leg press and dip/leg raise stations, features high and low pulleys, chest press/pec dec and leg developer.
Leg press is fully adjustable, max comfort while training with ergonomic upholstery, fold-up seat, lat and straight bar attachments
The use of bearings and CAMS guarantees an enhanced level of protection and safety while delivering an ultra smooth motion while exercising.
75 kg/165 lbs solid vinyl weight stack generating 100kg/220 lbs of resistance, wider ground area enhances the stability massively
Product Dimensions: Height: 212 cm (83 inch), max user Weight: 130 kg/287 lbs/20.4 stone.
2 years warranty
The BH Fitness global multi gym is the flagship home gym machine out of the range and its clear to see why with distinctive features such as the adjustable leg press station and the dip and leg raise tower the global instantly has an edge over your average home gym.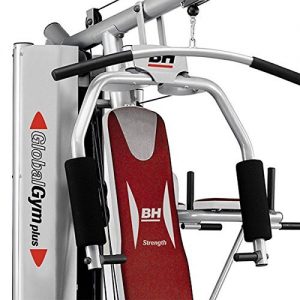 Installed at the rear and shrouded for safety is a 100 kg of resistance weight. A weight identification guide clearly shows what each weight level equates to so you can easily monitor your progression in strength. In order to hoist the weight stack up and down, high tensile 2000lb aircraft cables have been used and are guided through a series of pulleys. These have been fitted with bearings so the combination of the two ensures an ultra smooth feel whilst your exercising and that is what makes all the difference.
The global has all of the conventional traits from home gyms like high and low pulleys, a chest press/pec dec and a leg developer. These are all extremely useful features to have but the leg press will pressure your legs to work harder, dips will sculpt and apply size to your chest while leg raises will force deep grooves into your lower abs, further maximizing your work out.
The leg press sets this home gym a notch above the competition and the bold red, black and stainless steel color combination make this a striking piece of equipment sure to compliment any decor no matter where you put it.
The BH Fitness G152X Global Multi Gym takes your workout next level with the leg press feature and comes with a two-year warranty.


#2 F4H Olympic 7080 Multi Gym Home Review
The F4H Olympic 7080 offers with targeted features like:
Solid rounded tubular enforced steel frame for maximum stability and durability. 100 pounds (approximately 45 kg) weight stack
High-density foam padding for thick padded seat and backrest.
Protective cover around the weight plates for added safety
Total weight when assembled: 93.54
Size when assembled: L 168 x W 108 x H 211 cm
The Olympic 7080 is ideal for any home. While it is more compact than others on the market it is by no means small. This condensed upright home gym allows you to exercise all your major muscle groups and provides a full body workout. The deep padded seat and upright backrest provides comfort whilst you exercise. You can work on your legs, perform upright rows, crunches or sit ups. Develop your pecs with the pec-dec (pectoral deck), tone your chest with the chest press, work your lats with the lat pull-down, pump your biceps on the arm curl deck, strengthen you thighs with the leg curler all without the need to change cables.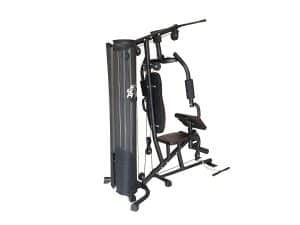 The gym comes packed in 3 boxes with manual assembly required and an instruction booklet of workstations and types of exercises including: Lat pull downs (front and back) pectoral dec, chest press butterfly, leg curls and more.
If you live outside of Mainland UK, you need to call the company at 03301240718 for delivery to other areas.
The F4H Olympic has manual assembly required and includes a free one-year warranty.


#1 Marcy MWB1282 Platinum Smith Machine Home Gym with Weight Bench Review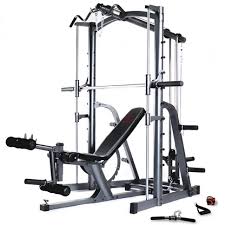 The Marcy MWB1282 offers a commercial grade bench with targeted features like:
Smith press bar: ultra-glide bushings for friction-less lifting and nine hooks; safety stops: position to stop the Smith press towering
High and low pulley systems with lat bar, straight bar, d-handle and ankle strap, bench attachments: Bio-mechanically friendly leg curl
Maximum users weight: 300 lbs/136 kg/21.4 stone; maximum weight on Smith press and cables is 300 lbs/136 kg
Assembled dimensions (bench and cage) Height: 216 cm/85 inch x width (includes Smith press): 208 cm/82 inch x depth (includes bench): 201 cm/79 inch
The Marcy MWB1282 Home Gym Smith Machine is perfect if you are looking for a smith machine that allows you to perform all the major exercises to develop all the major muscle groups. Being supplied with a cambered bar for doing pull downs means you can effectively work all areas of your back as well as the triceps and abdominal muscles. Because of the shape and length of the bar you can position your hands wider to focus the weight on your lat muscles when doing pull downs to the front of you or keep your hands closer together to focus more in the inner back muscles. You can also hit the upper or middle of your back depending on whether you use an overhand or underhand grip.
Behind the neck pull downs are also possible which will help to mainly develop your traps and rear deltoid muscles, but also adds further development to your entire upper back.
By standing up you can also use the bar as a tricep extension exercise to help strengthen and grow your triceps, either as an overhead extension or as an extension with keeping your elbows by your sides depending on which part of the tricep you want to target.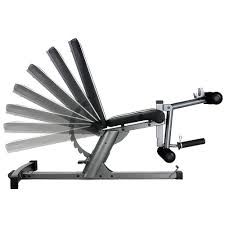 Although there are only two Olympic weight plate storage pegs on each side of the Marcy MWB1282 compared to the 3 each side on some of the other Marcy smith machine models, this is still more than enough storage for a wide range of weight plates.
As well as the overhead pulley for pull downs and extensions, there is also the main bar which can be locked in place either by twisting the bar and locking the hooks over the pegs, or by letting it come to rest on the supports that can be locked in place at specific heights to ensure complete safety while lifting and prevent the bar from pinning you under the weight when bench pressing or squatting.
This can also help when you are looking to perform exercises with a limited range of motion, such as the upper portion of close grip bench presses to overload just the triceps, front and rear barbell shrugs or seated and standing calf raises. Often if you are completely exhausting the muscle it is difficult to be able to rotate the bar back to the locked position so it can be easier and safer to let it rest on the locking blocks.
The bench that comes with the Marcy MWB1282 can also be fully adjusted to cater for decline, incline and flat barbell presses. This can be useful in the flat position even for exercises such as 'box squats' if you are a more experienced lifter. This also makes it a great bench for performing decline crunches and other abdominal exercises.
The Marcy MWB1282 Home Gym Smith Machine & Weight Bench is a great choice for those looking to buy a smith machine that also has the pulley cable and bench to let you work all the major muscle groups.
The build quality and quality of materials is very high and price wise it comes in around the middle of the range.
You will need to pick up weights separately and some assembly time needs to be set aside.
The company recommends approximately 5-7 hours for self assembly time and two people are recommended for the early stages. Basic tools and illustrations are included in the assembly guide to help you get set up expertly. They also recommend choosing an area of the home with flooring such as concrete or stone to set up and use the gym on.


By investing in a home gym you can have the flexibility to support your fitness goals and take control of your work out schedule to achieve the body style results you desire.
Setting up a home gym is affordable, convenient and cost effective. Some people elect to put a mirrored wall near it to better gauge their progress and the design potential is limitless. All of the home gyms listed above provide a modern look and are robust in construction.
If you're concerned about assembly all of the home gyms listed above carry the option to have your new gym professionally assembled with reasonable pricing. Their technicians will have the right tools and experience to do the assembly quickly and safely with typical assembly time being three hours. They do ask that the gym be placed in the spot where assembly will occur or there is an extra fee for moving it. These services are backed with Amazons Happiness guarantee. If you're not satisfied with your assembly service, they'll make it right or give you a full refund so you can focus on enjoying your new multi gym instead of assembling it.
For those that are more mechanically inclined, it is recommended you bring another person on board and be prepared to spend on average anywhere from two to six hours. The instructions are straight forward enough but it comes down to how comfortable one is tackling assembly items this large. The gyms come packaged with their respective tool kits but some may require additional tools such as a socket wrench or drill for maximum safety and security.
Taking control of your fitness goals has never been easier with the advent of the multi use home gym and will provide years of use to help you achieve and maintain the body you want.
The best place to buy any of these efficient home gym machines is on Amazon for their competitive prices and quick delivery. Amazon is also an easy and safe way to purchase products. Amazon also has gift-wrapping options to add that special touch.
Purchase your favorite one here today!