Affordable Ways To Decorate Your Home Office (Without Breaking The Bank)
Home offices are getting more and more popular nowadays, and with more of us working from home, it's important we have an area that we feel motivated and comfortable to work in every day.
I mean there's nothing worse than trying to settle down for a day of work in a cluttered environment, or a tiny corner of your living room where you can barely breathe, let alone think.
With all of us dreaming about a pin interest worthy office, you might think this kind of décor is unaffordable and unnecessary to spend money on, however, it's not unachievable, and you can 100% makeover your home office on a budget, with no unnecessary expenses needed!
Affordable ideas such as upcycling old furniture or using a paint can give your home office a breath of fresh air and make it an exciting place to start work every day (yes we even mean Mondays), so with that being said, we have listed out our favourite and most budget-friendly ways to decorate your home office, so as you can save this pin for later and get cracking.
Let's get decorating!
Best Budget Home Office Decorating Ideas
As we mentioned above, decorating your home office can be done DIY without you having to spend bucket loads of money on savvy art or desks.
We have put together a DIY guide beneath with some of the best ways to affordably decorate your home office.
Upcycle what you have
One of the cheapest yet most effective ways to style your home office on a budget is by using what you have.
Do you have any old drawers lying around? Then give them a new lease of life with some wallpaper or paint. Mason jars and cardboard boxes can also be used for storing pens, pencils, and important files in your office.
Often you will find some really useful furniture lying around your house which can be perfect for your home office without you having to spend a thing.
Try a clock
Yes, a clock can simply change your home office up and add a nice feature to a boring wall, plus everyone needs to know when lunch hour is, right?
There are many different kinds of affordable cheap clocks you can find from your local décor shop, or you could upcycle one of your own, having a clock in your office is also proven to make you more productive with time blocks.
Get creative with the paint
If your planning on decorating your home office then using paint is a way to make your office unique and allows you to get creative with different colour plates.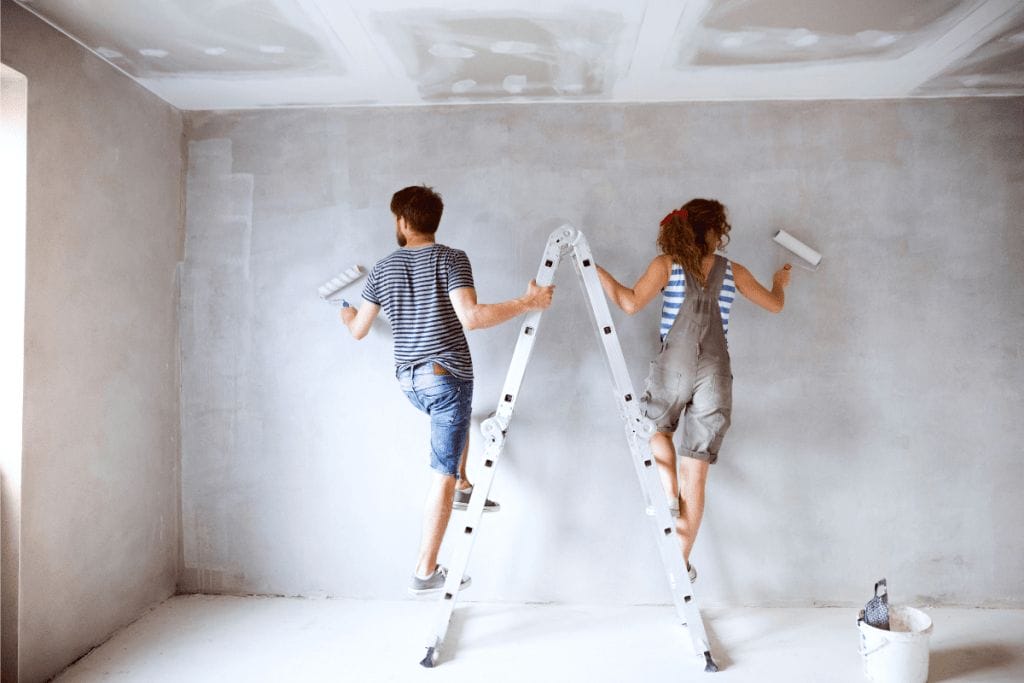 No to mention paint is also very affordable, you could try creating a feature wall behind your desk to add a pop of colour or stick to neutrals for a more clean and calming atmosphere.
Plants, plants and more plants!
Plants are the most underestimated and affordable way to bring more life and colour into your home office.
From desk-side succulents to low maintenance snake plants and bamboo plants, these kinds of office plants are super easy to maintain and can bring life into your plain home office.
Plants and greenery, in general, are also said to sharpen your focus and improve positivity, which is exactly what we need when having a case of the Monday blues!
Make use of your wall
The wall behind your desk in your home office can be decorated in a variety of budget ways.
Some DIY ideas could be hanging up wall art with clipboards or making honeycomb shelves with some spare wood in the garage, the ideas are endless and can be a great way to brighten up the atmosphere in your office for a small price.
Try a DIY standing desk
Admin and computer days can cause havoc to our backs and make us tired easily due to the fact we are sitting nearly all day. A DIY standing desk is a unique way to decorate your home office while improving your posture.
You'll simply need four legs, some wood, and a drill to get you started, the best thing is, you can also paint your standing desk to be any colour you want, matching the theme of your office.
Learn how to make one here.
Invest in some lighting
A real budget way to transform your home office is by improving the lighting, you can add all the DIY decor you want in your nook, but if the lighting is poor it can keep your office looking dreary.
Some affordable ways to improve your home office lighting is by buying a cheap lampshade, this can improve focus, especially when taking notes, ensuring your desk is placed in front of a window can also add natural lighting and make you more productive.
Go old school with some blackboards
Blackboards are surprisingly cheap and can be hung on your office wall to add some style, they are also great for jotting down important reminders or to-do's and are positioned right in front of you, meaning you won't forget to look at your board throughout the day which can help with your overall productivity.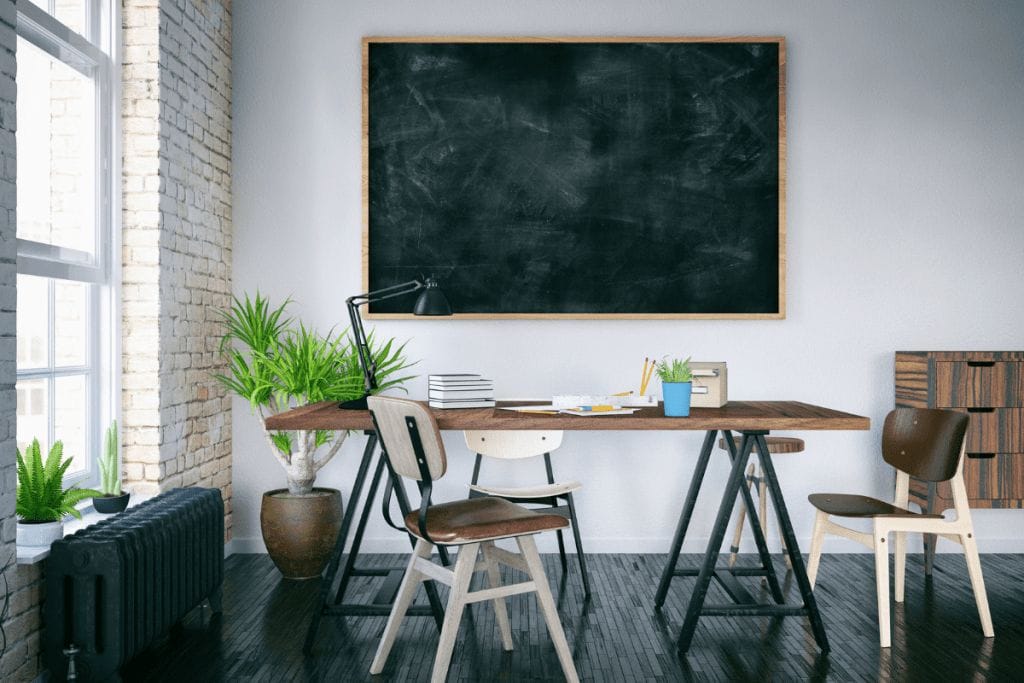 Get creative with removable wallpaper
If your home office is not permanent but you want some cheap ways to spice up your area, have a look at removable wallpaper.
This kind of décor is removable and affordable and allows you to add a completely different mood to your office quickly.
Some great colours to choose from are neutrals such as grey or beige, too more happy colours such as yellow wallpaper. You could even choose some basic patterns to add some personality to your space.
Make a photo garland
If you have any spare yarn hanging around and polaroid's, you easily make a garland to hang in your home office on the wall. This is a great cheap way to make your home office more personal and adds style for a minimal price.
This can easily be done DIY with some yarn, your pictures, scissors and tape. You even add fringes for a more boho look, which can be paired with a neutral background.
Swap with friends
Are you after an old table or shelves to add to your office? Why not try asking a friend, we've all brought furniture for a house before that either doesn't fit or doesn't get used, so why not offer to make use of it or upcycle it?
This win-win situation saves you money and allows your friend to get rid of her/his old furniture.
How To Make The Most Out Of Your Budget Home Office
Now we have looked at some affordable DIY ways to decorate your home office, we have some tips up our sleeve that can help you make the most out of your office for zero cost, these tips will keep your workspace feeling clean and allow you to fall in love with your office.
Be minimal
This is one of the best tips ever for your home office that the most productive people live by - be a minimalist. Keeping your colours and furniture simple can give an appealing look to your work environment and help you process your thoughts better.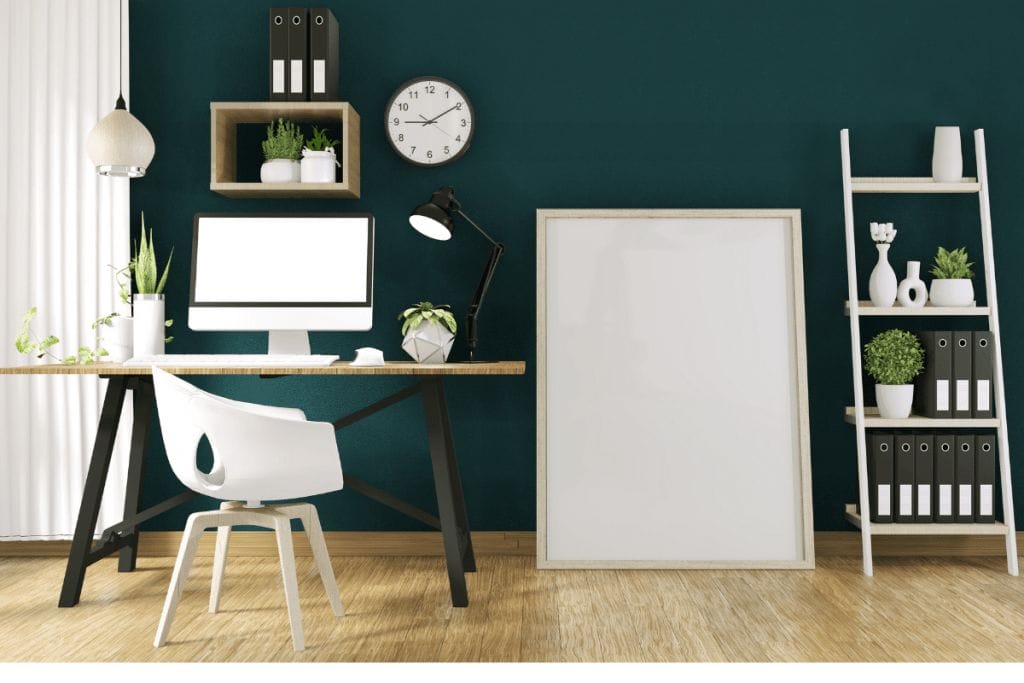 Having unnecessary patterns or clutter in your office can make it feel more stressful and can even waste money on buying furniture you don't need. In a short - keep it simple and buy what you need in your office only.
Keep it clean
We can't stress this enough, having a clean office will make working from home a much more pleasant experience. A messy space can waste your time, and time costs money in this modern world.
No matter how prepared you are mentally, if your home office is dirty, then you will not work to your full potential as you would if it was clean. Try implementing a routine in the morning to clean your work area before you start your day.
Don't go cheap on comfort
Decorating your office can be done on a budget as you've seen with ideas above, however, it's a good idea to invest in some accessories that can make office work more comfortable, such as a chair with back support, a footrest or an ergonomic keyboard if you are a writer.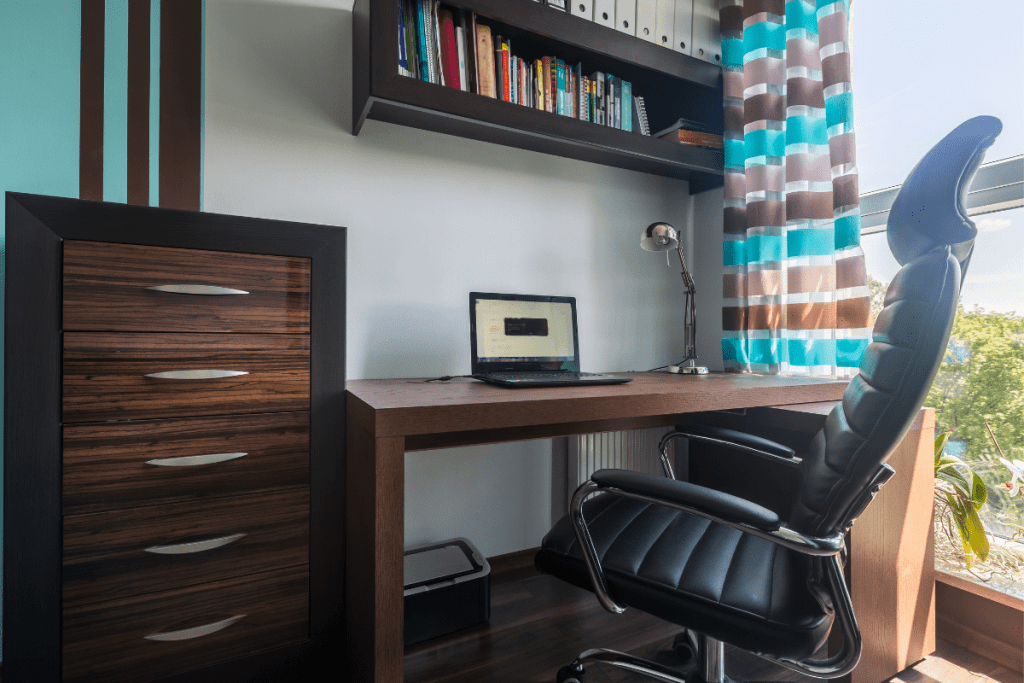 Make it functional for everyone
Are you the only person using your office or will it be used by other people? If so then you want to make sure your home office has some designated areas to keep your work away from others, and that it can be easily used by other people without disturbing your work environment.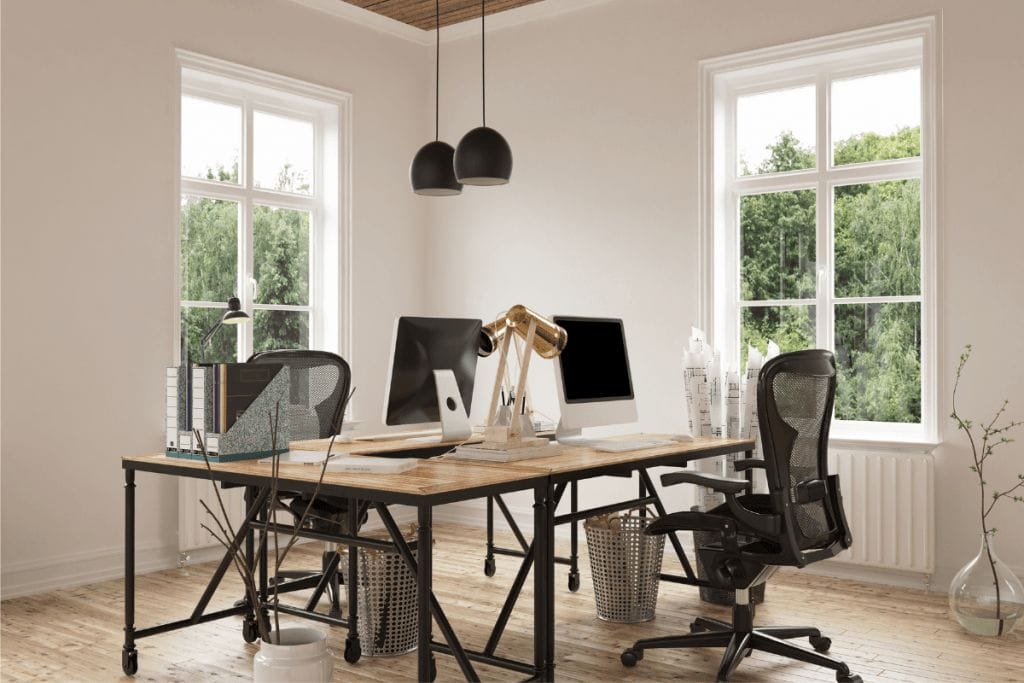 Prioritise what you need on your desk
Often, we can find our desks start hoarding random objects, some common ones can be empty coffee cups or deodorant, some of us might even have unneeded staplers or books on our desk.
Make sure that what's on your desk is only what you need, and not what you 'think' you'll need.
Final Words
And there you have it! Here are our top budget décor ideas for you home office that will you give you that DIY inspiration you need, just don't forget to save our pin to your board for future reference in case your in need of any decor ideas for your new office.
Happy budget office decorating!