Our Best Office DIY Organisation Inspo
Everybody knows the key to having success and productivity is by having a clean home office. Having organisation in your workspace allows you to find things quickly, get things done, and think clearer.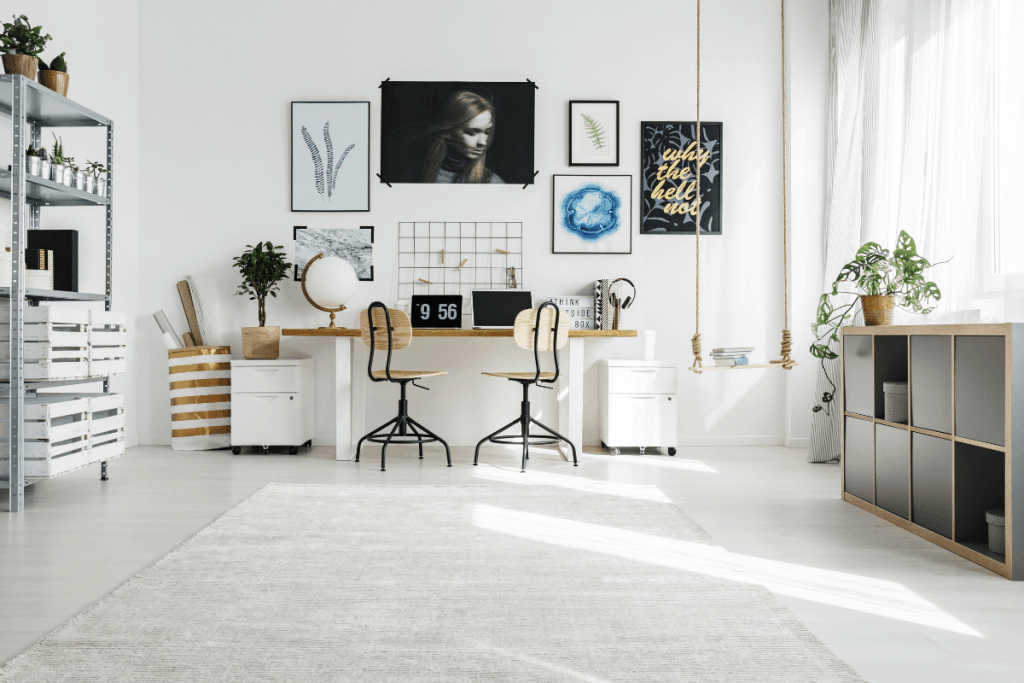 But before you go all out and start buying pen holders and file cabinets, there's a large amount of DIY organisation solutions you can make from home, meaning you get to save money and also have some fun!
From shoeboxes to mason jars and pegboards, these organisation DIY office projects are endless and not to mention easy to make, so without further ado, let's get that home office cleaned and organised the DIY way!
DIY Office Organisation Solutions
As we mentioned above, there are many different kinds of DIY organisation projects you can make to help organise and de-clutter your workspace.
We have listed out our top organisation hacks below to give you some inspo -
Use some old mason jars
Mason jars are a very underrated piece of organisational office equipment that can be stacked on top of each lengthways or propped up normally to hold stationary equipment such as pens, pencils, or scissors.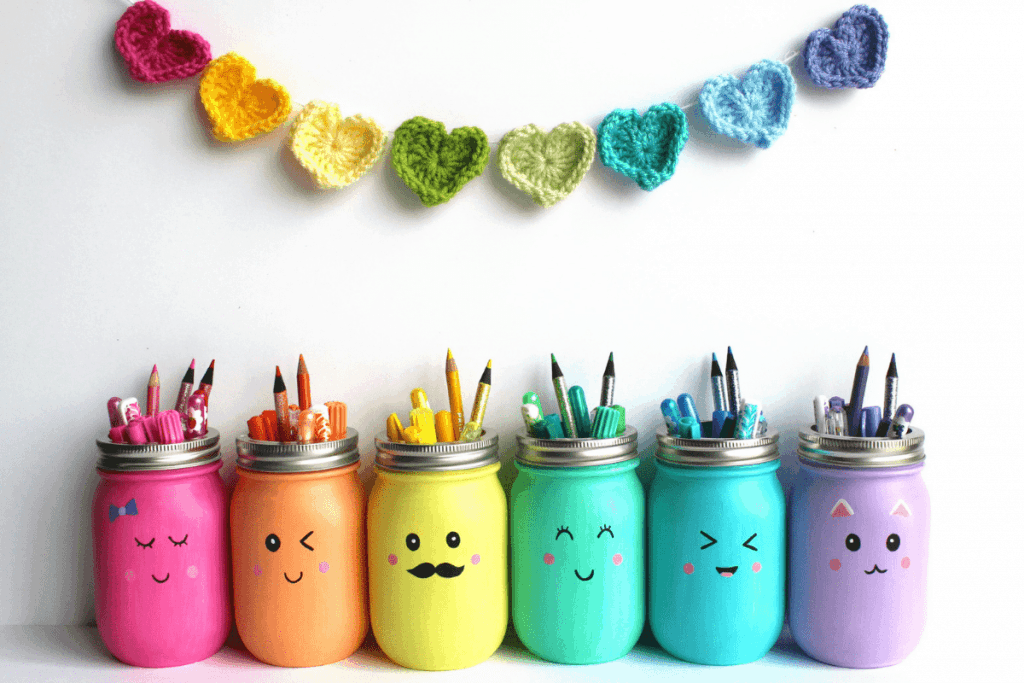 You could also label them if you want to get organised so as you can know which jar holds what.
Make some dividers for your drawers
Desk draws can get messy, and messy fast if you don't keep on top of them, eventually you'll find yourself scrambling through your draws just to find one paperclip.
That's why you should make some DIY draw dividers, these can be made of cardboard or old cereal boxes if you wish to upcycle and are an effective way to keep your desk draws organised and know where everything is.
DIY pegboard
Pegboards are pretty easy to make and can hang directly above your desk, making them a great storage solution for hanging shelves or memos from thanks to their holes.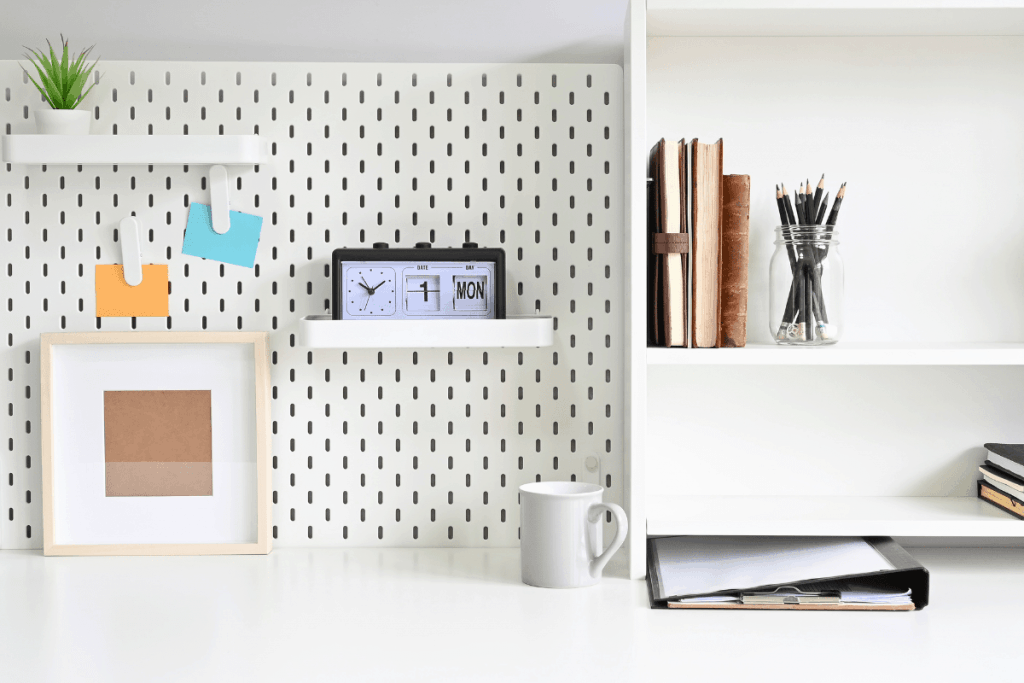 These pegboards allow you to display nearly anything you want, keeping your desk organised and utilising the space around you instead to store items. Find out how to make it here.
Have a shoebox caddy
A good old shoebox can help organise your desk by being stacked as shelves or put down as a caddy to hold different items.
You can paint or wrap your shoe box in some wallpaper if you wish it to blend in aesthetically with your home office.
Consider some chalkboard labels
One of the best ways to get organised is by labelling. Labelling your draws, pots, storage units and shelves can help you work fast and keep your office organised if anyone else uses it, as you'll know where to find items and where to put them back.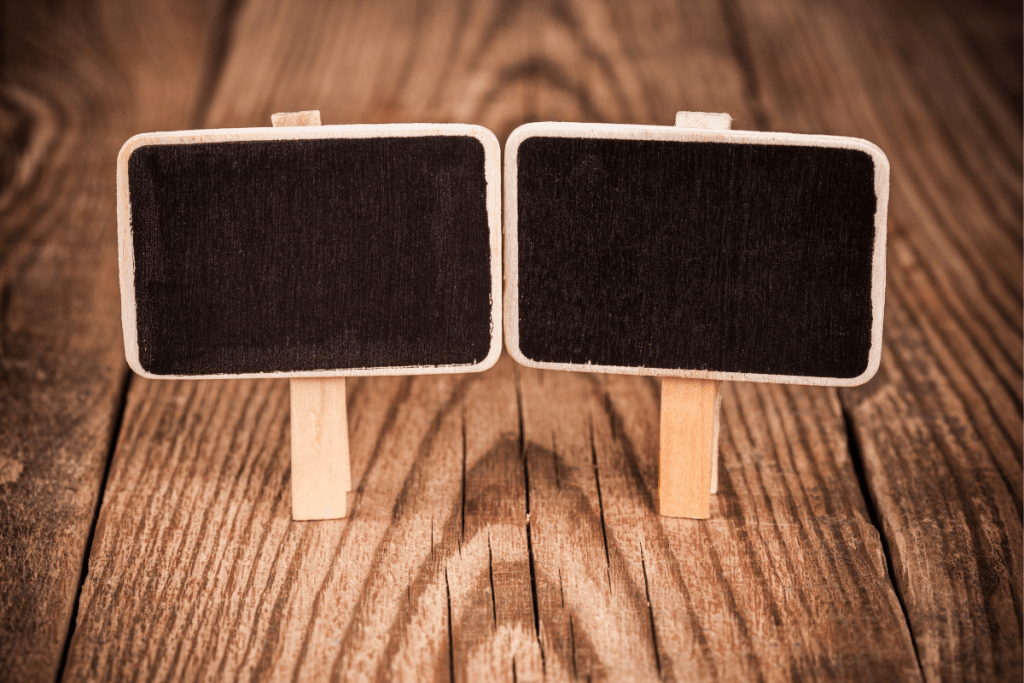 Try using some chalkboard paint and writing on your labels for the best organisation, chalk can also be removed, allowing you to switch labels between storage units as paperwork or other items become a larger amount.
Get your files sorted with an organiser
You can DIY your file organiser easily, just find a plastic container or empty box in your house and fill it with some plastic folders and labels, this way you have somewhere to store all your important files in an organised labelled system.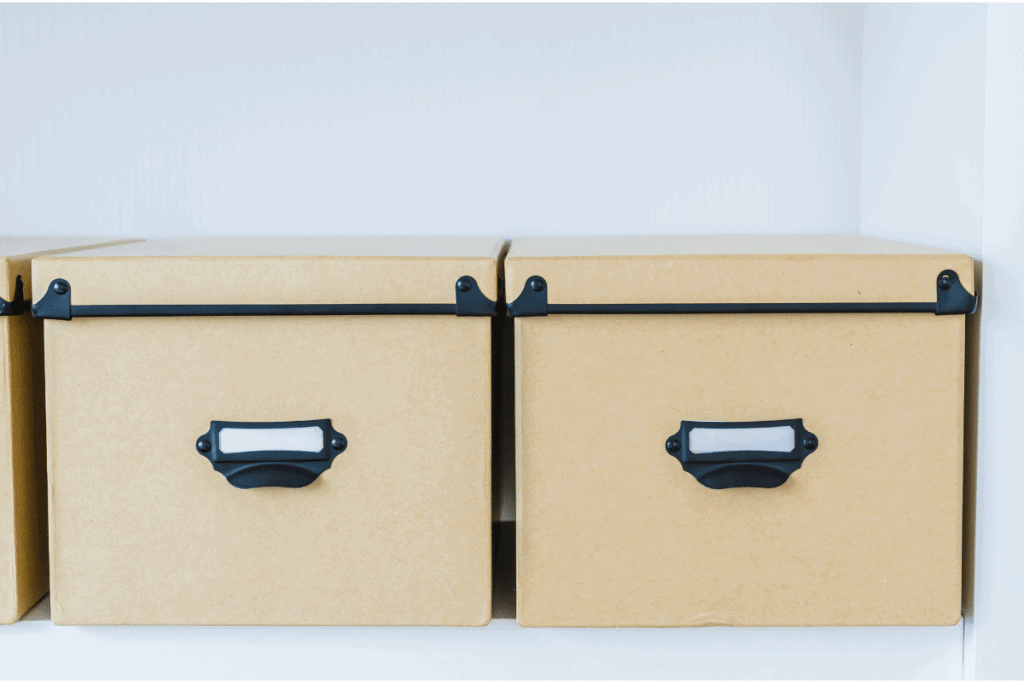 Try a muffin tin
Now, you might think this organisation solution is a little odd, but trust us, its a great way to utilise an old muffin tin if you are not into baking anymore.
Just simply place the muffin tin in your desk drawer and fill it with designated items in each muffin hole such as paper clips or staplers, it acts as a great alternative to dividers and stops your draws from getting messy!
Wall mount a large corkboard
One of the best organisational hacks for your home office is to make use of the wall behind you.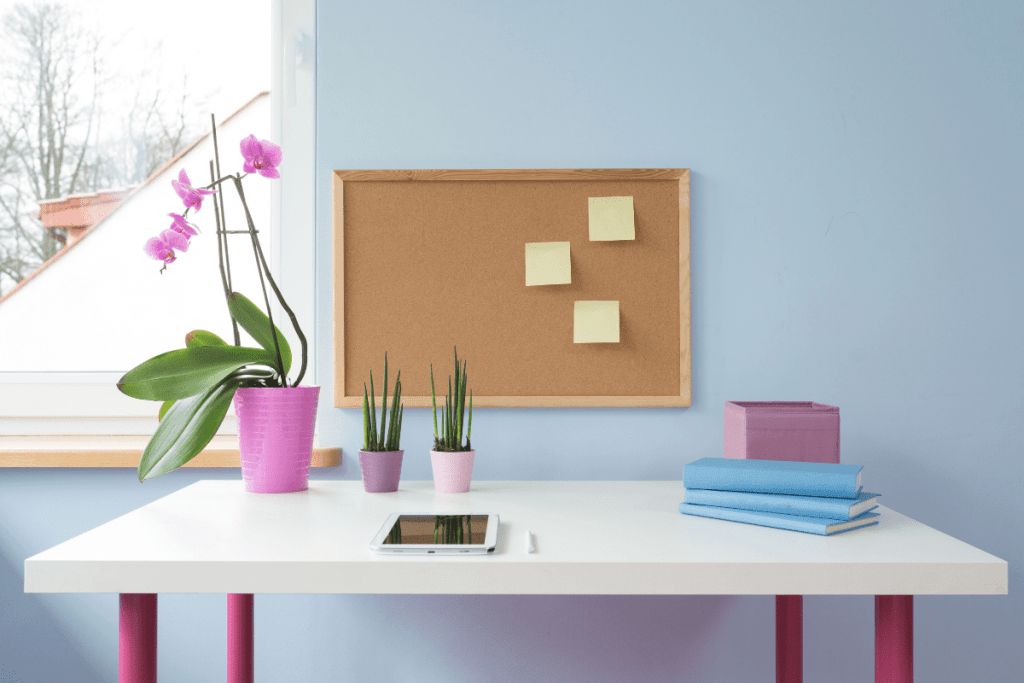 Try mounting a large corkboard on the wall and use it to hang important notes, calendars, files and memos which you might have forgotten about unless they were hanging up straight in front of you.
You could even pin some motivational quotes up there for when you have a case of the Monday blues.
Make use of those binder clips
If you have any spare binder clips lying around why not use them to organise your wires leading up to your desk?
Simply attach your binder clips to the side of your desk and feed your wire through each one, you could have one for your laptop and one for your phone charger. This stops wires from getting tangled and annoying when working.
Put more shelving
You can't go wrong with more shelves in your office, shelves are a great way to organise books, magazines, and files and stop your desk space or filing cabinet from filling up.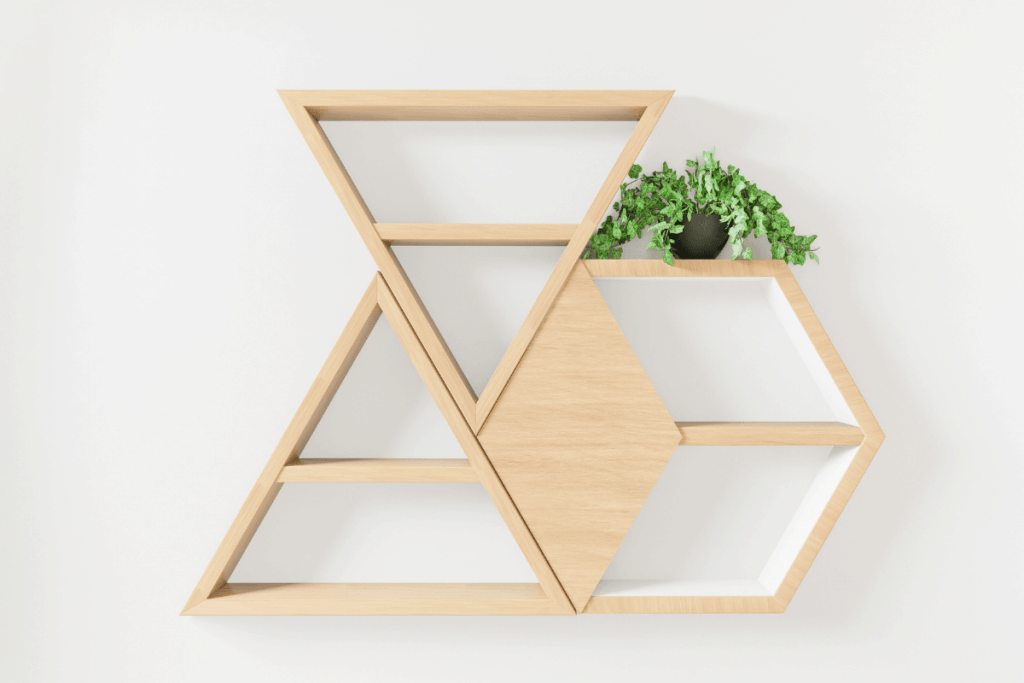 Now, you could even DIY your floating shelves if you want to save some money and add a bit of modern style to your home office.
Hang up some old clipboards
If you have any spare clipboards why not hang them to display important documents such as your to-do list or calendar? You could even clip your task priorities for the day up there so as you can have it in sight at all times while your working.
Make your storage baskets
Storage baskets are great under desk way to get organised and can even be made into small baskets that can sit on your shelves or top desk for holding stationary equipment such as pens.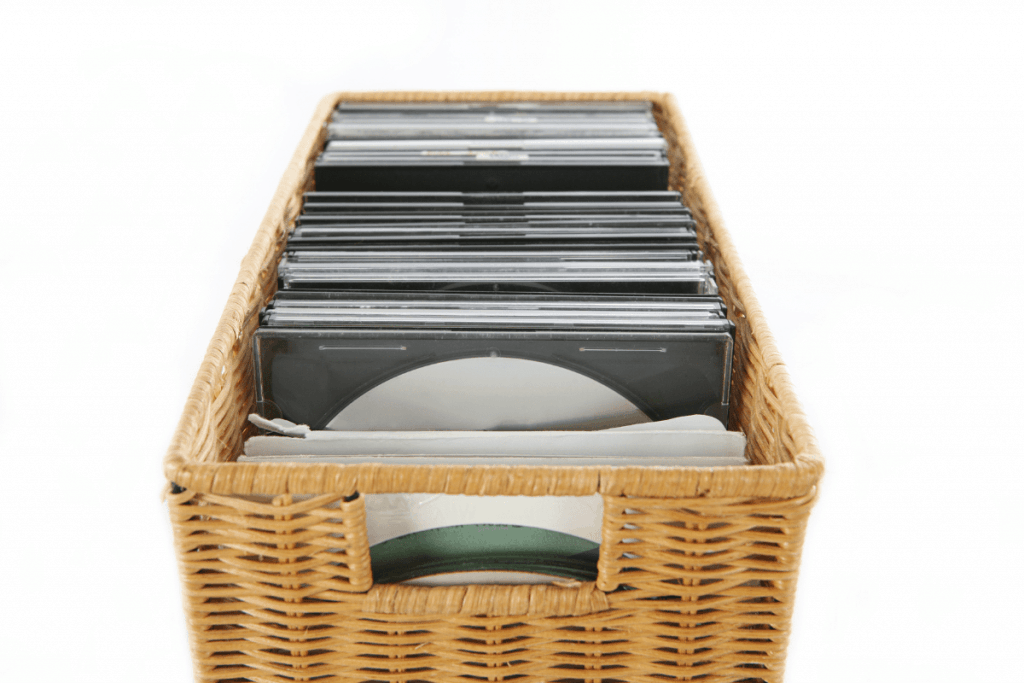 You can use empty cans or cardboard boxes for these projects and wrap some twine and glue around the area of the items till they become baskets, this is also very stylish and appeals to a modern home office look while helping you get organised.
Build a DIY keyboard tray
Making your DIY keyboard tray can free up lots of space on your work desk, allowing you to type with more space around you, or store your laptop underneath your desk when not in use - meaning you can use your desk for taking notes instead.
All your need for this DIY project is some sliders so as you can move your tray in and out, a piece of wood, and a couple of DIY tools. Get the steps here.
Top Organisational Tips For Your Home Office
After looking at some great DIY hacks for organising your home office, there are a few other handy tips we thought you might want to hear about that can help keep your workspace organised and professional.
We've chosen our best organisational tips to help you out -
Do a big clean out - Now and then it's a good idea to do a big cleanout in your office. Rid yourself of old papers and files or items which you might have of been hanging on to but don't come in use. You'll be surprised at how much you will throw away and the large space you will be left with.
Prioritise what's on your desk - What's on your desk is only what you need, don't clutter it up with lots of stuff that you don't use for work daily, just keep what you need and make sure it has its place.
Separate your office with work zones - A great organisational technique for your office is to keep it in zones. Zones such as a work area where your desk is, reference area where your filing is and a supply area can help you keep work separate and tidy while speeding up your workflow.
Make tidying a habit - Rather than letting mess build-up, it's a good idea to make tidying an everyday habit, making yourself spend 5 minutes at the end of each day tidying up after a day of work can get you prepared for the following day.
File once a week - Try not to let your files pile up and make an appointment to do some filing every week so as you can stay on top of it and be organised.
Final words
Organising your desk can be made easier with these DIY hacks and ideas for storage solutions. You should also consider making tidying a habit, and not allowing the mess to build up in your home office (we know, easier said than done) with dedicated tidy times at the end of each day.

We wish you the best with your DIY organisation projects and hope you save this pin for some future home office organisation inspo.