All the Answers You Will Need
Appearing in more and more homes across the country are hot water dispensers. Gone are the days of frantically waving your hand under the tap to see when the water is hot enough, or having to boil the kettle every time you want a cup of tea or coffee.
The hot water dispenser is an essential item to add to your kitchen in the modern home. "But what exactly is a hot water dispenser?" I hear you ask. It is an appliance that - once filled - will heat your water to a precise temperature and dispense it directly into your cup. By taking out the need for constant boiling or the need to pour, these machines make your regular morning cuppa just that little bit easier. You can even get versions that dispense both hot and cold water!
There are sensible questions you would want to consider when looking to buy one of these machines. You may be wondering just how safe are they, and are they eco-friendly. Many kettle-owners could be forgiven for wondering just what is the use in making the move to a state-of-the-art product such as this? Well, this is the page to assist you in those queries.
If you happen to be looking for instant hot water for your tea or coffee.. Best Hot Water Dispenser
How Much Electricity Does a Hot Water Dispenser Use?
The convenience of a hot water dispenser does mean that the machine needs to continuously produce a flow of hot water and - depending on the model - cold water.
The exact number of KiloWatts used varies depending on what make and model you are using. But the average is between 2 and 3 KiloWatts for an item of any size.
For example, the Marco Push Button Ecoboilers, whether the 5L model or the 20L model, will all use 2.8 KiloWatts of power when set to 230V. These models connect automatically to your water system, meaning they automatically refill, and a wall-mounted model will generate even less at just 2.4 KiloWatts @ 230V.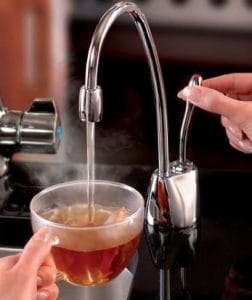 For a less power-hungry option, you could also buy Boiling Water Taps, which can dispense boiling-only water directly from your mains and can be inserted over your sink like a regular tap. The InSinkErator GN1100C Hot Tap dispenses up to 100 cups of steaming hot water every hour at just 1.3 KiloWatts - about half the energy consumed by your average dispenser, albeit with a lower water capacity.
If you happen to be looking for relatively quick hot water for your tea or coffee.. Best Boiling Water Taps
A non-automatic boiler that you need to manually refill, will use about 3 KiloWatts of energy - such as many of Breville's models - but while they are capable of holding less water, they do come in at a considerably cheaper price.
How Long Do Hot Water Dispensers Last?
While most hot water dispensers will come with a warranty of 1 or 2 years, the most high-quality water dispensers can last 5 years or even more.
In a collective review of products by WaterFilter Magazine they found, for example, that the Anaheim AH-1300 Instant Hot Water Tank has been reported to last up to 10 years before inevitably giving out. Should something go wrong with your model, most manufacturers will provide a replacement if an issue cannot be fixed.
We recommend that when buying a dispenser, look for those that are made out of stainless steel, as it is a sturdy and long-lasting material that almost guarantees your product should stand the test of time.  Fortunately, the majority of models use stainless steel. And while those that don't (usually reverting to using a rubber alternative) are often the cheaper models, they commonly wear out within the first 18 months.
How Do You De-Scale a Hot Water Dispenser?
Firstly, it should be stated that if you are going to descale your hot water dispenser, you will need to know how frequently to do so. This will depend on the hardness of the water in your area - for which you can buy water hardness testers.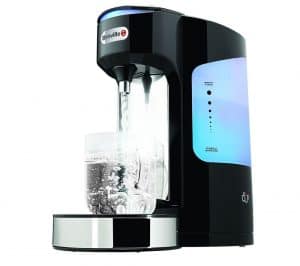 If you have hard water and/or use your hot water dispenser frequently, you will want to descale your product on a monthly basis to ensure your water stays fresh and clean to drink, and that the dispenser maintains its quality.
Now, to decale your product, you can use a descaling solution which usually come inexpensive and are intended specifically for use on products such as water dispensers, coffee machines and kettles. Alternatively, it is a common technique to use vinegar or citric acid for this same purpose, which can be purchased at an even cheaper price.
This article from Colour My Living precisely lays out how to descale your product using any of the three solutions named in the previous article. Remember to follow the instructions on a monthly basis to keep your product in the best possible condition.
Are Hot Water Dispensers Better Than Kettles?
There are pros and cons to both products. Kettles have obviously been a fixture of most homes for years, but the hot water dispenser has boomed in popularity in recent years despite existing in one form or another since the 1970s.
The convenience of a hot water dispenser is a huge justification for its purchase. Versions of the product are capable of holding - at minimum - the same as kettles, with various sizes that can hold anywhere up to 20L, a model well-suited for canteens, workplaces and get-togethers.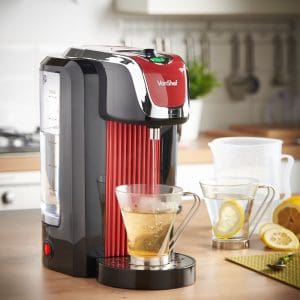 The autofill models don't require you to constantly refill the machine, as they connect your water supply to the heater and will change out the water, keeping it at near-boiling temperature. Wall-mounted boilers are also plumbed directly into the mains which saves on energy.
Even the cheaper models that require manual refilling have their benefits. The energy output per use is not dissimilar to that of your average electric kettle, and it boils water at a faster rate than that of a kettle. A personal test at this writer's kitchen saw a Breville-model Hot Water Dispenser boil 1L of water in just 42 seconds, compared to a CookWorks Kettle which took exactly 1 minute to boil the same amount of water.
And as small as convenience as it may seem, you also don't need to lift anything to pour the water as a dispenser will - ahem - dispense the water you need at just the push of a button.
Another benefit in select models is the ability to give you both boiling hot water and cold water, something a kettle in simply incapable of doing.
But of course there is no problem with owning a kettle, as it is a product that is arguably easier to understand. Simply fill with water, turn the kettle on and flick a switch. This opposed to a dispenser, where many designs have multiple settings such as how much water they disperse and different temperature choices.
In addition, as previously stated, kettles don't require constant electricity nor the hassle of being connected to your mains water supply. Meaning the only negative separating this and your cheaper models of hot water dispensers is an extra 10-20 seconds of waiting for the water to boil. And electric kettles are often much cheaper than a hot water dispenser, with the 10 most popular models on Amazon averaging £34, and the 10 most popular dispensers averaging £68. Double the amount.
So for convenience and quality, a hot water dispenser is inarguably the superior choice. But for cost and simplicity, you can be understood for sticking with a kettle.