Home Interior | Living Rooms
Adding a mirror to your living room not only covers wall space, but it can drastically improve the uniformity and well-kept appearance of the room as a whole. Mirrors are a great way to bind together a whole theme, and are verstaile enough to fit into any living room. There are a variety of sizes, shapes and designs of mirror you can use, so read on to find out which you should go for.
Long, Unframed- Modern & Minimalist
Our favourite design idea makes its way to the top of our list. The mirror we're talking about here are usually around 1-2 metres across and about 30-50cm in width. They look best frameless, as this reduces the amount it protrudes from the wall, giving it an edgy and modernistic look. We suggest placing one of these on the wall behind your sofa; when one walks into your living room, it looks larger than it already is! We noticed this common architectural trick adopted in department stores- the cover a whole wall with mirror, making the actual store reflect as though the store is double it's size.
For a vast variety in size, check out these mirrors on amazon. This famous site is great for finding variety at reasonable prices, so you're sure to find one which suits your living room best.
For a vast variety in shapes, check out these mirrors from FabGlass and Mirror.
Circular, Unframed- Simple for On-The-Go
These mirror are dainty but also really useful additions to your living room. We suggest going for an unframed mirror, as these look cleaner and create the illusion of more space on your walls.
IKEA: This is one of the best places to find stylish homeware and assets with great quality and affordable prices. We found some amazing finds here, so you'll likely find what you're looking for too.
This one from Amazon is a nice choice, it has a slight bevel so it doesn't look completely flat on the wall. While they are pricey for a mere mirror, we know the quality and warranty will be well worth it.
Large, Heavily Framed- Make a Statement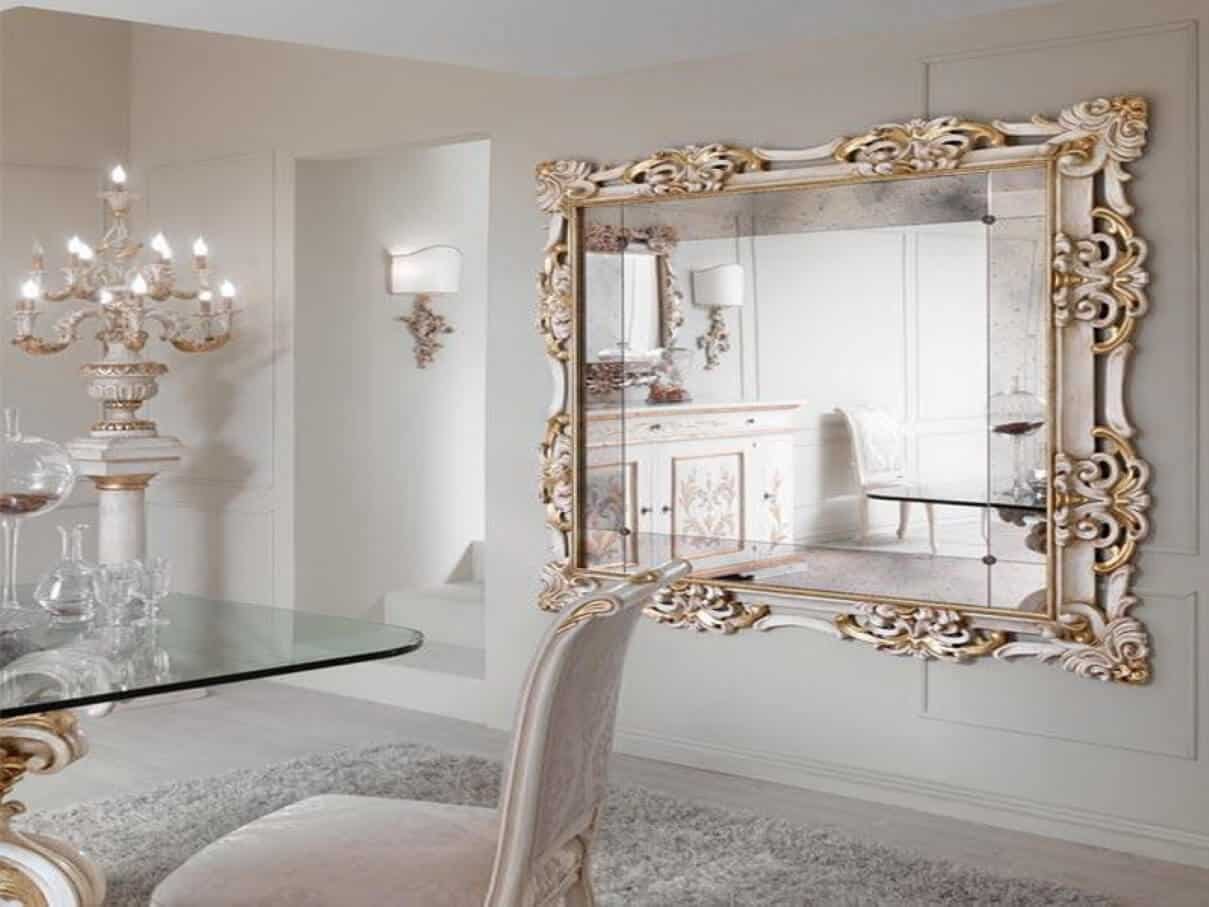 We've finally added frames into the list, yes. When it comes to framing your mirror, be careful. You don't want it to be so thick that it overpowers the actual mirror, or so thin that there isn't really any effect produced. Our favourite design idea is to keep a large, 2-3m x 1m mirror with a heavy, matte black frame.
Antique with a Twist: We suggest looking for these types of mirrors in places such as Homesense or TK Maxx, as they tend to stock many unique and antique finds on their shelves. Best of all, they reduce the price of the product in comparison to its general retail size, so you're sure to save a load of cash!
Amazon: We suggest looking on Amazon for heavy mirror frames, as not many other online retailers can ship these to you.
Segmented / Shapes- Unique and Modern
Another great idea for your living room is to use segmented mirrors. These are mirrors which are cut into smaller ones of either equal or various sizes and shapes. The reason why we love these is because you can rearrange them into any design you like, or even scatter them around your walls. Our favourite design idea for this type of mirror is to have several square or rectangular ones and arrange them in a diagonal manner.
This 7-piece circular, frameless mirror set is a great way to add a fun yet contemporary twist to your living room.
This long, narrow 3-piece heavily framed mirror set is an absolutely gorgeous addition to your room to add an elegant and regal touch.
Wayfair: We suggest visiting Wayfair's online site to look for these contemporary mirrors, as they have a large variety and reasonable prices.