Whether you've just moved into a new home and are looking to add character to your abode, or are deciding to redecorate for 2020, the living room will be likely be your first point of focus. We've collated five types of wallpaper ideas to match each and every one of you, whether you like simplicity and elegance, rustic charm and shabby chic, or regal and luxurious. Read on to know about our recommendations.
How to Select a Theme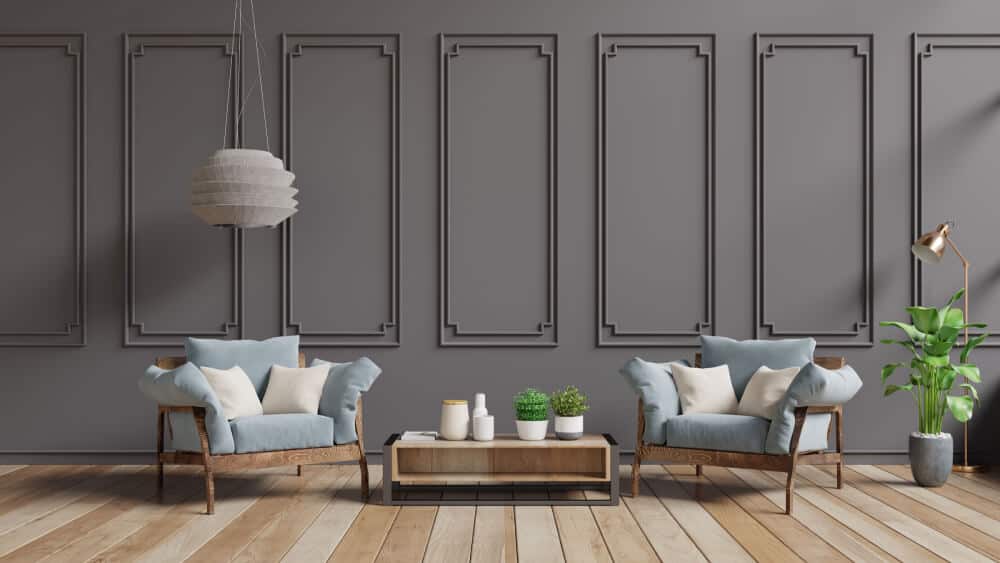 We would never tell you to rush your home decoration plan- ever. Your home is something that you'll spend pretty much the rest of your life in, pick something timeless. What type of person are you? Do you like to stay indoors more, or go out? If you're a roamer, something minimalist -making your needs readily accessible- may be the best option. If this is the case, choose a wallpaper which places less emphasis on the home's ambience, and more on making your home items stand out to you. If you prefer spending your time cosied up indoors, select a theme with colours that allow you to sink into your sofa and unwind.
Which colours do you hate? Mark these off!
Which colours make you happy/lift your mood? For some people, this may even be black.
Which colours contrast with your furnishings? If you're a roamer, consider these for your wallpaper. If you prefer staying indoors, stick to colours similar to your furniture.
Select at least 3, and no more than 5 colours: Use the brightest as your accent wallpaper shade, the neutral colour as the main background, and the last to add borders and other bits and bobs.
Luxury and Boujee- Blacks, Golds, Browns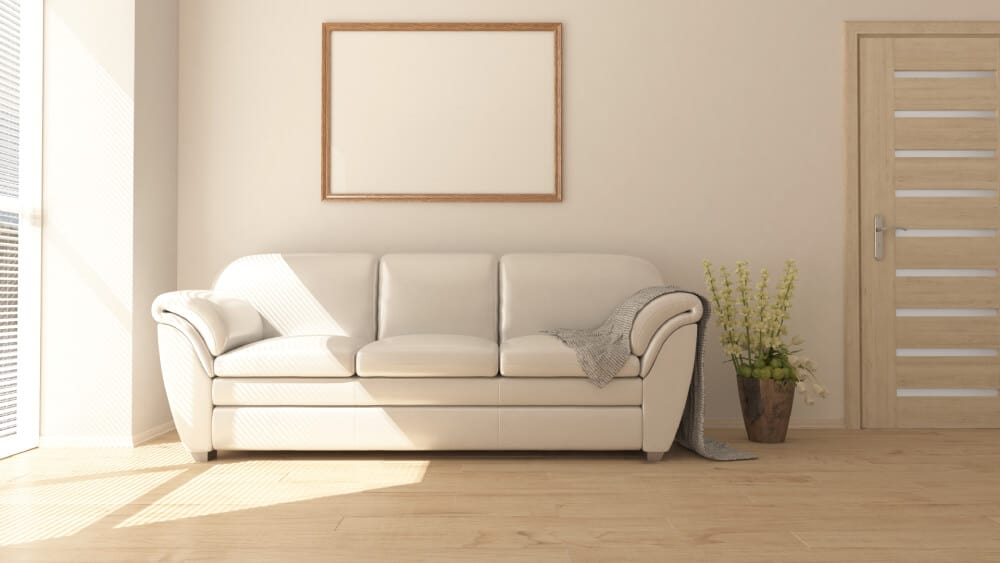 By deepening the colours of your living room, you can instantly boost how expensive it looks. This is a great psychological trick when paired with glass dishes, vases, black electronics, and dark fabric or leather sofas. Black and brown are two neutral colours often used for backdrops. They tend to fill space yet making your room look more spacious simultaneously.
Stripes are a design to stay away from when using this colour as they can ruin the elegant look- stripes are a more casual and fun look.
Possible designs:
Ornate designs
Lace designs
Regal designs
Dark gradients
Plain backdrop with a simple bright gold single stripe horizontally across
Joyful and Bright- Citric colours, Greens, White]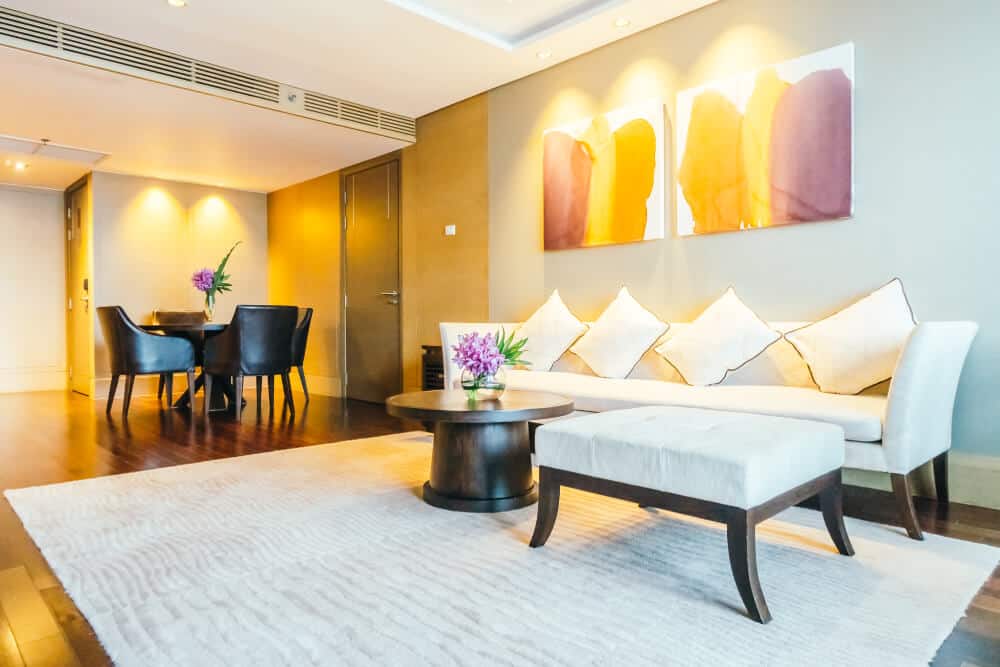 Radiate good vibes and see rays of positivity bounce off of your walls when you adopt the use of citric colours, refreshing greens and rejuvenating white spells across them. The best thing after a long week of work is to relax in the comfort of your own home, absorbing all the good vibes. Let colour psychology tell your brain to loosen up and unwind on the weekend, helping prepare you for a bustling night out with your friends.
Citric colours including orange, yellow, green and dark pink enhance the feeling of vitality and happiness. It will automatically boost your mood the moment you walk into your living room. Paired with refreshing green spells and white borders, you'll have build a bright and cheerful abode that will have you geared for the day ahead.
Possible designs:
Scenic backgrounds
Floral
Stripes
Deep and Intense- Reds, Blacks, Violets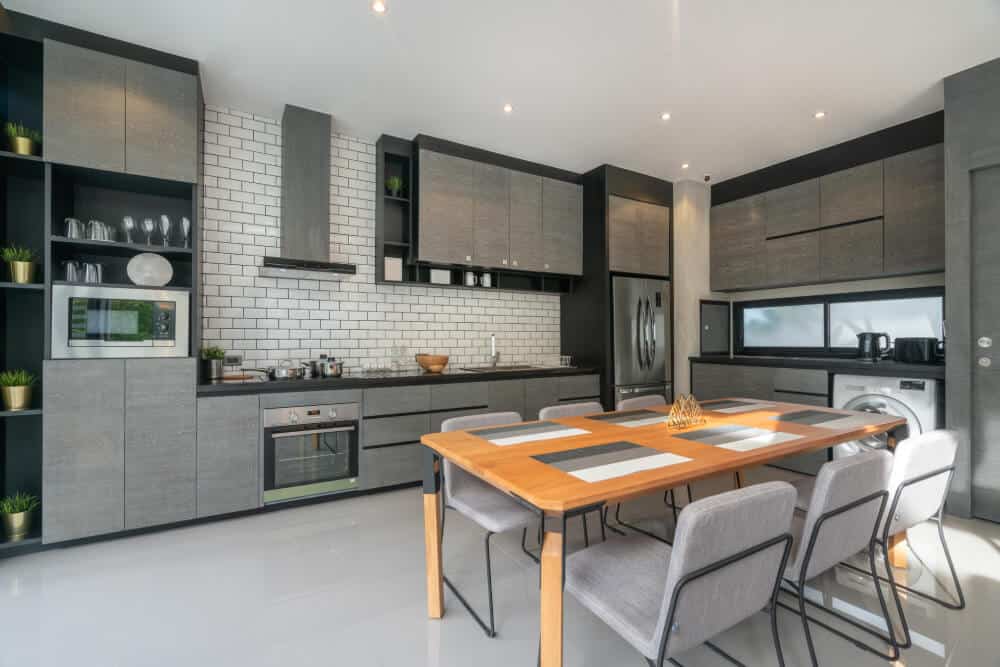 Decorating your home with raw, romantic shades such as these can allow you to closely bond with not necessarily anyone else, but with yourself. Red is proven to evoke feelings of closeless and integrity, while physically increasing one's heart rate thus making them excited. Do use the hue sparingly, perhaps as an accent colour, as red on it's own can get overwhelming. We recommend pairing it with violets and black; as these add more character to your living room all while keeping the intense theme you're after.
This is our personal favourite theme, as it really adds an element of warmth to your home no matter how cold it is in reality. The best part about this theme is that the colours allow even gym equipment to blend in nicely! You can install your very own mini-gym (if your living room is large enough to accomodate for one) and still drop it with ease!
Possible designs:
Ornate designs
Stripes
Diamond shape patterns
Plain background with a contrasting coloured stripe
Fun yet Delicate- Pinks, Purples, Creams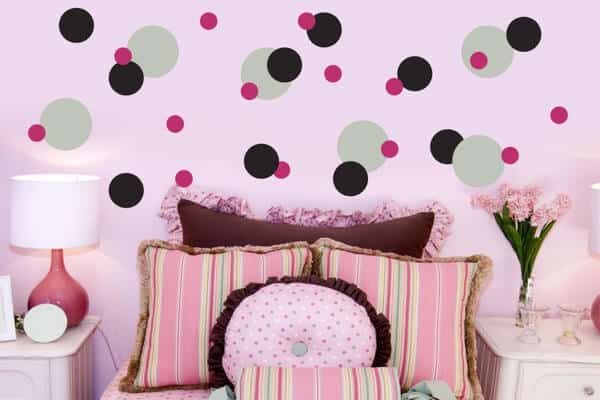 You could add a touch of spring to your living room by choosing these colours; after all, who doesn't like spring? It's the best season- you get the best of both worlds (rain and shine!). Our favourite method of utilising this colour scheme is to use a cream backdrop with purple and pink floral designs covering the walls.
When using this colour scheme, ensure that one of your colours is darker than the rest. if all colours are too light, you can give off a bland or empty look, which disrupts the fullness and homeliness of your living room.
Some of the possible design ideas you could choose, according to our recommendations are below.
Possible designs:
Floral
Polka Dot
Gradient/Tie dye
Fresh and New- Blues, Whites, Greens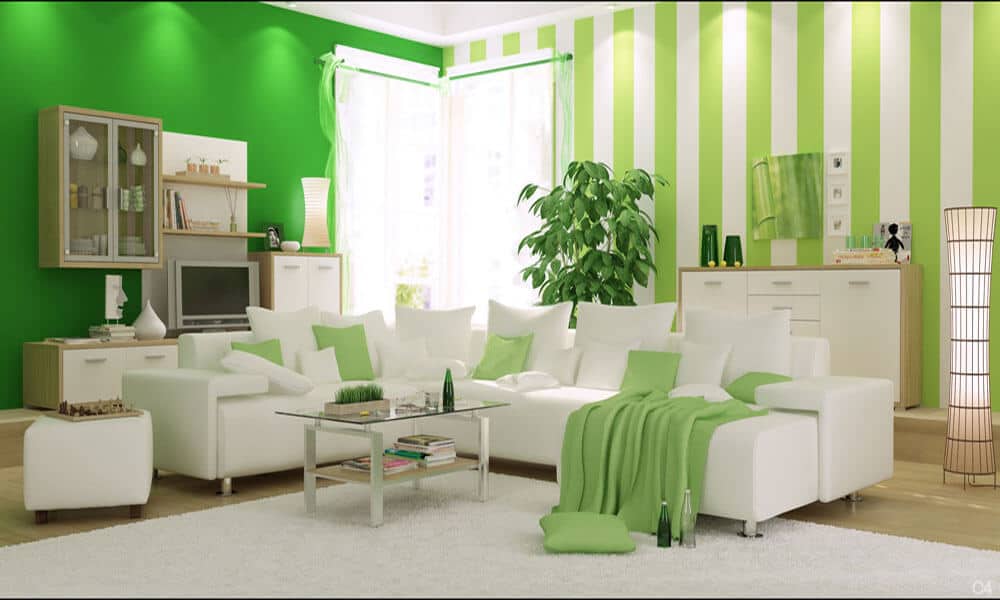 Great for any time of the year, having a fresh looking living room seems to reflect the sunlight and radiate it all over the room. Stripes are the best way to implement these hues, as the light-hearted and playful aura of the colours compliments the gentle and childish nature of the stripes.
When using these colours, we recommend setting the main background colour as white and placing green and blue as accent colours, unless you are opting for stripes. We suggest using thick bar stripes rather than narrow ones, as narrow stripes can cause stress on the eyes- that's not something ideal for the living room!
Possible designs:
Stripes
Polka Dots
Floral Designs
Scenic designs
Plain backdrops
Once you've chosen your theme, follow our colour recommendations and go ahead- spruce up your new/ renovated home and enjoy your comfortable abode.