Decorating You Master Bedroom; Top Tips
Dating back over 77,000 years, master bedrooms are not a new concept in abode design. Usually the largest bedroom in the house, the master bedroom was traditionally occupied by the head of the household and was more decorative and lavish than the other sleeping quarters in the home. In family households nowadays, the master bedroom is typically occupied by the parents.
Of course, you don't have to have children to have the master bedroom. If you live in a shared house or even in a single bedroom flat, the bedroom you occupy is the master bedroom regardless of its size.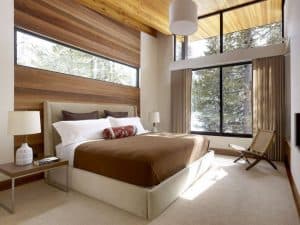 Designing a master bedroom with a glamorous interior may seem daunting and even expensive but it is easier than you think. If you want to move away from the classical, grandeur four poster bed look of a master bedroom, there are plenty of alternative décor options out there to make your master bedroom glamourous with a more modern feel.
Master Bedroom Wall Decor
A key feature of any bedroom is the bed; the linen, the shape and the design of the duvet and pillows. In a master bedroom however, the wall behind the bed has often been used to accentuate the bedding space, with designs ranging from wooden carvings, wall art and family portraits.
Once again, there are some, shall we say, easier options out there to really make that space on your bedroom wall pop without spending a fortune.
• Wall stickers- a brilliant solution if you are renting, wall stickers are a cheap and easy way to create a focal point behind your headboard. They come in a range of designs, shapes, colours and they can be personalised. Best of all, they are removed without issue if you are redecorating, so can be interchangeable.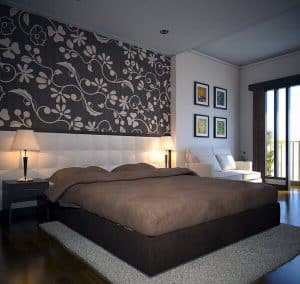 • Canvas- in a similar theme as wall art, large, bold canvas pieces make a statement and add an interesting look to your master bedroom. If you are not in to paintings per say, why not opt for getting some of your own photos printed on to canvas and displaying them? Cheap and easy.
• Mirrors- if you are going for a traditional look, a gothic look or a modern look in your master bedroom, a mirror on the wall behind the bed can really help add to the theme without being to flashy or pricey. If you are looking for a more traditional look, a mirror with a larger, patterned frame is an easy way to go; you can even paint it black if you want to add a touch of gothic design for minimal price.
Modern Master Bedroom Ideas
A master bedroom, as previously mentioned, does not need to be over furnished with luxury goods to make a statement. Many people nowadays are opting for more contemporary looks for their largest bedroom, which is both functional and can look incredibly striking.
• Low bed- a lower bed is an interesting feature for any master bedroom and is a simple way to give a modern look. Topped off with some contrasting sheets and duvet, this idea really becomes appealing to behold.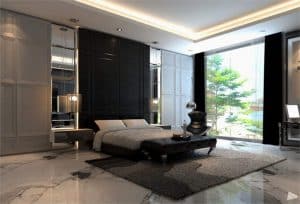 • Carpets and rugs- if you are in a rental property, then your landlord may not be too happy for you to fully carpet a room but a large or statement rug can add a very contemporary feel, especially if it is coordinated with other pieces of furniture in the bedroom.
• Mirrored wardrobes- if your budget can stretch to a mirrored wardrobe or chest of drawers, this will look ultra-stylish and add a very open feel to your room. It also serves a double purpose, making it functional and minimal; the cornerstones of modern chic.
Luxury Master Bedroom Tips
The term 'luxury' is a broad terminology, especially when it comes to home décor ideas; a simple way to define it is 'does this room look luxurious or well designed?' Need some tips to help you plant your luxury bedroom? Here are some simple and effective rules to follow.
• Splash the colour- a bit of a fusion between modern décor and luxury if to use one key colour and splash another around the room sparingly. Common colour schemes in designer modern bedrooms are contrasted, so grey and bright yellow can really give a luxury feel with minimal effort.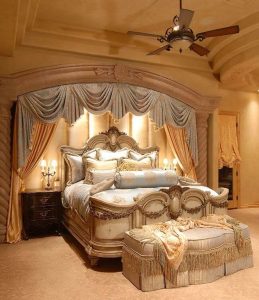 • Light fittings- luxury light fittings immediately makes one think of chandeliers. If you have the space, a chandelier is an amazing way to create a luxury feel in your bedroom; if you are short on space for such an extravagant piece, why not oft for a large light fitting? Glamourous and generally cheaper.
• Gold leaf- well, we couldn't talk luxury décor without mentioning gold leaf. If you have an excess amount to spend on creating your luxury bedroom, gold leaf pieces like mirrors, lamps and vases are an easy way to go. They also create an almost Georgian feel to the room; the essence of high-end British décor.
Simple Master Bedroom Design Ideas
So, while these ideas are all great if you have an eccentric side to show off, you may personally feel that you want something a bit simpler for your master bedroom without being over the top.
• White bedding- easy, cheap and a simple way to make a room look bigger, white bed sets are a great addition to a simplistic master bedroom. Why not get a dark or statement throw for the end of the bed?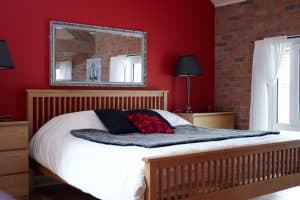 • Floral focal point- if you are renting, you may be limited in putting up bright paints or wall art. Create a simple focal point with some fake (or real) plants or some flowers; simple, effective and very striking.
• Light- why not invest in some wall light fittings? Useful if you are short on space, even the simplest wall mounted light fittings add a simplistic touch of class to your bedroom.
Of course, these are just some ideas to get your creative juices flowing. With anything decorative, consider the space you have to work with, your budget and your personality. Have fun!