product
Editor's Choice
Type of Material
Plastic Base and 'A' grade black crystal plates
Short on time? Here's our pick;
---
The Five Best Portable Induction Hobs 2020.
Surprisingly, the induction hob is not a new idea. First developed in the 1950's it is only now that people are being made aware of this type of cooking hob. Being highly efficient, with instant temperature control, as well as very "green" credentials, Induction cooking has become very popular.
The burgeoning market for induction cooktops, and now portable induction hobs, means that it can prove to be difficult to choose the ideal hob based upon personal needs. To try and make it easier to choose, five of the best rated portable induction hobs have been taken and robustly reviewed to find the best all round performer.
The Best Portable Induction Hob (2020 updated): The Speechmaster Double Talking Induction Hob (Editor's Choice).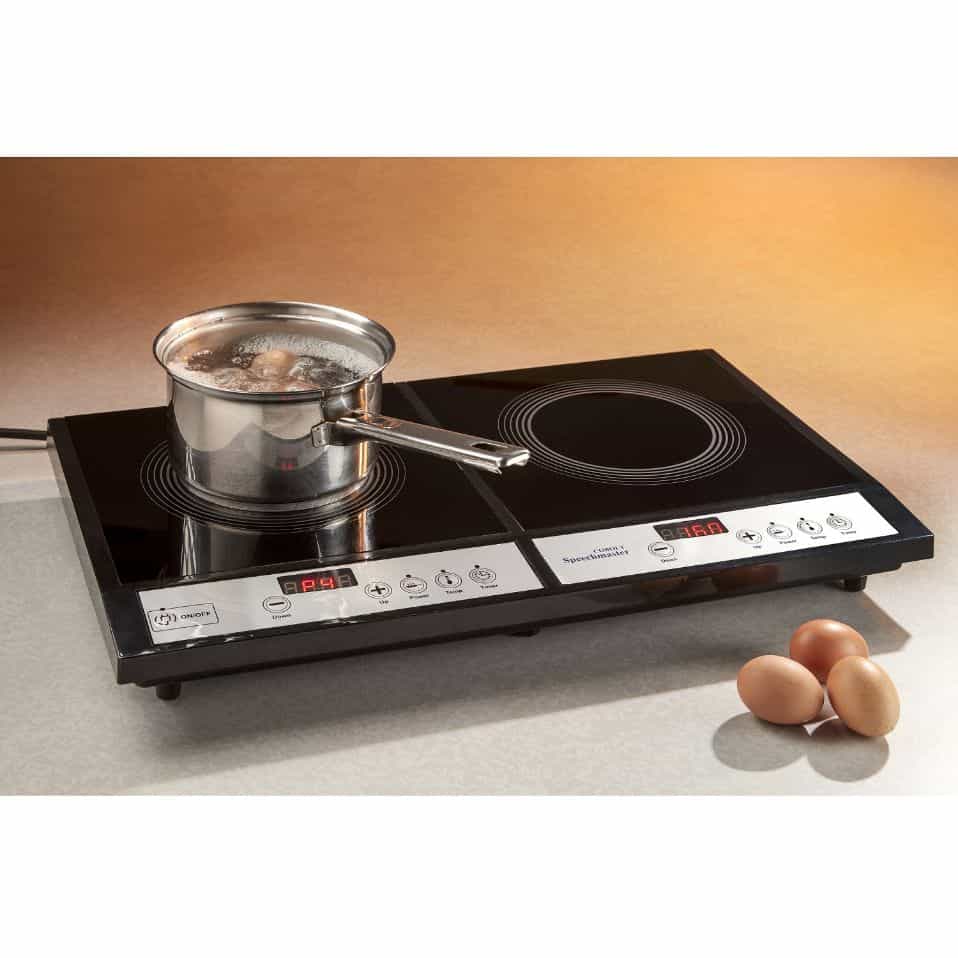 When first seen, the Speechmaster Talking Double Induction Hob seems to be yet another gimmick that has arrived on the market designed to have a brief success and then fade away to make room for the next shooting star. However, this could not be further from the truth. This well thought out and simply designed induction cooker has cornered a niche in the market that is permanently overlooked.
The Talking Double Induction Hob is quite unique amongst all the induction hobs in this review in that it can obey voice commands as well as voicing the settings that have been made by the user, as well as issuing any alarms or warnings. For those of us, who are either blind or have impaired vision, or just as importantly, are struck down with dementia, the sound of a clear voice with an English accent is clearly a blessing, one that is so often overlooked..
Speechmaster have also made the control panel completely tactile, so not only can the user be guided by the hob's voice, but can actually feel their way around.
These two features of this induction hobare essential to those who are either challenged or vulnerable, to be able to lead a more independent life, this can only be commended.
One aspect about induction cooking is that heat generation is almost instant, making cooking much quicker and easier to control. One example of induction cooking being quicker than traditional cooking was the simple act of boiling water. The induction hob took a third less time than the traditional kettle to boil 500ml of water.
When it comes to how to use the heat settings, The Speechmaster induction hob can be controlled by either temperature setting or by power levels, which ever the user prefers.
Included is a timer that can be set from 5 minutes to 240 minutes, and will automatically shut the hob off, allowing slow cooking to be done.
Once the hob is shut off reducing the risk of burns. there is very little heat on the cooking top itself, making the hob safe to use around the vulnerable as well as small children.
If there are any spillages the smooth load bearing glass top of this cooker is easy to clean using a damp cloth.
As with all portable induction hobs, The Speechmaster Induction Hob does need to have about 100mm clear space around it for cooling and ventilation.
The way that induction cooking works does require that all pots and pans are made of, or contain iron. Speechmaster includes a small magnet to check whether the pots and pans to be used with the hob contain iron.
After sales service of Speechmaster was found to be the best customer services department amongst the manufacturers in this review. Product knowledge and phone manner were found to be excellent.
However, there was one small point which did mark the Speechmaster down. This portable induction.hob only has a 1 year warranty.
What set this induction cooker apart was that it can be used by very nearly everybody, regardless and is endorsed by the Royal Institute for the Blind (RNIB).
Pros:
Designed to be used by everybody including the vision impaired as well as the vulnerable.
Will Accept voice commands.
Issues voice statements in a clear real voice with an English accent as opposed to a synthetic voice.
Settings can be either expressed in temperature or power levels and are easy to use.
Completely tactile control panel, so the visually impaired can feel their way around the controls.
Extremely competent and professional customer care department.
A small magnet is included to check if pots and pans are suitable for use with induction hobs.
Extremely easy to clean. Just requires a damp cloth.
Cons:
Comes with only a 1 year warranty.
---
The Klarstein VariCook Duo - Dual Hob.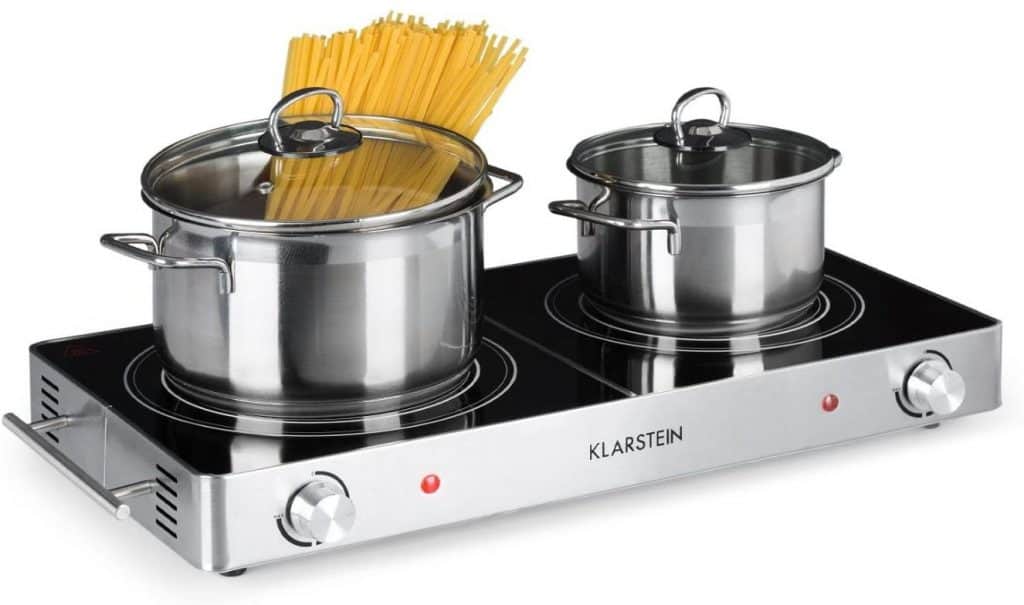 The Klarstein VariCook Duo dual hob is not, strictly speaking, an induction hob although there are many that would classify it as one. Indeed, it does share many of the features of an induction hob, plus it is portable.
One difference that sets the Klarstein VariCook Duo is that heating is by transmission, as opposed to induction (there is a full explanation of how induction heating works at the end of this review). This hob is basically a halfway house, in that it uses infrared to heat the pots and pans on the hob.
A real advantage of this particular ceramic plate cooker is that aluminium, stainless steel as well as cast iron cookware can be used, as the hob uses a hotplate, as opposed to an induction ring.
The VariCook Duo dual hot plate cooker, like its induction cousins is extremely efficient and easy to use. Equipped with one 20cm and one 16.5cm hotplate, this brushed aluminium, ceramic and glass topped cooker can accommodate most common pot sizes with ease.
As with its induction counterparts there is a thermostatic control, so that a constant temperature can be maintained, allowing food to keep warm for up to 4 hours.
Safety has also been taken into account with this dual hot plate cooker. With an inbuilt pan detector, the Klarstein VariCook Duo will not start heating its hotplates if there is no pot actually on the hotplate itself. Although not really a child lock,this little feature does make the inactive if a small child decides to explore!
The Klarstein dual hot plate cooker has a four hour timer which allows for slow cooking, adding to its versatility.
With its scratch resistant glass top, this infrared dual hotplate is extremely easy to keep clean, although with its traditional style control dials there is a small gap between the dial and the side of cooker which will allow dirt and grease to form .
While the VariCook Duo does have many commendable features, there are a number of points which do affect its performance.
There is however, no hi-tech control panel to speak of. There are two dial switches and an indicator light for each hotplate, which has just three temperature settings. While very basic in its temperature settings, it does offer basic cooking, just do not try and produce a stir fry!
This is not a hob with induction features or benefits. As such, it has to be stressed that as the Klarstein VariCook Duo uses a hot plate, care must be taken as the cooker needs to cool down after use. It will however, be quicker than traditional hot plates.
Due to its infra red heating, there will be more heat wastage because of the transmission of heat, making the Klarstein VariCook Duo less efficient than the induction hobs in this review.
Disappointingly the Klarstein VariCook Duo is only covered with a 1 year warranty.
While being very quick and efficient in operation as well as being portable , the Klarstein VariCook Duo is not a portable induction hob; and while it does possess some of the features of many induction hobs, infra red hot plate appliance can not be classed the best in review. However it must be stressed that the Klarstein VariCook Duo is still markedly more efficient than traditional cookers
Pros:
Traditional pots and pans can be used, including stainless steel, aluminium and cast iron cookware.
Safety feature can detect absence of cooking pots on the hot plate, automatically shutting off the hotplates. can be thought of as a rudimentary child lock.
Equipped with a 4 hour timer allowing cooked food to keep warm, as well as slow cooking.
Easy to keep clean.
Cons:
Although portable, the Klarstein Varicook Duo is a ceramic plate infrared cooker.
Not as efficient as an induction cooker.
Hot plates take time to cool down.
Only 3 temperature settings.
---
The Aobosi Digital Double Induction Hob.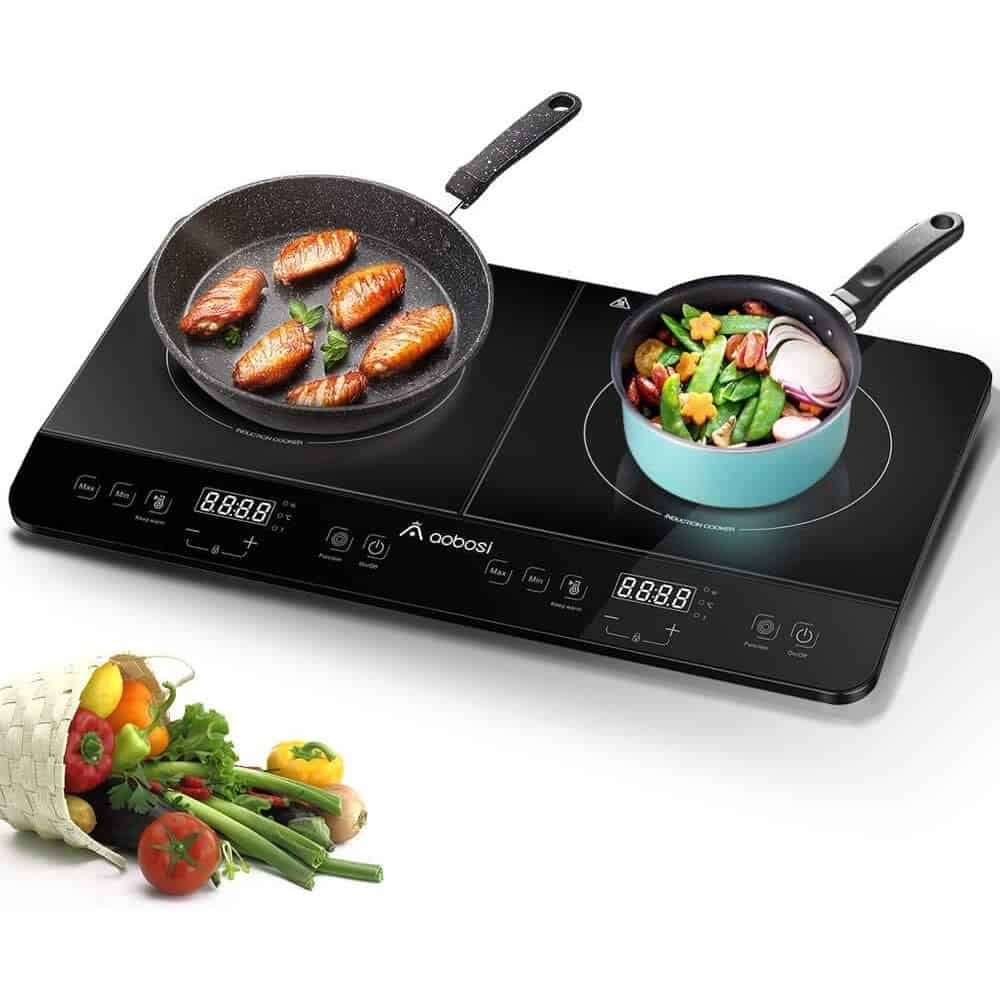 The all black sleek deign of the Aobosi Digital Induction Hob is possibly the best looking of the cookers in this review. This is a truly portable induction hob, which has state-of-the-art displays and "green" credentials.
With its 2 independently controlled induction heating rings and relatively large size, the Aobosi Digital Induction cooker can not really be missed. Large enough to handle most sizes of ferrous and stainless steel pan, this induction hob has a large LED display for each of the heating rings with soft touch controls for temperature and cooking timer.
Temperature settings are from 60 degrees C to 240 C in 10 incremental steps, allowing fine control, ensuring that any dish won't be spoilt. This Aobosi cookeris equipped with a four hour cooking timer, which makes slow cooking possible as well as letting cooked dishes to be kept warm.
This Aobosi induction cooker also has a diagnostic error messaging system, alerting the user to various system errors from overheating of the induction coils to more mundane things such as there should be a pan on the hob! The induction hob is topped with a load bearing black crystalline glass top, which apart from being scratch resistant, is also very easy to clean. Again there is no long wait for the cooking surface to cool down before cleaning, because of the induction system.
The Aobosi Digital Double Induction Hob comes with a 2 year warranty.
Weighing in at 5.86kg, this Aobosi induction cooker is the heaviest and bulkiest of all the hobs under review, and when it is recommended that a clear area of 100mm surrounding the hob is advised, it suddenly is not quite as compact as first thought.
To aid cooling the Aobosi Digital Double.Induction Hob has what is described as a "barely audible" fan. Unfortunately the cooling fan is noisy, annoyingly so.
While a good all round performer, with some good features, this induction cooker just seems to lack the final touches that would make it the best.
Pros:
Independent controls for each heating ring.
Temperature settings from 60 to 240 c.
Very easy to clean.
Scratch resistant cooking top.
"No pan" detection system.
Cons:
Its weight. This is the heaviest and bulkiest of all the induction hobs under test.
Annoyingly noisy cooling fan.
Its weight and size really does hamper it being truly portable.
---
The VanShef Twin Induction Hob.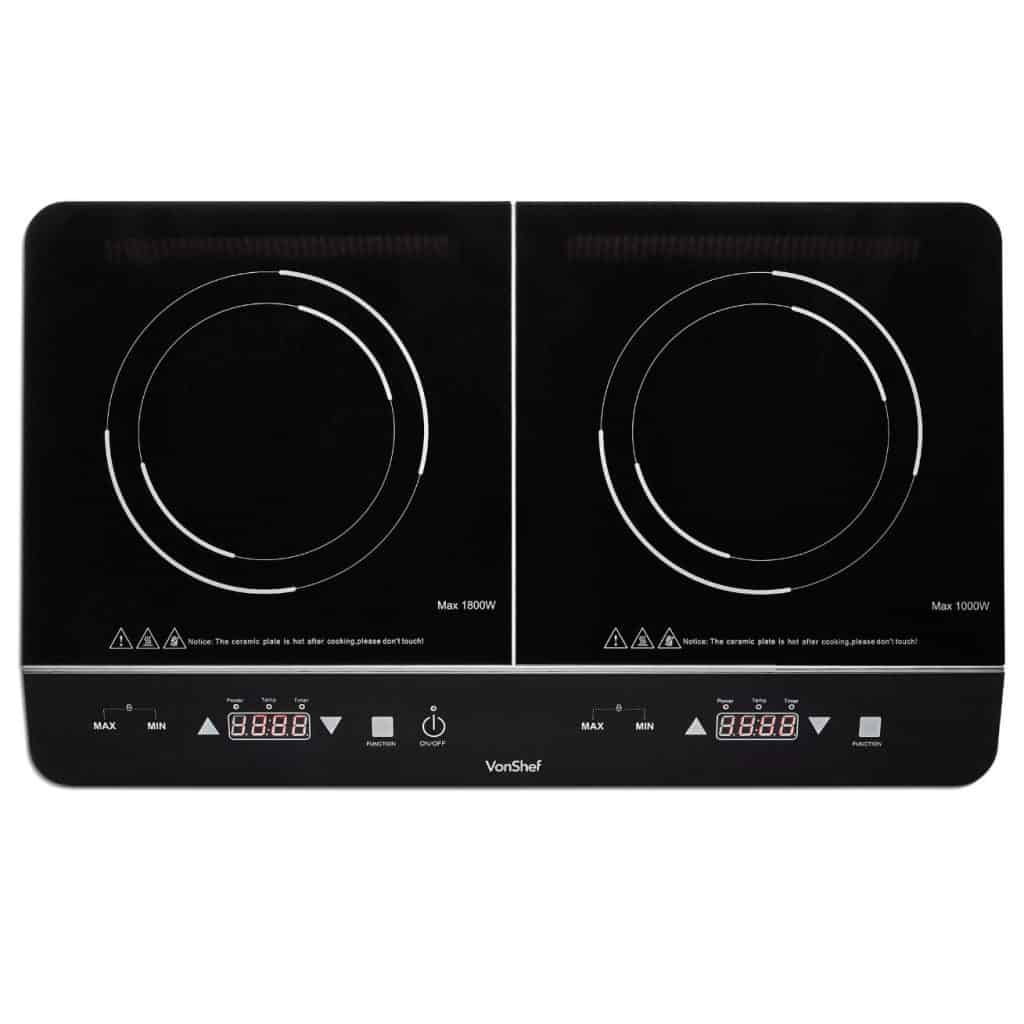 While looking rather similar to the Aobosi cooker, The VanShef Twin Induction Hob has some major differences.
With its almost independently controlled twin hobs (more about this a little later), the VanShef has temperature settings from 60 to 240 C as well as the option to use power levels settings, depending on the user's choice.
The control panel is clearly laid out with all settings adjusted by touch controls. While the LED display was large, the red display could be hard to see, especially when the hob is in direct sunlight.
As far as cooking is concerned, the VanShef Twin Induction Hob wassimple to use and temperature /power levels were very responsive. While it claims to be able to keep cooked food warm, it was extremely difficult to work out why, as the temperature setting were felt to be a little to high to do so without burning the bottom of the pan.
As with all induction hobs, This hob's glass cooking top was easy to clean and took very little time to really cool down to do so.
The VanShef Twin Induction Hob comes with a 2 year warranty.
Weighing only 2.2kg, this cooker is easy to handle and very portable.
It was mentioned earlier that the VanShef Twin Induction Hob has "almost" independently controlled cooking rings. Although this may be the claim, it is not entirely accurate. While you can initially switch one ring on at a time, it's not possible to switch off one ring at a time. The whole device must be shut off and then the desired ring switched back on again.
As much as this complete shut down and restart could be thought of as a safety measure, it is inconvenient and irritating, especially when a simple "no pan" sensor could be used.
This cooker does not have a cooling fan, and relies on airflow for cooling, so it is very important to have 100mm clear space around the this induction cooker. However, its overall operation is markedly noisier than any other of other induction hobs in this review.
With its two major negatives, the VanShef Twin Induction Hob is a little disappointing. However, if the total shut down- restart facility and its noisiness could both be eliminated this would be one of the best portable induction hob to have.
Pros:
Extremely lightweight. Weighing 2.2kg, this is a real portable induction hob.
Temperature settings from 60 degrees to 240 C.
Power levels setting option, depending on the user's preference.
Comes with a 2 year warranty.
Cons:
Noisy. With no cooling fan it was just too noisy.
No true independent temperature / power control for each plate.
Temperature setting seemed to be too high to keep cooked food warm without burning the pan.
---
The Andrew James Double Induction Hob.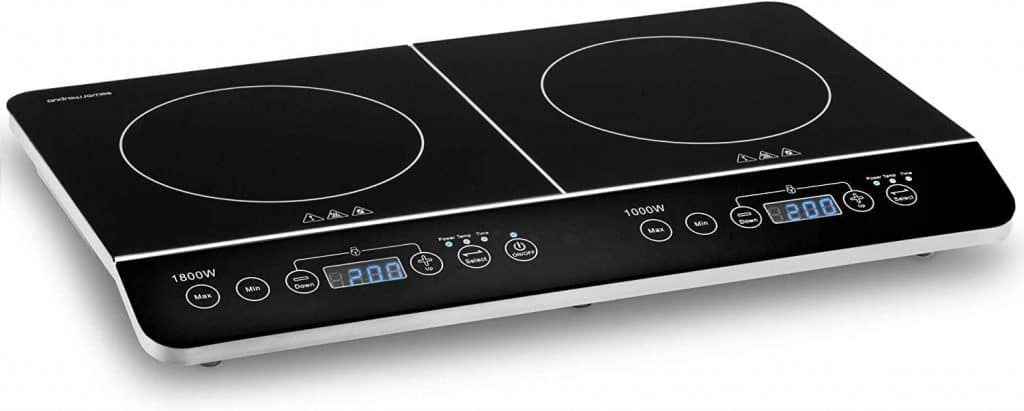 This induction hob is very well presented with a tidy design, but with one very big disappointment.
While boasting that the solid black crystalline glass cooking top was able to take a substantial weight, and that the cooking rings used real copper wires to optimize cooking power, one area seemed to be left behind in Andrew James and its induction hob.
The entire base is made of plastic. While it may be thermal resistant, and would undoubtedly reduce the overall weight of the hob, there is still a stigma attached to any large kitchen appliance, especially when heat is involved.
This Andrew James cooker's control panel was very clearly laid out with temperature, power settings clearly marked. In addition there is a 3 hour cooking timer, allowing for slow cooking if needed. All settings as well as on/off switches are via touch sensitive pads.
Strangely the control panel's led display was in bright blue, as opposed to the usual red. While a novelty to begin with, there were some concerns that due to its brightness the LED display could be hard to read.
The auto shut off feature works as soon as a pan or pot is taken off the cooking ring, and this could be regarded as a form of child lock. As with all induction hobs, the Andrew James Hob was extremely responsive and quick in everything that was asked of it during testing.
Weighing in at 4.8kg, this Andrew James cooker can just about be classified as a portable induction hob.
Andrew James to cover their twin induction hob with a two year warranty.
A good performer, however the irksome plastic base, its weight and the off putting LED display really does not make the Andrew James Twin induction hob the best in class.
Pros:
Very responsive to change in settings and easy to use.
Can be controlled either by power or temperature settings.
2 year warranty.
Easy to clean and maintain.
3 hour cooking timer.
"No pan" sensor, can double as a child lock.
3 hour timer.
Cons:
Plastic construction of base.
Its weight. Weighing 4.8kg this induction hob is just about portable.
The bright blue LED display is low contrast and quite hard to read.
---
What To Look For In A Good Twin Induction Hob.
After reviewing all of the induction hobs it was decided that the Speechmaster Talking Double Induction Hob was best portable induction hob out of the five selected.
One of the first qualities to look for in appliance is the quality of design as well as build, both inside as well as out.
The idea of inclusivity of use is also an indicator of how well the device has been, in the case of the Speechmaster hob, it seems that a great deal of thought has gone into the design to not only compete in the mainstream, but also to cater for those who are challenged in some way.
Possibly the most over looked part of any appliance purchase is the customer care and after sales service, this is very important when advice may be needed or when something goes awry.