Best Reciprocating Saw – Reviews 2018 – 2019
Product
Top Choice
Great Value
Special Features
Ergonomic soft-grip handle
Tool-less blade change, Ergonomic Design
Tool-less blade change, Ergonomic Design
Top Choice
Product
Special Features
Ergonomic soft-grip handle
Great Value
Product
Special Features
Tool-less blade change, Ergonomic Design
Product
Special Features
Tool-less blade change, Ergonomic Design
Top Reciprocating Saws On The Market
You might have thought that a saw is a saw is a saw, but there are as many different types of saw as it has teeth. If they aren't careful, a professional or keen DIY enthusiast could spend a lot of money on different types of saw.
This review covers powered reciprocating saws. They are the workhorses of the toolbox, carrying out many different tasks.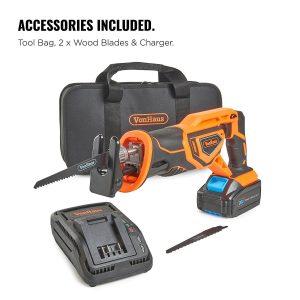 The first step is obviously to define what a reciprocating saw is and how you would recognise one. Also, why would you use one.
To put it simply, a reciprocating saw has a blade that cuts using a push and pull motion. In some parts of the world, they are called sabre saws.   Look at it as a power driven mechanical hand saw.
First off, with the correct blade, a reciprocating saw will cut through most things. Metal, masonry, plaster, even fibreglass.   We don't know about concrete, but suspect that given enough power and a good blade a reciprocating saw might do it some damage.
They are more commonly found in the commercial rather than the DIY environment, being used by different types of artisans, plumbers, electricians, carpenters for example.
They can also be found in the DIY toolbox.  They are better for rough rather than precision work, but their versatility means that they are always useful.
Here are some considerations if you are looking at getting a reciprocating saw:
They come in corded and cordless varieties.  Cordless need batteries and they need to be charged.  They have a limited working lifespan until the battery runs out, so it is a help to have a spare battery in a charging cradle while you work.
Corded work off the mains through a cable back to the plug.  The downside of this is the cord.  It can get in the way, get tangled up with other stuff, and in general, go exactly where you don't want it to go.
A quick discussion around the benefits of cordless: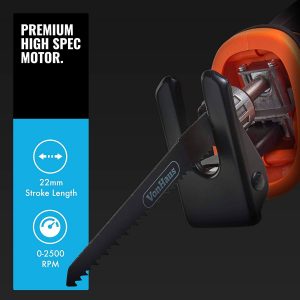 The cordless means you can work horizontally and vertically without getting worried about cutting the power cord
Greater control if the cordless has orbital action and a variable speed control
Stroke Control. You can choose different stroke depths for plunge and fast cuts.
You will probably be using the saw for a while.  The weight of it is obviously important, and whether it transmits lots of vibrations into your hands and arms.  The comfort factor will decide how long you can work before needing to stop to recover.
The weight is particularly important if you will be working above your head. That might influence your choice between corded and cordless since cordless tend to be heavier because of the weight of the battery.
Quite apart from the normal Health and Safety stuff, you need to be careful when using a saw.  Helmet, visor or safety glasses, gloves and safety boots are essential.  If using a corded saw, keep a close eye on where the cord is.  Cutting through it could be a shocking experience.
Other considerations:
Adjustable Shoe. This provides more control and stability.
Orbital Manoeuvrability. A standard reciprocating saw blade moves vertically. An orbital version operates in more of an elliptical shape. In addition to being much more aggressive, you'll be able to make faster cuts. Think about What work you will typically be doing and whether or not an orbital saw might be the best bet
Tool Case. Carrying the saw, batteries, cables and accessories around in a shopping bag is not a great tool for business promotion. A dedicated case keeps all the bits and pieces together with the saw and if a moulded case, stops you losing them.
Tool-Less Blade Replacement. Simply change the blade without needing a specialised tool. Less to carry and lose.
Variable Speed. Being able to control the speed according to what it is that you are cutting.
Speed Regulation means that the saw does not slowdown when cutting.
Here are three reciprocating saws you might like to consider.
Bosch PSA 700 E

Bosch are a very well known supplier of electrical appliances with a good reputation.
The Bosch PSA 700E is a powerful saw than runs from the mains using a power cord. The PSA 700 E is ideal for those quick jobs that crop up from time to time,such as sawing beams and branches.
Thanks to the Bosch non-slip, softgrip hand protector, the PSA 700 E offers enhanced handling of the machine and safe working.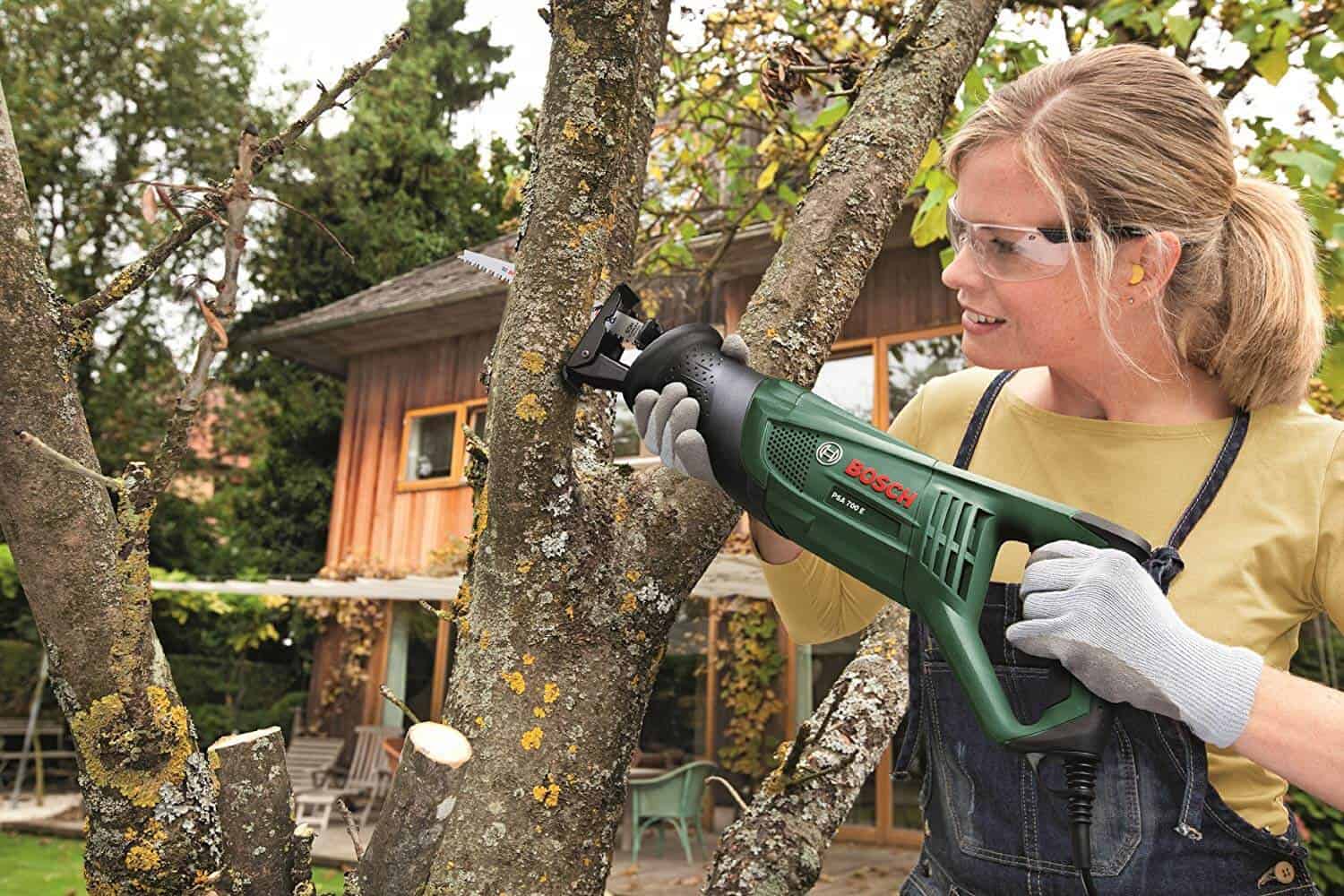 Some specifications:
2700 SPM
3 pounds (3.8 Kg) in weight
It has an impressive strike length of 1.12 inches.
710W motor
Toolless blade change
Electronic Speed Control
What's in the box:
The Bosch PSA 700 E
1 saw blade which can cut through wood
User reviews are generally very favourable, though one user did point out a potential safety flaw.  The startup trigger is single action with no safety cutout.  It is possible to start it accidentally and be careful not to cut the cable accidentally.

Makita DJR186Z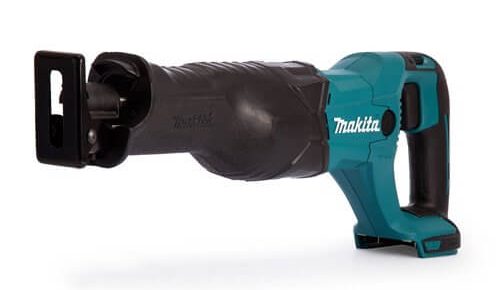 Makita are a well-regarded manufacturer and supplier of high-quality power tools. The DJR186Z is a powerful cordless Reciprocating Saw.   It is cordless and uses the 18V batteries common in the Malita range.
The saw comes without batteries, so if you already have other 18V Makita products you can use them.
Some Specifications:
2800 SPM
Stroke length of 28mm
Weight 2.1Kg
Redesigned crank for vibrations reduction
Tool-less blade change
Variable speed trigger
Lock-Off lever
Electronic brake
To help protect from dust and dripping water it has XPT (eXtreme Protection Technology) for use in outdoor applications or harsh environments.
User reviews are very favourable, but some commented that heavy use really chews battery power and that a second battery on charge is essential.

VonHaus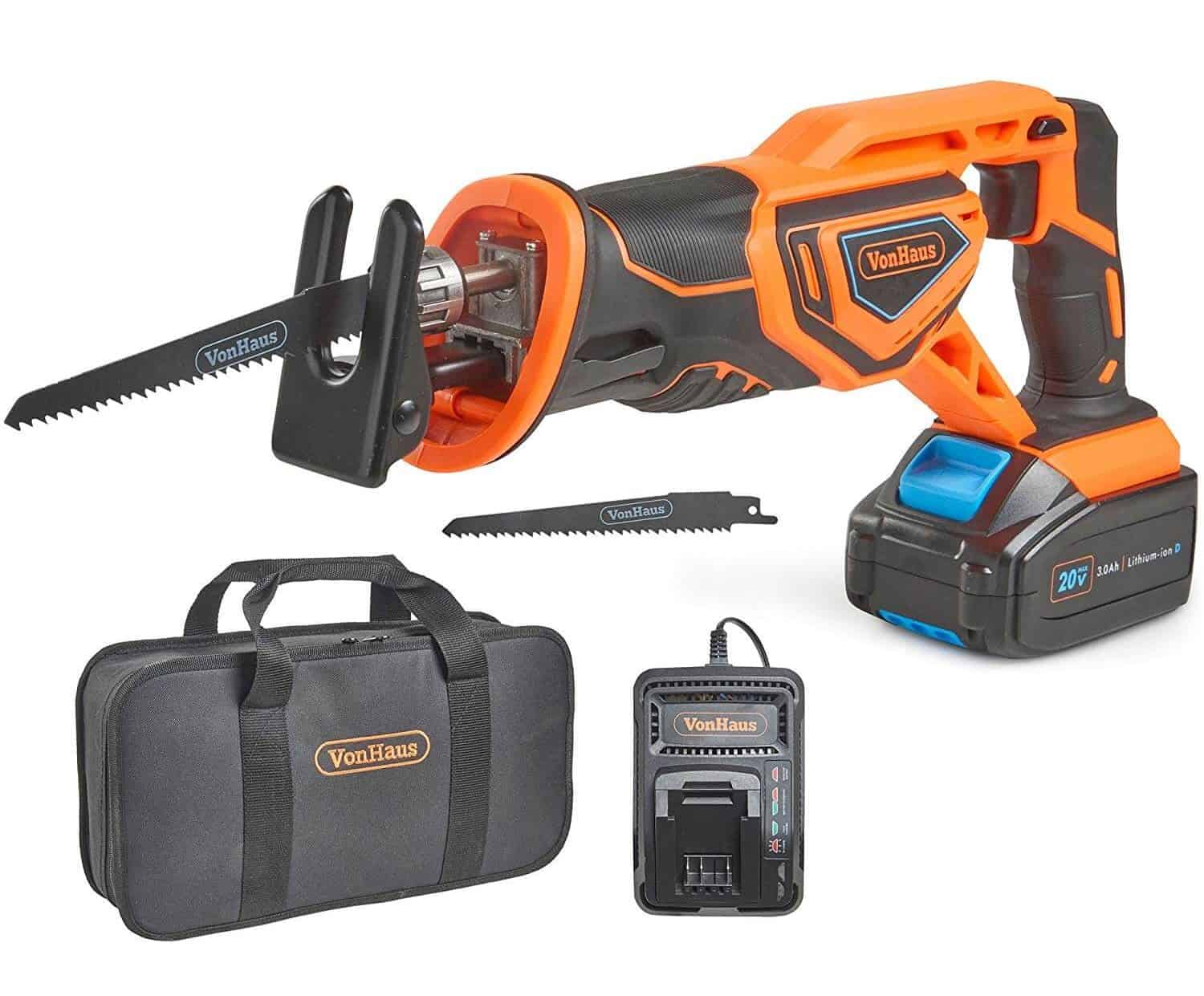 VonHaus are a well known and well-regarded supplier of power tools.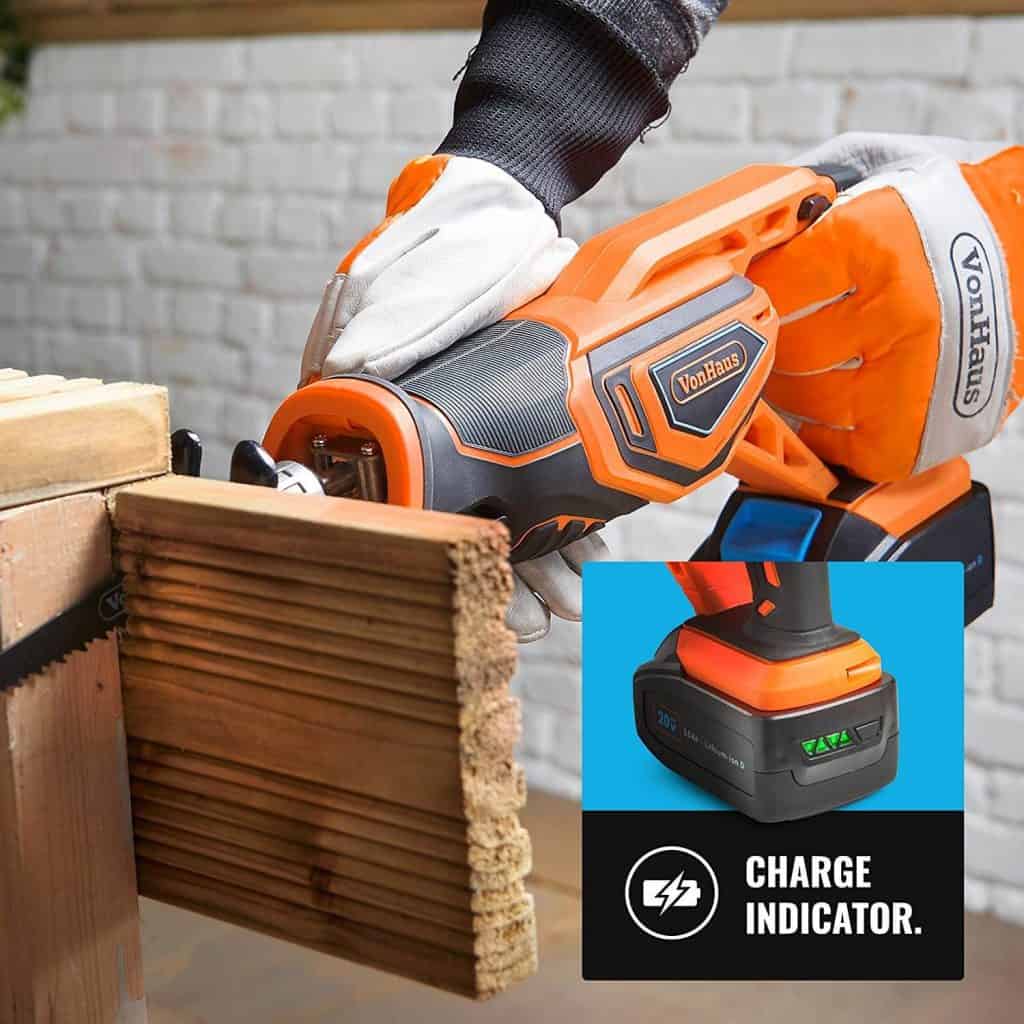 This saw has the following major features:
2800 SPM
Stroke length of 22mm
Weight 3.55Kg
Tool-less blade change
Adjustable Shoe
What's in the box:
The saw
2 Wood blades
A Battery and charger. It's a 3.0AH battery with a 75 minute charge time.
Tool Bag.
A 2 year warranty (needs registration)
User reviews are favourable, with one particular comment being the value for money of the VonHaus saw.  Gardeners are especially pleased with the way it deals with tree branches.

Summary
The three products reviewed here are all well suited to the basic task of being reciprocating saws.
If you want a well-built reciprocating saw that can serve you well in the garden, for DIY projects or on the job site, think seriously about the Bosch unit.
The Makita is a good saw and comes from a reputable stable.  At it's current offer price it is very close to the Bosch unit, but the Bosch, in our opinion just gets the nod over the Makita.  At full price, we are not sure that the Makita has any significant benefits over the Bosch justifying the greater price.
In addition, if you need to buy batteries for the Makita, that may take your budget right out of the ball park.
Our recommendation – Go Bosch.