Recliner Chairs to Take The Weight Off Your Feet!
Product
Top Choice
Great Value
Dimensions
(DWH) 88cm x 82cm x 104cm
Top Choice
Product
Dimensions
(DWH) 88cm x 82cm x 104cm
Great Value
Product
Product
_______________________
Short On Time?

Our Recommended Best Recliner Chair Is The More4Homes!
More4Homes OSCAR BONDED LEATHER RECLINER w DRINK HOLDERS ARMCHAIR SOFA CHAIR RECLINING CINEMA (Black)
The stunning brand new Oscar Manual Recliner Armchair with Drink Holders has been developed to the highest standards, providing strength, durability and supreme comfort.
Comfortably padded, gives comfort and support where it's needed the most. This model offers soft padding, excellent lumbar support and full chaise seating.
High quality Push Back Recliner Mechanism, place your hands on the arm rests of the recliner and in conjunction with pushing forward on the arms lean backwards using your bodyweight to recline the chair.
High Quality Bonded Leather facing upholstery with 12 months peace of mind Warranty.
Fancy watching a movie, well this is the ideal chair, just think... make your favourite drink, place it in the drink holder, recline to your preferred position. Watch, relax, drink and enjoy
Today we've rounded up a list of reviews of the best recliner chairs that we've tried and tested. The top three recliners have been assembled in a table above too, so be sure to pay attention to that if you're looking for a quick, snappy recommendation!
Read on for our reviews on each of these products.
1. More4Homes Oscar-Bonded Leather Recliner (Black)
Amongst the two more4homes recliners mentioned in this article, we've selected this as the better one, and the best on our list because of the level of comfort this delivers at an affordable price!
Features
Push-back Mechanism Functionality: To activate this reclining chair tilt mechanism, simply push down on the arms while leaning back into the seat using your body weight. This will cause the seat to recline while the footrest rises simultaneously. This chair uses your bodyweight only, no force needed to cause the recline- so you can sit back and relax while the chair does all the work for you.
Drink holder: A great (but toxic!) feature of this reclining chair is that you can pretty much stay in it for hours. Place your bottle of drink in the holder, settle the TV remote on the armrest and voila. A cosy little den for you to laze around in during the cold winter evenings.
Best Model Yet: This is claimed to be one of the best new Oscar Reclining chairs from More4Homes, so you'll get a true taste of craftsmanship when using this chair to rest in. Strength, durability and comfort are the main areas which More4Homes focused on when developing this armchair, and we can vouch for them to say they definitely achieved the best results.
Extreme Comfort: All comfort-aspects of this recliner are perfect. The seating is generously padded, lumbar support where necessary, joint support, and full chaise seating. One main thing these recliner chairs have to say for their ability to make us all lazy is that they provide the best lumbar support a seat can offer you, and boy did this one deliver.
Warranty: 12 Month Manufacturers Warranty Included
Specifications

Our Ratings:
Appearance: 8/10
Functionality: 9/10
Value for Money: 9/10
2. Yaheetech Recliner Arm Chair (Black)
We haven't tried many Yaheetech products, so they definitely won us by surprise by the excellent build quality, feature richness and luxuriousness of this chair. It's great to see uncommon brands come out in the open, so Yaheetech definitely deserved this spot.
Features
Upholstered Backrest: The backrest has been carefully upholstered with materials featuring extra elasticity and a soft-touch, for enhanced comfort when resting on this chair.
Curved Armrest: The arms have been ergonomically designed to be wide so they can give you more surface area to rest your arms.
Sturdy Footrest: Heavy-duty parts and working mechanisms have been implemented to ensure that the footrest is securely supported so it can support you while you use the chair. This provides enhanced leg support for when you're resting.
Adjustable
Protected Feet: The feet of the recliner are neatly covered with individual pads. This makes it suitable for transportation and protects both the sofa as well as your hard wooden flooring when you try to move the chair around.
Easy Cleaning: Rather than sing real leather, this chair is animal-friendly as it uses PU and PVC leather. They look and feel both luxurious and soft, but also work well with water while being stain resistant. Using a damp cloth with some mild cleansing fluid will help do the job for handling any spillages.
Extreme Softness: Alongside the upholstered backrest, there is a heavily cushioned seat which uses extra thick foam, rayon-fibre filled padding and a comfy footrest. It's the ultimate seating experience.
Tri-Modal Relaxation: This recliner chair allows you to enjoy yourself whether you prefer sitting up straight or laying reclined, even flat. The footrest simultaneously pops up when you push back into the backrest, allowing for a suitable recline angle between 0° and 90°.
Specifications

Our Ratings:
Appearance: 7/10
Functionality: 8/10
Value for Money: 8.5/10
3. More4Homes Heated Caesar Auto Recliner (Brown)
Another More4Homes recliner chair has taken a spot on our top three list, making this a truly credible company. We love the heating massage aspect of this product, it adds a whole new dimension to the overall product!
Features
Heat Massage: More4Homes have gone above and beyond to design this auto-reclining chair. It uses the power of heating and massaging to deliver the most luxurious of experiences within the comfort of your own home. The overall design features the best standards of durability, strength and extreme comfort. The backrest is absolutely perfect- it heats and massaged your upper and lower back, thighs as well as your calves. Just like a spa experience.
8 Point Vibration Massage
Easy Recline: With the mere press of a button on the side of the chair, the electric motor in this recliner will do the job for you. A truly comfortable experience.
Deluxe Fabrics: This recliner is finished off using deluxe, bonded leather fabric work. The arms are padded, while the back support is pillow-cushioned to give you the ultimate relaxation experience. When you buy this recliner chair, you will get the best levels of full chaise seating, excellence in lumbar support and extra padding.
Easy To Assemble: Assembly is made easier than ever, as More4Homes always send their products in two parts/sections. There are a base and a backrest, making removal from shipping packaging, domestic transportation and navigation around your house easier.
Cup holder: Included cup holders are always a perfect touch to a recliner chair. With this purchase is a very handy drink holder for evenings where you like to lay in and watch some catch-up television. No more multiple trips to the kitchen for a drink!
Storage Pockets: There are both front and side pockets for you to store magazines, remotes, console controllers and more.
Specifications

Our Ratings:
Appearance: 8/10
Functionality: 9/10
Value for Money: 8.5/10
4. FOXHUNTER Westwood Swivel Recliner (Black)
Foxhunter's swivel reclining chair has made its way into our top list with its innovative features and quality materials used. We love the flexibility and range of storage provided with this chair, subtle, clever design features have really made this product stand out for us.
Features
360° Swivel and Rock: The swivel-and-rock function on this machine a perfect addition to the chair. This feature is facilitated by the inclusion of a metal base underneath the chair.
Ultimate Support: There is a high back and padded armrest for maximum support when using this recliner chair. Most recliners compete for the highest levels of comfort for their customers, but this by far one of the cosiest we have tried.
8-point vibration massage: There are two powerful motors buzzing away on your seat. They target both legs, thighs, lumbar and back areas to provide you with a rejuvenating and nourishing experience within the comfort of your own home.
Remote
Storage: Most chairs have some sort of storage system, as does this leather recliner. There is a matching leather pouch fit for you to keep your remotes, controllers, magazines and even snack bars. In addition, you get a duo cup holder with a 9cm diameter as well as 2 front and side storage pockets.
Massage Machine: There is a fully customisable massage feature on this chair, with massage strength selection as well as heating and massage zone selection. Only some recliners have this function, so this gives is a massive appeal!
Quality Materials: The whole manual recliner is fully faced with thick, bonded leather on both the seat and backrest. No cheap PU or PVC leathers and plastics are used on the face or base of this chair. Fancy, for sure.
Specifications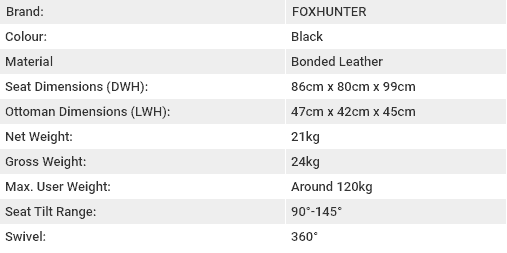 Our Ratings:
Appearance: 7.5/10
Functionality: 8/10
Value for Money: 8/10
5. HOMCOM Adjustable Swivel Recliner (Black)
While last on our list, it is most definitely not least. This recliner chair has an ottoman added to it, giving you that extra freedom of storage as well a nice place to relax your feet. You pretty much get a very sturdy, 2-in-1 purchase here!
Features
Ergonomically Designed: This recliner hair has been designed with ergonomic features into a contemporary design. The inclusion of wood in the design also adds to the sturdiness of the product's structure.
Easy Clean: The fabrics used are waterproof, making them super easy to clean in the event of a spillage.
Included Ottoman! One of the best perks of this chair is that you get a handy included storage ottoman puff seat, which you can store remotes, magazines and console controllers. Simply pop the lid back onto it and you have yourself a cosy footrest too! The overall design of the ottoman and the recliner in unity is charming, especially with the wooden addition.
Soft Fabric: The main material used in this product is PU leather, which is just faux leather, which is both a kinder and softer choice than real leather (a common, expensive and unkind choice of chairs material). The addition of soft upholstery to the design adds additional comfort.
Extra Padding: As you rest your arms on the chair, the padding will give you extra support with the addition of a cushioned seat! The padding is comprised of high-density foam and internal padding, for that extra cosiness.
Easy-tilt Mechanism: There is a maximum tilt angle of 145 degrees, making for the best lay-down experience possible.
High Weight Capacity: Most reclining chairs and manual recliner chairs allow for large weight capacities, but this one allows for a little extra at 120kg. Every adult can be seated on this, as well as a few people at once for a...crowded experience.
Specifications

Our Ratings:
Appearance: 8.5/10
Functionality: 8.5/10
Value for Money: 10/10