Its coming up to autumn and winter.  At this time of year, cook's minds turn to hearty and warming dishes that as my granny used to say "stick to the ribs".  One of these is a sausage casserole. You can economically feed a crowd and the rich gravy mixes perfectly with creamy mash.  Rice is also good, but to us, mash is better.
Put it in the slow cooker, go out for the day, and come home to a superb aroma wafting out of the kitchen.  Nothing better or easier to prepare.
Here are some suggestions as to how you can make that perfect casserole. We've given you two, a simple hearty meal, and a slighly more exotic version with tomatoes, beans, wine and herbs.
Simply Superb Sausage Casserole
Not the prettiest dish to sit on a plate, but look at that gravy. Rich, thick and very tasty.
It works equally well with raw or cooked left-over sausages.  Just cook the raw sausages first.
If you don't need to cook the sausages first, it takes about 10 minutes to prepare, and a minimum of 6 and a half hours in the slow cooker. Just cut the cooked sausages into bite-sized pieces and you are ready to go. Not too small or they will fall apart during cooking.
We've been asked why cook them first.  To our minds, one of the best things about a sausage casserole is the crispy skin of the sausage.  Using raw sausages leaves them white,soft and pasty, and some people feel that they aren't properly cooked if they aren't cooked first. That's especially true of pork sausages.
You will need:
Basics

8 cooked sausages (Pork or beef will work best) chopped into bite sized pieces.  Not too small or they will break up during cooking.
2 Tbsp butter
1 onion, finely chopped
2 tsp. garlic, crushed.  Can be left out if you don't like garlic.
2 Tbsp plain flour

Veggies to taste.  Tinned or frozen is ok, but it is healthier and more flavoursome to use fresh in season veggies.

1 carrot, diced
1 cup frozen peas

Flavourings

1 Tbsp Worcestershire sauce.  We also find that HP sauce works just as well
1 tsp thyme, dried
1 bay leaf

For seasoning and the gravy

3 cups beef stock
This receipe is for 4-6 servings cooked in a 5.5 litre or in real money, a 6 Quart cooker. Scale appropriately if you have a different size.
If you don't want to cook the veggies in the casserole, cook them separately and serve them with the casserole.
It might be prudent to have some cornflour or gravy thickening powder on hand if the gravy is too thin after cooking.
How to do it in simple steps:
If the sausages are already cooked ignore this step.

Cook the sausages in a frying pan.

Cut the sausages into thick bite-sized pieces and put to one side.
Use a frying pan (the same one from step 1 is great) to:

Cook the butter, onion and garlic for about a minute
Stir in the flour a bit at a time. Cook for about 2 minutes.
Slowly add the Worcester sauce and beef stock.  Give it a second or two when it is all added and well mixed.
Transfer from the frying pan to slow cooker.

Add the rest of the ingredients, veggies, flavourings and of course the sausages to the slow cooker.  Personally, I think a blob of brown sauce adds greatly to the flavour.
Cook on low for a minimum of six and a half hours.
When ready to eat:
Add salt and pepper to taste.
Make the mash or rice
Serve
Eat and enjoy.
Tips:
If the gravy is a bit thin, strain it into a pan and thicken it with cornflour or a thickening agent like Bisto.  When it's ok, add it back.
You can add beans (cannelloni or strained baked beans) to bulk it out a bit.
For an exotic touch add some diced bacon. Cook it with the onions at the beginning.
Finally, eat and enjoy.
Exotic Sausage Casserole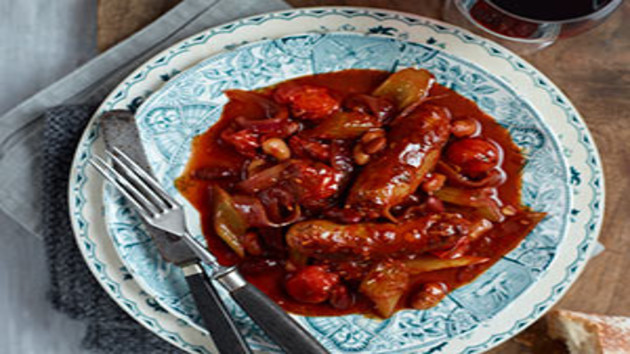 I think it's exotic anyway, even if it is sausages.
Again,this works equally well with cooked or raw sausages.  Just cook the sausages first. It can be cooked either in a slow cooker or a casserole dish of the same size as the previous receipe.
The quatities given below will feed four and it will take around 15 minutes to make.  If you make it in a slow cooker, it needs at least 3 or 4 hours, but only one hour in a casserole dish.
What you need:
2 tbsp olive oil for frying raw sausages
8 pork and herb sausages
Basics

1 red onion, sliced
2 celery sticks, sliced into 3cm chunks
2 garlic cloves, crushed.  If you don't like garlic, leave it out.
1 tbsp medium chilli powder or ½ tbsp for less heat.  Again, leave it out if it's not to your taste.
½ tbsp smoked paprika
2 tbsp tomato purée
2 tbsp dark soft brown sugar
2 tbsp rosemary, finely chopped

Flavourings

2 tbsp oregano, finely chopped
300 g cherry tomatoes
400 g canned chopped tomatoes
1 tbsp Worcestershire sauce
150 ml red wine

Other stuff

200 ml beef stock
400 g tin mixed beans, drained
Optional – fresh mushrooms.
How to do it.
If you have raw sausages, fry them in a frying pan with the olive oil.
Take the cooked sausages and cut them into bite sized pieces. Not too small,or they will fall apart while cooking.  As you can see from the picture, this step can be left out.  Put them to one side for now.
Slow cook the onions and celery in a pot for 10 minutes or until they are soft.
Add the garlic, chilli powder and smoked paprika after the 10 minutes and leave to stand for a minute.
Add the tomato puree, cherry tomatoes, chopped tomatoes, sugar, Worcestershire sauce, wine and beef stock.
Add three quarters of the herbs.  Give it a good stir until everything is combined.
Bring to a simmer.
Remove to the casserole dish or slow cooker and add the sausages.
If it's a casserole dish, put on the tight-fitting lid and leave for an hour simmering over a low heat.
If it's a slow cooker, cook for at least three or four hours on low.
Quite simple really, but our experience is to beware of tasting the wine while preparing.  While wine can add to the flavour and enjoyment of the meal, it can lead to unpredictable results if consumed in the kitchen.
If you want to stretch the meal, you can cook and serve other veggies on the side.  We have even heard of a side-dish of suet dumplings.
When you are ready to serve, drain the beans, (baked beans are a nice variant), and mushrooms if they are tinned (better if they are fresh), add them in and simmer for about ten minutes until the beans and mushrooms are cooked.  Add the remaining herbs as you serve.  If you really want to push the boat out, serve with warm crusty bread to soak up the gravy.
If the gravy is too thin, add some cornflour or thickening powder like Bisto until it's the right consistency.
Eat and enjoy.
I hope that our suggestions give you the inspiration to prepare a hearty home-cooked meal that will really satisfyon the coldest  day.