Tips For Decorating Your Smaller Home
Decorating an entire home is never an easy undertaking, whether it is a large, stately home in the countryside or a small inner-city apartment. Coming up with decorative ideas for a smaller home is a more daunting tasks for many people living in a smaller than average space, and it can be extremely tough to make the most of the space without going overboard with clutter.
Of course, a key variable you have to consider when faced with decorating a small home is space. I can almost hear you say 'well, obviously' but usable space is often ignored even in the largest homes in the world. When you have minimal amounts to work with, you need to look around each room to really think about how to use all the space available- the corners, the walls, the ceilings and the window sills.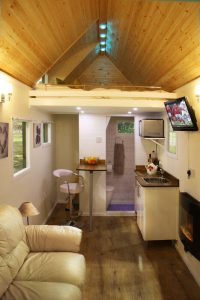 Prior planning to where each item will go in your small home will help you gain an overall feel of comfort from the space but will also help you form some interesting decorative ideas without creating a claustrophobic feel.
Simple Design Tips For Small Homes
An obvious way to reduce the appearance of clutter or to make the room feel smaller is to keep your overall design as simple as possible. There are some basic ways to do this without compromising on style.
• Mix it up- mix textures, patterns and colours. No, we don't mean create a rainbow room (unless you want to) but mixing and matching more modern items with older looking pieces can really make your smaller space look stylish without being too overbearing.

• Paint/wallpaper your bookcases- a very simple idea to really add a designer touch to your home is to paint or wallpaper the storage options you have. Bold colours work best and are very striking yet effective in making your rooms like designer.
• Area rugs- don't forget about the floor! Even in the smallest space, you can add a simple look to the room but selecting a stylish area rug. The best part is, area rugs are simple to alternate, so you can change your chosen rug depending on the season.
Small Home Décor Ideas On A Budget
Tight budgets can feel stifling at the best of times, especially when it comes to redecorating your home. Many specialised pieces of furniture designed for smaller spaces tend to be on the pricey side, making them out of the price range of the average person.
• Upcycle- ah upcycling, a brilliant way to make use of items you already have at minimal cost. If you are looking to give your smaller home a classy touch without spending too much, the easiest option is to repaint bits and pieces you already have lying around. A spray can and an old plate can create an interesting decorative piece to hang on your wall.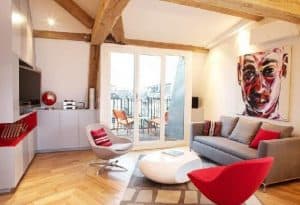 • Go green- it really seems that no home décor is complete without a few plants, and while they may seem to be a space gobbler as opposed to aa space saver, many people are opting for indoor hanging baskets, suspended from the ceilings. Talk about inventive!
• Mirrors- of course, no small area design advice would be complete without talking about mirrors. The best part is that they not only create the illusion of more space, but depending on the theme of your room, you can paint the frame to match the rest of the room at minimal costs. Mirrors are also a very common item in charity shops, so you can obtain a stunning mirror for a fraction of the price.
Classic Small Home Design Tips
If you want to add a more classic theme to your small home, you may be a bit worried about the best way to fit all the traditional pieces of furniture in without taking up all the space. Sadly, you may have to cut back on your dream pieces of furniture but there are many ways to incorporate a classical feel in to even the smallest home.
• Focal point- in smaller spaces, it is often essential to create a focal point. In a smaller home, you may want to dedicate a wall in your living space to a focal point, but it may be difficult to do this and keep the classical theme. However, why not draw the attention upwards in the form of a light fitting? Miniature chandeliers are striking and are a very bold piece of classical furniture.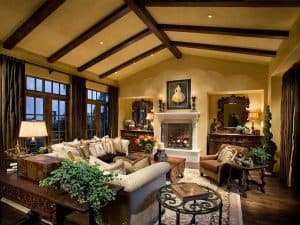 • Curtains- often overlooked in modern themes, curtains play an essential part in creating a classic look. Choosing patterned curtains can really play the traditional part without taking up too much space.
• Rugs- a large, intricately patterned rug can add a simple classic feel to your living space without taking up any space. Simple, chic and great for those colder months too.
Modern Small Home Design Ideas
Minimalism and modern design go hand in hand; add that to a smaller space and you are really onto a winning design idea for your home. Regardless of what colour scheme or theme you wish to create in your new abode, there are a few décor tips to follow when creating a modern make over.
• Glass- if you have an open staircase, get rid of that bulky handle bar and replace in with glass. A stylish way to maximise space, this is also safe and functional. Why not move glass panelling in to your kitchen and bathroom too, replacing the wooden cupboard doors with frosted glass? Very modern and a great way to create space.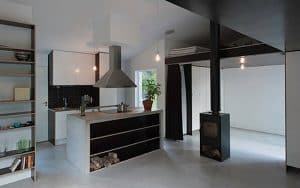 • Blinds- if you are using wall space in your new home, traditional hanging curtains make the space seem a bit cluttered. Why not try fabric blinds instead? They are simple to install, effective at blocking out light and creating privacy but are also uber modern.
• Lights- so, in a modern setting, a light fittings design can make or break the space. In a smaller space, opt for chrome finished spot lights to create a modern look with ease.