Great Tips For Decorating Your Conservatory
Few home extensions have the elegance and class of a conservatory. Once only seen in larger country estates, conservatories are becoming a common way to extend the back of a property and provide a safe connection to the outside world.
Filled with light and with the new additional space, there are numerous options on what you may choose to use your conservatory for. Traditionally, they are used to entertain guests after an evening meal, but nowadays creative minds are using their conservatories to grow plants, do yoga or even using them as an office space. Whatever you want to use your conservatory for, decide on its use before it is built.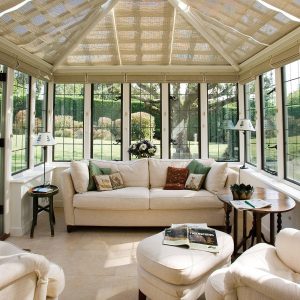 However, before you consider decorating your conservatory, you must first undergo the building of one. Unless you are skilled in the trade of building conservatories, you will need to hire professionals to build one for you. The UK has complex planning laws, so you will need to check the legality around adding a conservatory space to your property; planning permission and building regulations may need to be given, even if you own the property you are intending to extend.
Small Conservatory Interior Design Ideas
The traditional countryside conservatory conjures up images of an enormous, glass enclosed space, filled with additional sofa's, loungers and large tables to accommodate all of your guests.
Conservatories in the suburbs often do not have the luxury of using an enormous amount of space, so tend to be smaller. There are ways to maximise your small conservatory and, regardless of your intended use, there are some basic tips to follow to help you create a stylish, chic conservatory.
• Scale down- typically, conservatories are adjoined to either the kitchen or the dining room, so they are the perfect place to decorate with a scaled down room idea. Think of furniture and designs you have in other rooms in your home, like your living room. Now, try to create an almost mini extension in your conservatory. Or, if you love your kitchen and need a bit more room, transform your conservatory in to a literal extension of your kitchen with a small seating area. Very original.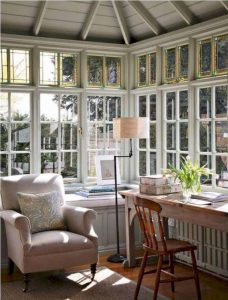 • Extend your garden- who says you need to have a garden extension at the end of your garden? Many people with smaller conservatory space use it to continue their garden in to their home space, creating a beautiful room for relaxing and spending those long summer evenings. The added warmth of the conservatory will allow you to grow more high maintenances plants in a controlled, indoor space, free from outdoor pests and weather changes.
• Window seats- sofas and dining sets can really take up room and if you are already pressed for space, they may not be the best idea. Why not build in an all-round window seat to help with the rooms seating plan? Very trendy and a great way to add an unusual touch to your new conservatory.
Modern Conservatory Ideas
Want a conservatory that is on trend? Do you simply want to add a unique twist on the traditional theme? Modern conservatory décor is becoming increasingly common and it is a great way to add a high-end looking touch of class to your home. When designing your modern conservatory décor, there are a few basic points you can follow.
• Less is more- with any modernised look in home design, less is often more and it is no different in your conservatory. A clean, simple structure and will create a fresh appeal and a simple lick of white paint will keep your conservatory bright in all the right places. Rattan style furniture and chairs will help with the modern theme while also being a comfortable place to have your afternoon tea.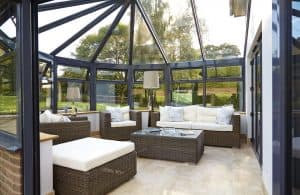 • Tiles-as your conservatory will lead in to garden, having a tiled floor is a stylish and practical solution for your flooring. Following on from painting your conservatory a gleaming white, why not contrast that against a dark grey or even black tiled floor? Terracotta tiling is also an eye-catching look which will give your conservatory a Mediterranean look.
• Plants- thought plants have already been mentioned, taller plants, like bamboo trees, around the edge of your conservatory can add a very modern feel to the room with minimal effort. Contrasted against white walls or behind white or sand coloured furniture, they can give your conservatory a very tropical feel.
Traditional Conservatory Tips
Want a more traditional theme to your conservatory without breaking the bank? Great. Here are some ideas to get your creative juices flowing.
• Flooring- an often-overlooked part of conservatory décor is the flooring; typically, you want to avoid carpets due to the potential of mud from your back garden. A simple way to create a traditional feel and keep the floor wipe clean is to put in wooden flooring. Put any rugs or carpets closer to the house if your really want to include them.
• Curtains-when picturing a conservatory, curtains are very rarely considered but they can really add to any traditional theme you want to create. Larger, thicker curtains with floral patterns can add a real farmhouse feel to your conservatory without being expensive.
• China displays- a very classic idea for traditional conservatories is to display china plates, cups and jugs. If you have the room, why not add a small cabinet or Welsh dresser? Very traditional and very striking.
Conservatory Playroom Ideas
Are you looking for tips on how to make your conservatory area in to a play room for your kids or grandchildren? It's a lot easier than you think without being too pricey!
• Baskets galore- keep toys and games packed away in wicker baskets; be wary of excess sunlight causing them the colour to fade though.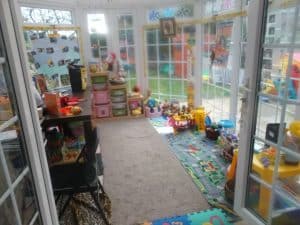 • Rugs- a small, roll out rug is a perfect addition for the playroom and is simple enough to pack away if the kids using the room are visiting.
• Wall space- install shelves, hooks and bookcases to keep toys safe and to maximise the floor space for play.