Description
Large Capacity. Variable Thermostat. Rapid warm.
Air Fry Technology. Convection Technology. Bake Pan and Rack included.
Sleek Multifunctional Mini Oven. Rotisserie Function. Integrated Timer.
Description
Large Capacity. Variable Thermostat. Rapid warm.
EDITOR'S CHOICE
Description
Air Fry Technology. Convection Technology. Bake Pan and Rack included.
Description
Sleek Multifunctional Mini Oven. Rotisserie Function. Integrated Timer.
The Best Table Top Oven Reviews & Buying Guide
Tabletop ovens can be a lifesaver during the Christmas period or when hosting large dinner parties, they can also be a great budget buy for university students or anyone whos reluctant to invest in a full-sized oven.
These mini ovens often cook meat faster due to their convection system too, however they come with all kinds of different features and modes to consider before making a buying decision.
So with that being said, we have rounded up the best tabletop ovens on the market and compared them so as you can find the top tabletop oven for your kitchen.
Our Favourite Tabletop Oven! -
The Russell Hobbs 26095 Express Air Fryer Mini Oven
If your looking for a more affordable tabletop oven then it could be worth checking out this model by Russell Hobbs. 
The Express air mini oven features a 1500W power and has dimensions of 35.8 x 45.1 x 30.5 cm, the model also uses a convection heating system. Five different cooking modes are further included with the oven; air fry, bake, grill, toast and keep warm.
Design-wise the oven has air-fry technology which can fry food with little oil needed, there is also a 60-minute timer included and the oven has an overall capacity of 12.6 litres. Accessories such as a baking pan and rack come with this oven and it has a crumb tray for easy cleaning.
Lastly, a two-year manufacturers guarantee is included with the oven.
Conclusion
To conclude, this Russell Hobbs mini oven is one of the top tabletop ovens to consider if you are on a budget and are looking for an oven that can perform all the functions you need.
This oven, in particular, is also great due to its air fryer function which can help you cook a portion of chips in a much healthier and quicker way than a standard oven.
Negatives of this Russell Hobbs tabletop oven have to be its model which has been said to come faulty by numerous customers, the oven is also reported to only bake food from the top, leaving some baked goods raw at the bottom.
Pros
Very affordable.
4x faster than a standard oven.
Air fryer technology.
Five different cooking modes.
Accessories included.
Two-year guarantee.
Cons
The baking mode might not cook food all the way through. 
Some models have been reported to be delivered faulty.
Our Larger Alternative - Severin 2058 Toast Oven with Convection
The Severin tabletop toast oven comes with a 1800W power system and a 42-litre capacity with four shelves, allowing the oven to cook a variety of foods such as large pizzas and meat.
Feature-wise the oven has a variable thermostat of 60-230 degrees and a 120-minute timer that has an alert when food is cooked. The oven additionally warms up very quickly due to its convection heating system.
Measurements of this oven come in at 42.0 x 51.5 x 36.5 cm and it includes; turning spits, grill rack, baking rack, pizza stone and crumb tray for easy cleaning. The design itself also has easy to clean interior glass.
A two-year warranty is further included with this oven for buyers confidence.
Conclusion
Overall, this tabletop toast oven by Severin is one of the best mini ovens on our list thanks to its simple design and generous capacity which makes it perfect for cooking larger meals.
Its accessories included are also great for the price and allows you to perform numerous cooking functions all within one oven.
Downfalls of the tabletop oven have to be its thermostat which is said to be way under the stated temperature, the oven also is said to have a very loud fan.
Pros
42-litre capacity.
Variable thermostat.
Baking/cooking accessories included.
Easy to clean.
Analogue timer.
Two-year warranty.
Cons
Poor thermostat.
Loud fan.
Lakeland Digital Multifunctional Mini Oven
Lakeland is very well-known in the kitchen appliance industry for creating some durable products. This tabletop oven, in particular, has dimensions of 50.5 x 41 x 35cm and comes with an integrated timer, internal light and a 1800W power.
Main features of this mini oven are its eight cooking functions which range from; top grill, bottom grill, top oven, bottom oven, both ovens combined, yoghurt, keep warm and custom function where you set your own desired temperature.
This tabletop oven further includes a Rotisserie function and has an easy to read digital display. It uses a convection heating system and additionally comes with accessories included such as; a baking tray, wire rack, rack tong, Rotisserie fixing, and a crumb tray for easy cleaning.
Conclusion
The Lakeland tabletop oven is without a doubt one of the most robust and durable multi-function ovens on our list.
It has a range of functions and features to choose from too, as well as accessories to get you started; whether you want to cook or bake.
Downfalls of the mini oven have to be its size which still might not be large enough to cook meals such as large-sized pizzas, the oven additionally has a low-support shelf which is reported to give away easily. 
Pros
Range of multi-functions to choose from.
Many baking/cooking accessories included.
Stylish design.
Rotisserie function.
Digital display & timer.
Convection heating system.
Cons
Might not be large enough for bigger meals. 
Poor shelf design. 
Tefal OF445840 Optimo Mini Oven
The Tefal tabletop oven comes with a 19L capacity and has a temperature cooking range of up to 240-degrees. Power-wise the oven is rated at 1380W and it has a 740W grill power.
Feature-wise the oven includes eight different cooking modes; convection, conventional, defrost, Baine-Marie, pastry and two rotisserie functions. It also has dimensions of 46.2 x 31.8 x 22.8 cm and has a timer which can be set up to two hours.
Other notable specs of this Tefal mini-oven are its utensils which are; a rotisserie kit, reversible grid and baking tray. The oven also has an easy to clean black stainless steel exterior. 
Conclusion
This Tefal tabletop oven is great value for money and extremely simple to use, making it a great oven for students or people who are new to cooking, the model also has a great capacity for making two-person portions or cooking a small chicken.
Drawbacks to this tabletop oven have to be its temperature which is said to not get as hot as stated, the model further has a double glazed window that can be hard to clean over time. 
Pros
Low-priced.
Eight cooking modes.
Rotisserie function.
Two-hour timer.
Utensils included.
Cons
The double glazed window is hard to clean.
Temperature does not reach the stated maximum. '
Dualit 89200 Mini Oven
This Dualit tabletop oven has an 18L capacity with a 1300W power and has a quick heat-up time due to its convection heating system.
Significant features of this oven are its 120-minute countdown timer and numerous cooking functions such as; baking, defrost, grilling and convection settings. Its oven additionally has a plate warming area and comes with a; baking tray, pizza pan, rack and removable crumb tray included.
Design-wise the mini oven has a non-stick interior and a double-glazed door, the exterior of the oven is made out of stainless steel. Internal dimensions of this oven are 30 x 25 x 17 cm and external dimensions are 42 x 36 x 25 cm. 
Conclusion
Overall, this Dualit mini oven is one of the best models on our list thanks to its quick three minute heat-up time and variety of cooking functions which allow you to cook unlimited kinds of meals all within one unit.
Downfalls of this oven are its temperature which is said to be inaccurate and give the wrong readings, the mini oven is also very expensive in comparison to other models of the same quality on our list. 
Pros
Quick heat-up time.
Multiple cooking functions.
Utensils included.
2-hour timer.
18L capacity.
Easy to clean.
Cons
Very expensive.
Inaccurate temperature.
Our Final Judgement - Which Tabletop Oven Is The Best?
To round up the top tabletop ovens, the best model on our list has to be the Russell Hobbs 26095 Express Air Fryer Mini Oven thanks to its affordable price and numerous cooking functions which allow you to use this small oven for nearly any kind of cooking or baking.
We also favour this oven due to its air frying function which can make healthy alternatives to usual fried chips and meals. Do bear in mind however this oven would best for single person use only or as a stand-by extra oven in the kitchen.
For a larger high-quality model we would also suggest checking out the Severin 2058 Toast Oven with Convection, this tabletop oven is much more suitable for larger households and comes with great adjustability and utensils.
The only reason we placed this model below our budget recommendation is due to its high price and loud fan which can become annoying over time.
What To Look For In The Best Tabletop Oven (Our Buying Guide)
After comparing the best tabletop ovens on the market you might be asking yourself what features you need to be looking out for in your top oven.
We have put together a small buyers guide below which will discuss all the essential features you need to be looking for in your mini-oven, the benefits of owning one and how they match up to standard ovens in terms of cooking.
So without further ado, let's get started!
Best Features To Watch Out For In a Tabletop Oven
Some of the most obvious features to look out for in a tabletop oven are capacity and cooking functions, however, there's also several other important features to consider if you are looking to get the best oven for your money.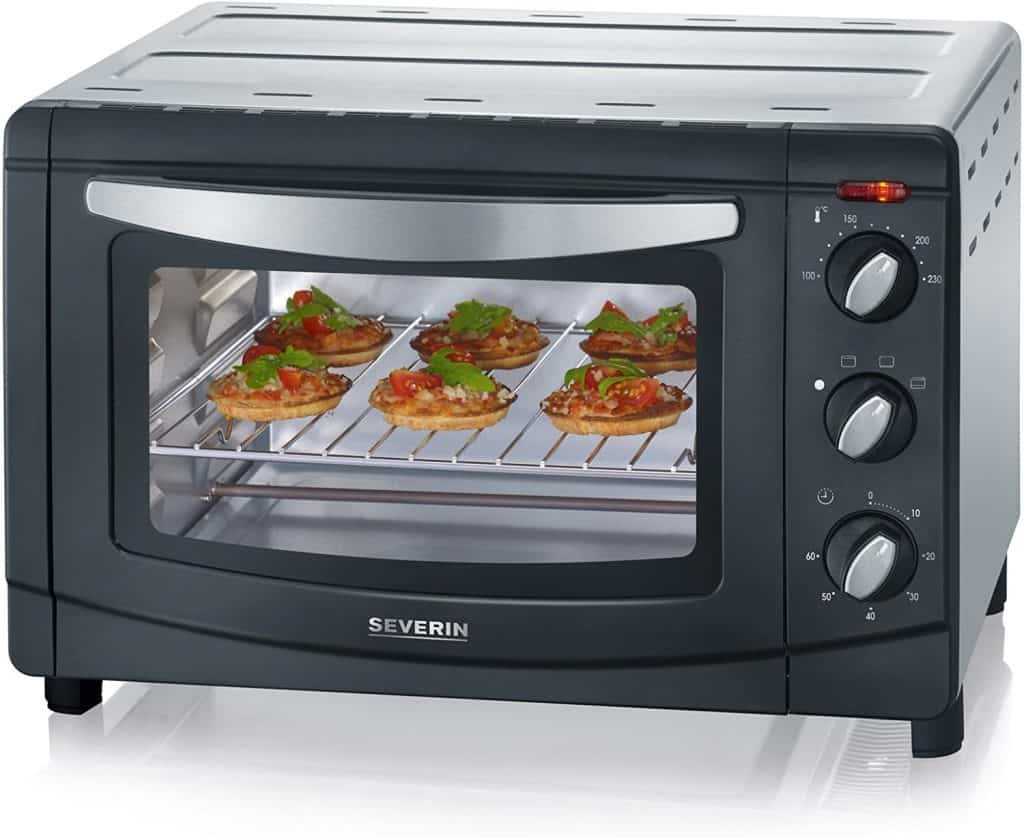 We have listed the essential features to consider below -
Capacity & size - First thing first, a tabletop oven is never going to be able to compete with a standard oven in terms of size, but you should make sure the capacity of the oven you want is large enough for your needs, whether you are looking to cook just for yourself or 2-3 people. You should also check the overall size of your oven in general and make sure it will fit neatly on your countertop.
Power - The wattage of your oven will be able to tell you how much electricity it consumes and how powerful it is, meaning high temperatures and faster cooking times.
Temperature range and adjustability - Your best tabletop oven should have a generous temperature range of at least up to 200-degrees, this temperature should be adjustable too.
Cooking functions - The best ovens should have a range of cooking functions, with some of the most common being a rotisserie function, baking, grilling and convection settings. The more functions your mini oven has then the more you can do with it!
Accessories included - Some of the best accessories that your oven should come with are baking trays, grill racks and crumb trays for easier cleaning when baking or toasting bread.
Design - The overall design of your tabletop oven should be easy to use and simple, its a good idea to make sure your oven racks are adjustable too and sturdy. You want to make sure your oven is durable for long term repeated use.
Warranty - It's extremely important to make sure your tabletop oven comes with at least a one-year warranty, this protects you against faulty models or parts and can help you get a replacement if need be.
What Are The Benefits Of Using a Tabletop Oven?
Not only are tabletop ovens much cheaper, but they are also additionally very simple to use, making them great for students, elderly or someone who isn't used to cooking.
There are many other benefits which you may not have considered from buying a mini oven, so we have listed out some more below -
Saves space - Tabletops ovens are perfect for someone who doesn't have a lot of space but wants an oven, these devices are very compact and can fit neatly on your kitchen countertop without taking up too much space.
Cheaper than a standard oven - Not only are these mini ovens cheaper upfront, they are also much more energy-efficient and cheaper to run than other ovens.
Easy to use - Most of these models are easy to use due to there turn dial system or digital displays which allow you to enter your chosen mode and temperature easily. They also come with timers that can help alert you when your food is cooked and avoid any burning.
Simple to maintain - Mini ovens are very simple to clean; some come with great features such as a removable crumb tray, if they break down they are also pretty simple and cheap to repair, unlike larger ovens.
Quicker - Due to the convection heating of tabletop ovens, they tend to be much quicker at pre-heating than an oven and can cook through foods much faster.
They are versatile - The best tabletop vents allow you to grill, bake, rotisserie and more all in one device, giving you unlimited cooking choices for a cheap price.
Tabletop Ovens VS Conventional Ovens 
When comparing tabletop ovens to conventional ovens there are some noticeable differences that you may find such as size.
Both ovens can help you bake and cook a variety of foods but do have their advantages and disadvantages over one another, so we compared them both below to help with your decision.
Conventional Ovens
Conventional ovens are great because of there huge size and versatility, making them suitable for large families so as you can cook a variety of different foods at once, you can also change rack positions easily in a conventional oven and they often come with a range too for cooking food on top.
Another advantage of these traditional models is the fact they have options for fuel choices, meaning some don't have to be dependent on electricity to work, allowing them to be used during power outages.
On the other hand, conventional ovens do you use a lot of energy to work and can heat your whole house during summer months, they are additionally are very large so are much less suitable if your kitchen already has limited space.
These ovens are also much more expensive upfront than tabletop ovens.
Advantages
Large capacity to cook numerous dishes at once.
Not dependent on electricity.
Can come with range on top.
Disadvantages
Expensive.
Takes up a large amount of space.
Heats the whole kitchen.
Tabletop Ovens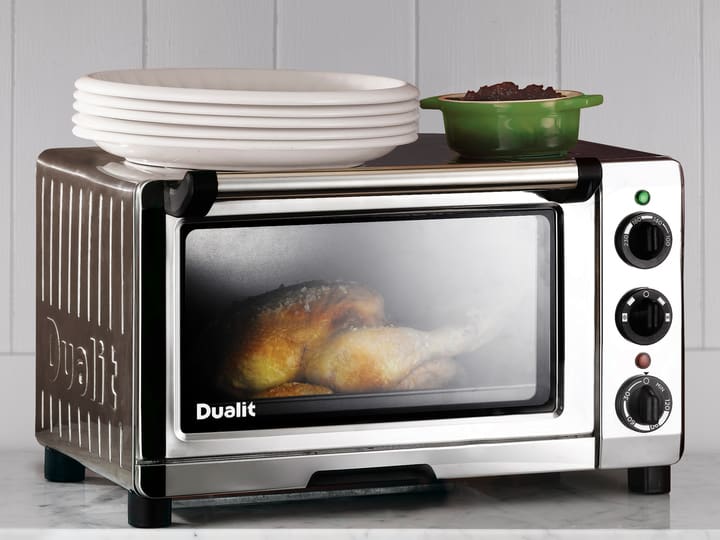 Tabletop ovens are extremely space-saving and can be great for single-person use rather than a huge conventional oven, they are also cheaper upfront and much more energy-efficient than ovens as they don't lose any heat during the cooking process.
These tabletop models additionally don't heat your kitchen, making them great to use during hot weather and are very easy to plug in and install with no professional needed!
Some downfalls of these ovens though have to be there limited capacity which may not be suitable for cooking larger meals or for family use. These small ovens are also reliant on electricity which means they won't work during a power cut.
Tabletop models do tend to have a little less flexibility too when it comes to where you place food and can be less suitable for activities such as baking.
Advantages
Space-saving.
Cheap to run.
Simple to use.
Disadvantages
Less flexibility.
Don't work during a power cut.
Limited capacity for large cooking.
Overall, both conventional models and tabletop models have their pros and cons, if you have a large family and your looking to cook large portions of food then its best to go for a conventional oven.
However, if you are looking to save money and want an oven that can be cooking basic meals for one-two people then a tabletop oven could be the perfect alternative to an expensive conventional oven!
FAQs
Can these tabletop ovens replace a regular large oven?
Yes, a tabletop oven can act as a regular oven with exactly the same heating functions and cooking functions, however, a tabletop oven does have less capacity in comparison.
Do you need a timer on a mini oven?
Most of the best models should come with an integrated timer included as this allows you to set cooking and baking times for meals.
Are these ovens expensive to run?
No, in comparison to traditional ovens, tabletop models require much less energy to run and are also cheaper upfront.
Can I bake a cake in a mini oven?
Yes! You can definitely bake a cake in a mini oven as long as it will rise within your oven's capacity, you might want to turn your cake however halfway through to ensure even cooking.
How much do these models usually cost?
This normally comes down to the power and the capacity of your oven, a larger capacity oven with a high-temperature range and many cooking functions will often be more expensive around the £200 mark. You can also find some great budget models for under £100 that have a smaller capacity.
How complicated are these mini ovens to install?
Tabletop ovens are very simple to install and simply just need a counter space with a socket that can support the power of your oven.
Are these tabletop ovens better than conventional ovens?
This is down to personal preference as each kind of oven has their advantages and disadvantages, tabletops ovens are definitely better in terms of costs and space, however, traditional ovens win when it comes to capacity.
What's the best features to look for in a tabletop oven?
The best features to look out for in a mini oven are; power, temperature range, size, capacity, cooking functions and accessories. You should ensure your model comes with a warranty too.
Do these small ovens cook quicker than conventional ones?
Yes, convection ovens do tend to cook food a little quicker as they lose less heat during their cooking process and circulate air around the device, meaning your food will cook fast and evenly on all sides.
What is convection heating?
Convection heating is used in most of these tabletop ovens and works by circulating hot air around the oven at your set temperature to cook food evenly.
Who should buy a tabletop oven?
Anyone looking to save money and space, who isn't too fussed about having a large capacity, making it suitable for people who live on their own, students or the elderly.
Our #1 Tabletop Oven For All Your Cooking Requirements
Our number one tabletop oven is the Russell Hobbs 26095 Express Air Fryer Mini Oven due to its affordable price, high power and five different cooking functions, making it a high-quality tabletop oven that can suit all your cooking needs.
We additionally suggested the Severin 2058 Toast Oven with Convection for a larger capacity model thanks to its durable build and numerous cooking settings which make it a great tabletop oven for larger households.