Ideas For Decorating Your New Loft Conversion
The loft; once a key room in any horror film or a cluttered, storage area is fast becoming a great place to convert into some extra living space.
With the majority of homeowners looking to convert any unused space in to a new room, loft bedrooms, offices and even nurseries are becoming increasingly popular.
Of course, while there are the obvious restrictions to converting any loft space due to the roof slant, there are many ways you can still maximise your loft space, add value to your home and keep it stylish.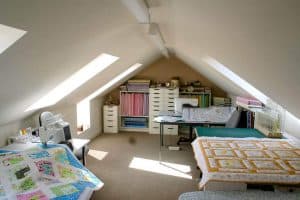 Before we consider decorative aspects, there are some legal areas to be addressed; before you begin the actual conversion, there are typically 2 types of loft conversions- a Velux loft conversion, where the slant of the roof is not altered and the mansard loft conversion, where on part of the roof is removed and straightened. You do not need planning permission for a Velux conversion, but you do for a mansard.
Loft Room Décor Ideas
Depending on what you want to use your loft conversion for, there are a few simple rules to help you make your new room stylish and functional.
Lighting- although a newly fitter loft room will have windows, they are usually smaller and at an angle, creating an issue with overall lighting in the room. Thus, ensuring you have the correct lighting is key to making the room functional and attractive; wall sconces are a brilliant way to light a Velux loft room with ease.
Rugs- another key issue many people find with loft conversions is issues with heating. In the summer, this isn't an issue but can present a real problem during winter months. Make sure you invest in a good rug to put on your loft room floor, even if you have radiators, to keep to any potential chills away from your feet.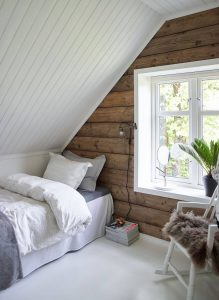 Windows- while your new windows may create a stunning view, in a Velux conversion, you obviously cannot hang traditional curtains to shield yourself from the sun or to create privacy. A practical and stylish solution is to invest in sheer fabric panels, which provide coverage but also let in natural light. You can also try blinds and shutters, which will add a stylish touch to your loft space and can be colour coordinated.
Maximising Loft Space Tips
Now that we have discussed the functional basics, it is time to look at maximising space. Some loft spaces are enormous while others may feel pokey and confined. With either one, there are common ways to maximise space.
Storage and shelving- an obvious issue in any confined space is storage. If possible, before you move all your desired pieces in to your loft room (and if you are handy at carpentry or have a large budget), why not dedicate one part of the room with a floor to ceiling shelving unit or built in wardrobe?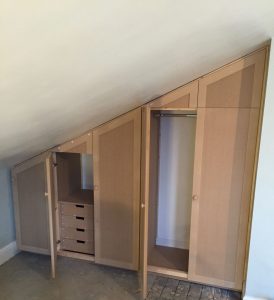 Dividers and glass walls- glass walls are a bit high end but are a great way to divide up your loft room while not actually removing any space. Metal or paper room dividers do the same thing; creating privacy that you can move around easily, thus maximising the overall space.
Furniture- rarely is the height of furniture considered, but when it comes to a loft room it is very important. If possible, select low sitting furniture for your loft room to create the illusion of vertical space and actual give you more room on your walls for shelving units.
Small Loft Bedroom Ideas
With a traditional small bedroom, it is easier to compensate for the lack of floor space by moving items on to the walls. With a Velux conversion, this is not so simple.
However, this does not mean you cannot create a stylish and functional bedroom in your small loft.
Keep it Simple- OK, so you aren't going to have a four-poster bed in your loft bedroom, but your bed can have a glamour feel without taking up additional space. A single bed can be enhanced with a canopy hanging from the ceiling or some colourful throws. Keep furniture design simple too and opt for wardrobes and drawers that do not have large handles.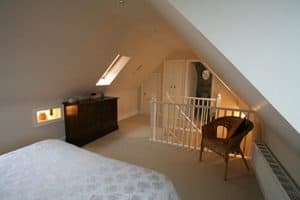 Multifunction Furniture- Of course, multifunction furniture is great for small spaces and can really add an interesting trend to your loft bedroom. A bed that has underbed storage space or a table that doubles up a drawer are made for small loft bedrooms.
Build to shape-if possible, build your furniture to match the shape of the bedroom. In a Velux room, shelves which are built in to the slants rather that standing up in front of them will maximise storage space.
Small Loft Office Ideas
With more people working from home, turning your new loft room in to an office is a great way to use the new space. There are some interesting quirks to making a loft in to a working office, so here are some tips to help you along when putting your design together
Use all space available- it sounds obvious but there is the potential in any work environment to waste space. Put up shelves for folders, put any electronics (like printers) under the desk, get a laptop computer (if possible) and keep any unnecessary items to a minimum.
Lighting- Making sure you have the right light to work with is crucial in any working environment. Position any lights to help you maintain focus throughout the course of the day-it may be worth investing in dimmer switches to help when you work in to the evening.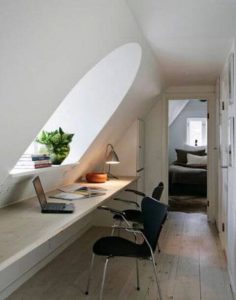 Fold up furniture- if you are really pressed for space, it may be worth investing in some lightweight, foldable furniture. You can purchase fold up desks, collapsible chairs and battery powered LED lights if you have no power outlet to plug a light in from.
*Top Tip* Remember, when working from home, maintaining correct posture is important, so test out any collapsible/foldable chairs before purchase if possible, to prevent future injury.