Home Decor | Wall Units
One of the most surefire way to up your living room is to install a wall unit. These are templates which are mounted against a wall with several compartments in which you can hang your assets. For example. a wall unit can have a certain arrangement of compartments: one for the television, one for a fireplace, one for a shelf, one for a coffee table, one for a picture frame, etc. Read on to learn about our top choices for Wall Units.
How to Pick one in Accordance with your Theme
Some factors to consider when choosing your wall unit are:
Will it be stand-alone unit or wall-mounted? Wall mounted units occupy less living room space, but are harder to install than stand-alone units.
Will there be many open shelves or closed cabinet style?
Will it be in accordance with the dining set/room?
How much storage do you need and what will you keep in it?
With all the range of possible designs, picking the right living room wall unit is a tough task for sure.
You can keep the casual and homely charm in your house by going for a wooden wall unit. These ones have a host of benefits: they're easy on the eye, easy to clean, and have a casual, appearance. However, using wood has it's disadvantages: it is prone to chipping. If you have pets in your home, we don't recommend using a wooden wall unit- go for one of our other recommendations.
Royal Oak India: While their products are expensive, they are amazing quality with a variety of different styles.
Team 7: This luxury online retailer also make amazing quality and elegant products ensuring your wall unit has a long lifespan.
Decorotika – Diana Entertainment Center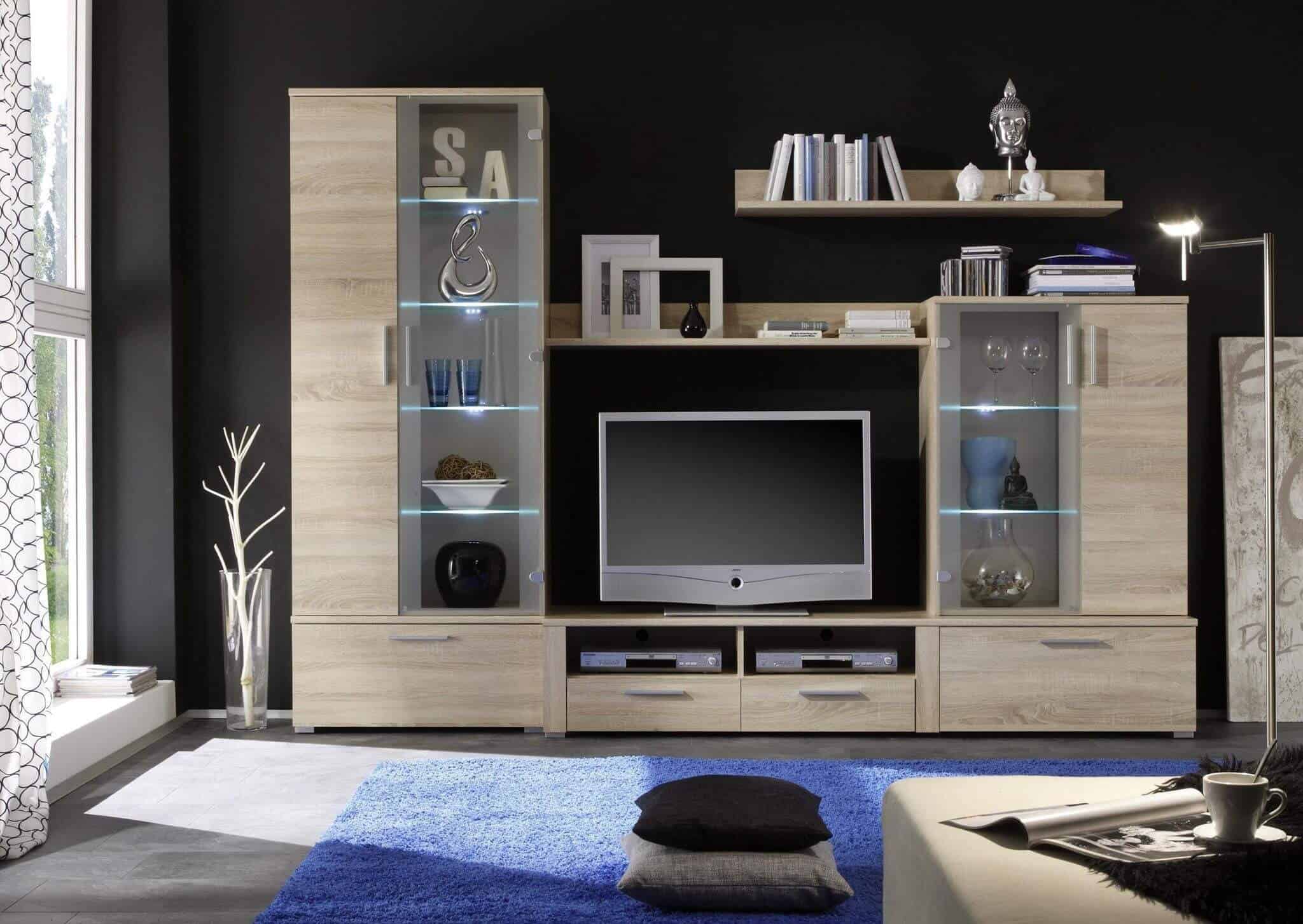 We love this gorgeous entertainment centre by Decorotika. The white main colour wiith accent wooden parts looks both elegant and casual, making it a perfect fit for almost every single living room theme.
The wall system provides an splendid view with only 12″ of living room space taken up and being able to accomodate up to a whole 52″ TV!


With 3 cabinets,2 open shelves and 4 small shelves for trinkets and picture frames

Using environmental friendly, high-grade engineered wood with a matte pure Oak finish

Easy to clean with damp cloth

Only two people needed for assembly and carry!

MEBLE – Modica Entertainment Center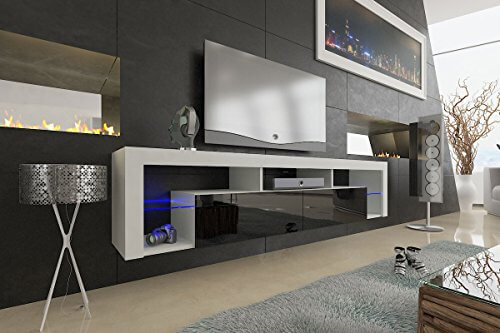 One of our favourite wall units is this qualititative one by Meble. It has beautiful blue LED lighting to make your movie nights a notch more exciting.
Blue LED Lights

40 to 65 Inch

Built-in TV Stand

Matte body and High Gloss Front- best of both worlds

Easy to clean 

High quality product manufactured and imported from the European Union
MEBLE – Floating Modern Entertainment Center Fly I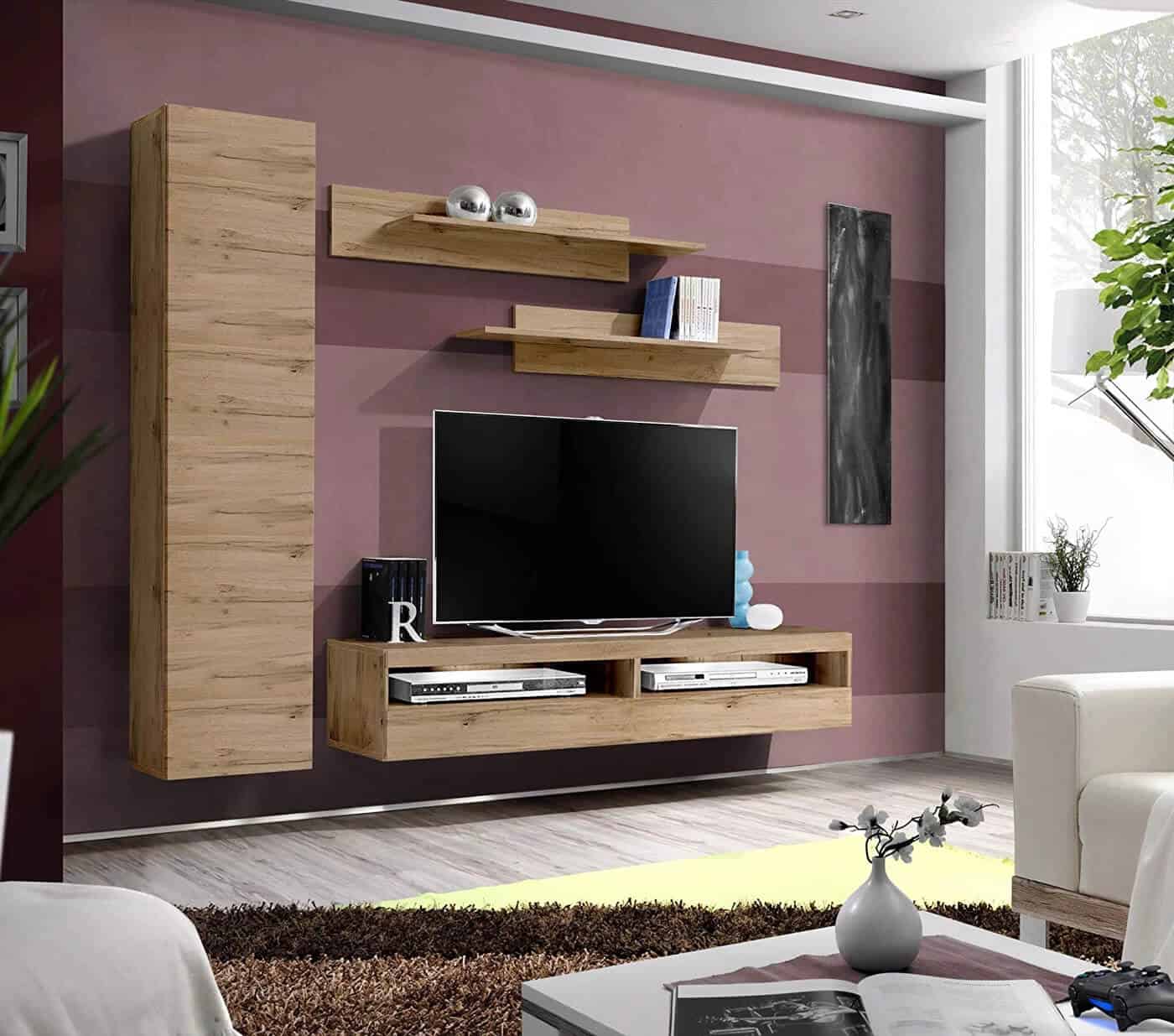 This futuristic and modern designed entertainment centre is one of the most beautiful wall units you can buy. You can store so many living room assets on this in a fraction of the traditional space required!
Available in 3 sizes

Suits up to a 70″ TV

Easy wall installation with included wall brackets

High gloss fronts with a matte body and LED lights system

High quality product manufactured and imported from the European Union

Glossy white colour- futuristic design
RR – Wooden Farmhouse Style Sliding Entertainment Center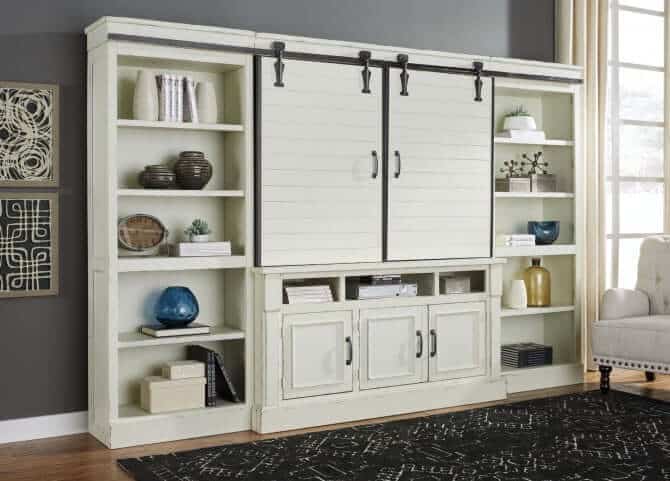 This rustic, funky wall unit is a great addition to your living room. It captures the casual appearance of your living room helping you cosy up after a long week.
Quality Sturdy Solid Wood Constriction

Easy Assembly

Extra Storage Inside Each Pillar

Distressed White Finish With a Hand Rubbed 7 Step Lacquer Finish- Enhanced durability


Will Hold Up To a 70″ Thin Framed Flat Screen TV

Pre-assembled (partially)
Funky design- stylish